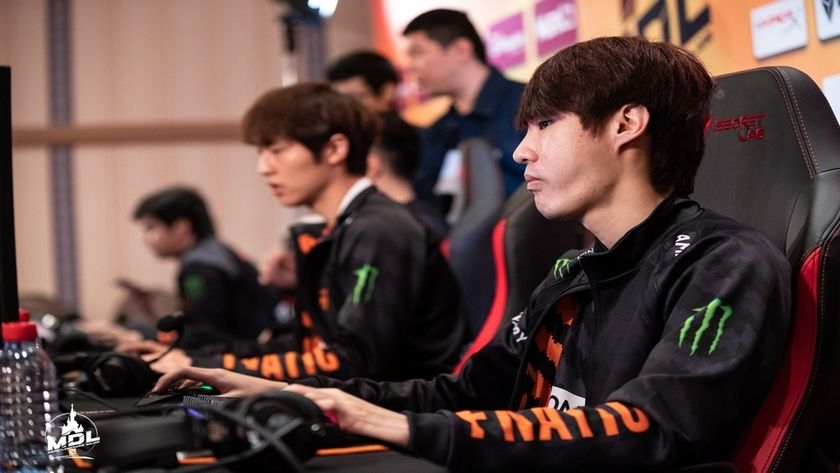 Chaos E.C and Fnatic head home MDL Disneyland Paris Major
image courtesy of Mars Media
Two more fall off the butcher's block as Chaos E.C and Fnatic were eliminated in the last of the lower bracket best-of-one series.
In the matchup between the two South American squads paiN gaming drafted some strong team-fight potential bolstered by a strong frontline. Chaos E.C went with a much more midgame focused draft, especially with the potential for Aliwi 'w33ha' Omar's Templar Assassin and William 'hFn' Medeiros' Weaver to get out of hand.
In the lanes, paiN gained a slight advantage from some positional errors made by their rivals. This would even out shortly after, as the teams continued to trade supports. As the lanes progressed, Chaos gained a small lead, going up in kills.Transitioning from the lanes, Chaos were fixated on paiN's middle tier one tower and besieged it from the 15 minute mark, trying to even up the middle towers. Chaos attempted to take the tower twice, but failed both times with paiN rallying behind the Adriano '4dr' Machado's Dragon Knight in each defense. Chaos would further their advantage despite the defense after two disastrous team-fights for paiN. Chaos would finally claim the tower a number of minutes later, and transitioned into an aegis shortly after.
PaiN continually took advantage of Chaos' positional errors and compounded with their cores falling off--unable to deal with paiN's frontline--every fight seemed in favour of the later squad. After a fight around the pit at 35 minutes, paiN claimed the aegis, transitioned into a highground push, and simply forced their will into the victory.
In the second best-of-one, Keen Gaming crafted a strong lineup of their own that seemed to have it all: scaling, tempo, and teamfight. On the other side, Fnatic went with a some signature picks, including an Invoker for Abed 'Abed' Yusop and a Pangolier for Daryl 'iceiceice' Koh Pei Xiang, hoping perhaps for standout performances.
In the early game, both teams pushed the pace as they raced against elimination. The two continually traded blows in the first five minutes, with Fnatic the seeming victors of the engagements. However, Keen would answer back in the coming minutes to devastating effect, as each engagement seemed shakier and shakier for Fnatic. With Keen in control, taking great advantage of their midgame power spike and the insane sustain from Ren 'eleven' Yangwei's Dark Seer, they refused to slow down and continually looked for fights to turn into objectives. At 17 miuntes, an extremely questionable positional error from both Abed and Djardel 'DJ' Mampusti truly solidified Keen's lead.
It was all downhill for Fnatic from there, despite the best efforts of Noah 'MP' Pyo and his split-pushing, which only seemed to stem Keen's tide for a few, sparse moments. Keen continued to push into Fnatic's highground without a seeming care, with a few pyrrhic defenses for the latter squad. At the half-hour mark, Fnatic called it quits and Keen Gaming moves on to face their countrymen, Vici Gaming, and avoid elimination. The South Americans move on to face Team Liquid.
Action resumes on Thursday, May 9th at 10 am CEST, with another lower bracket slugfest.
Upper Bracket
Round 3 - Best of 3
Round 4 - Best of 3
Lower Bracket
Final
MDL Disneyland Paris Major Format
Group Stage - May 4th - May 5th

Sixteen teams are divided into four GSL groups of four teams each
The top two teams advance to the upper bracket of the playoffs
The bottom two teams advance to the lower bracket of the playoffs
All games are Bo3

Playoffs - May 6th - May 12th

Sixteen teams play in a double-elimination format, with the final four days being in front of a live crowd
Eight teams begin in the upper bracket, eight in the lower bracket
All games except Grand Finals and Lower Bracket Round 1 are Bo3
Lower Bracket Round 1 are Bo1
Grand Finals is Bo5
MDL Disneyland Paris Major Prize Pool Distribution:

The total prize pool for the event is $1,000,000 split between all 16 teams. In addition to the handsome financial reward, teams will be awarded DPC points as well. 
1st place: $TBD + 4,950 DPC points
2nd place: $TBD + 3,000 DPC points
3rd place: $TBD + 2,100 DPC points
4th place: $TBD + 1,350 DPC points
5-6th place: $TBD + 900 DPC points
7-8th place: $TBD + 450 DPC points
9-12th place: $TBD + 150 DPC points
13-16th place: $TBD + 75 DPC points