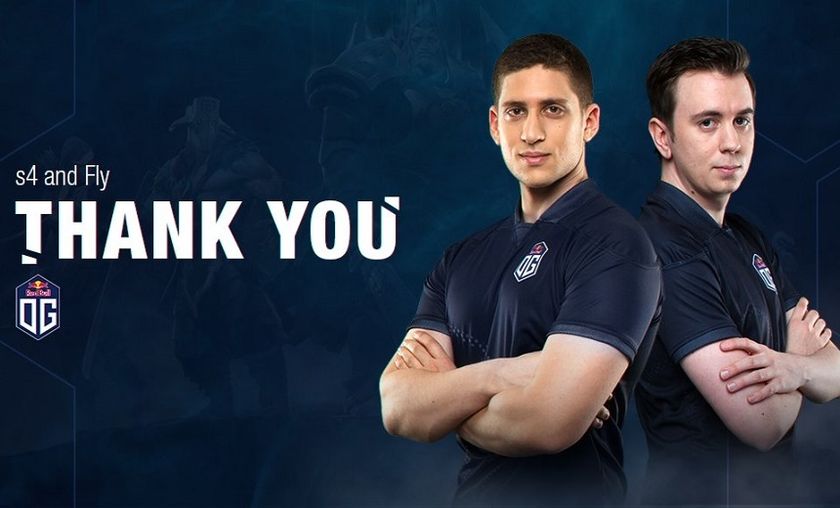 Fly and s4 out of OG; join EG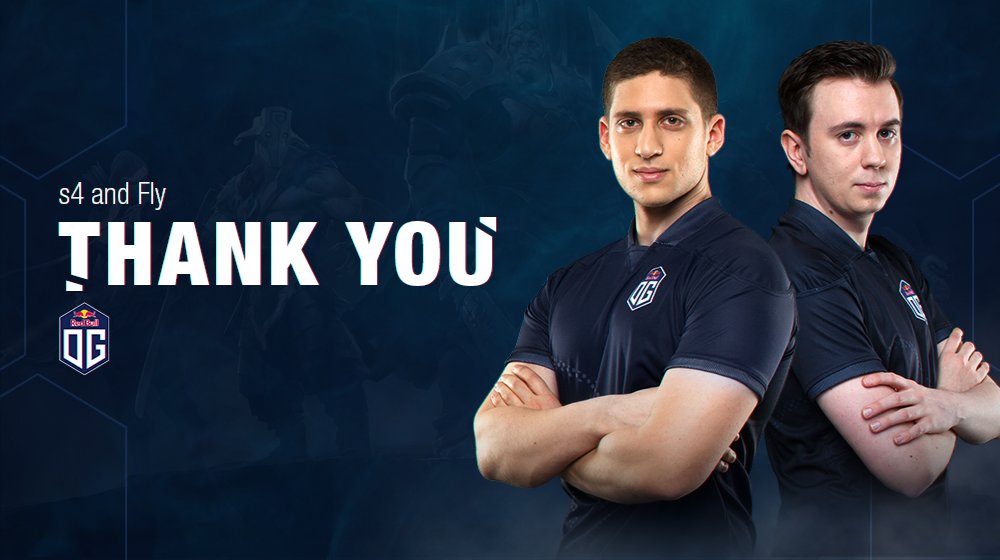 Image courtesy of OG
As one brotherhood is reunited, another is broken with the announcement of the roster shuffle just a day after the ESL One Birmingham Major.
After an obviously disappointing run at the ESL One Birmingham Major, it was clear Evil Geniuses needed to step up their game and perform beyond expectations at the China Super Major to nab a direct invite to The International 2018. Rather than doing so, they decided to switch things up and rework their roster once again in this season of the Dota Pro Circuit. Rumors were already flying around that serious changes were coming, and they only became more realistic after the team announced the release of Rasmus 'MiSeRy' Filipsen and Clinton 'Fear' Loomis. Less than a day after this announcement, both EG and OG simultaneously released the changes to their rosters.
This marks the first time that the duo of Johan "N0tail" Sundstein and Tal "Fly" Aizik has been separated since the formation of OG (previously Monkey Business). However, it also marks the reunion of the support duo of Andreas "Cr1t-" Nielsen and Tal "Fly" Aizik, the former of which played on the first iteration of OG. Furthermore, EG's star player Sumail "SumaiL" Hassan will return to his mid-lane while the two new additions fill in the open slots.
"
This is the hardest part of the season for every team that doesn't achieve the goals set for themselves. At EG, we had to take a hard look at how to get back to competing at the level we expect of ourselves.
Fear has been the bedrock of EG for many years, and he will continue to be a part of the this organization even as his playing career comes to an end today. For Misery, we only ever glimpsed the potential of how his leadership could elevate our roster, and his departure comes with the knowledge of a failed opportunity.
Looking to The International, we have agreed to receive Fly and S4 from OG to complete our roster. I could not be more excited about the potential of the group we have put together, and I know none of them take lightly the challenges ahead.
— Phillip Aram, Evil Geniuses COO"
As for OG, no further announcement has been made as to who will be replacing the players that have been released. It is also unclear whether Sébastien "7ckngMad" Debs will remain on the active roster of the team or move back to coach. However, they have made it clear that they will be withdrawing from the China Super Major to focus on the Open Qualifiers of the International 8.
"
It is with a heavy heart that I am announcing my departure from OG. These last few years together have been some of the best in my life, getting to know and to work with some incredible people. Winning 4 Valve majors together and fighting through many tournaments, these are all memories that I will cherish for the rest of my life. I can not thank everyone enough - those who have supported me and OG on this journey, and I wish them nothing but success. #DreamOG
— Tal 'Fly' Aizik"
"
I would like to thank everyone that is OG and has been part of OG. These 2 years of hard work and success have been very tough but also so rewarding. I'm sad but also excited about what's to come. I would like to wish OG best of luck in the future, fighting!
— Gustav 's4' Magnusson"
New Evil Geniuses roster:
Artour "Arteezy" Babaev

Sumail "SumaiL" Hassan

Gustav "s4" Magnusson

Andreas "Cr1t-" Nielsen

Tal "Fly" Aizik

Sam "BuLba" Sosale (coach)