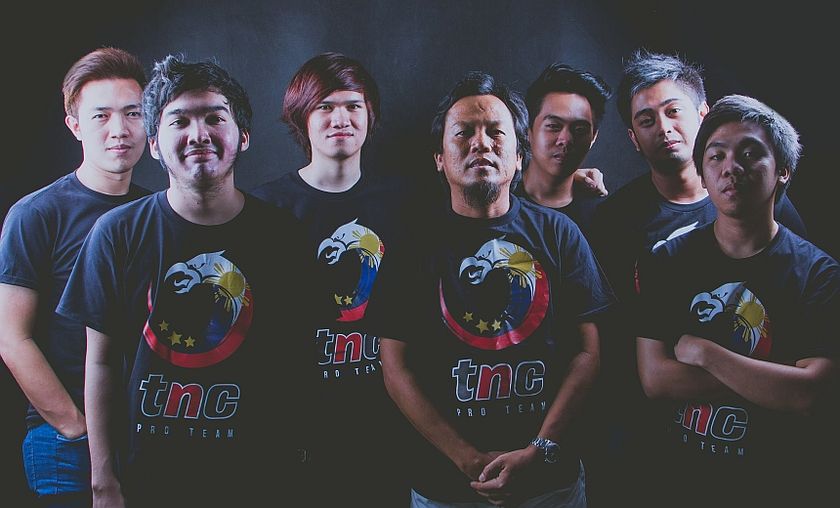 Only Pinoy and Korean teams remain in TI5 SEA qualifier
After 40 games, the groupstage of The International South East Asian qualifier is over with MVP.Hot6, TnC, Rave and MVP.Phoenix proceeding to the next stage. While MVP.Hot6 and TnC places in the playoffs have been confirmed, Rave and MVP.Phoenix will have to duke it out in a best-of-one tiebreaker tomorrow morning to decide the seeding of group B. 
Upper Bracket
Lower Bracket
Round 1 - Best of 3
Round 2 - Best of 3
Final
Mineski game of throws
Coming into day two as one of the candidates to finish first in group A, Mineski threw both their opening games against last placer 5eva in spectacular fashion.
Mineski got off to a great start in game one of the series, even getting a Rampage for their Storm Spirit just 7 minutes into the game. In what seems like a guaranteed win, Mineski players, especially Kuku got overconfident and overdived in several occasion, allowing 5eva to pick him off and catch up via the gold differential. The game was drawn out but eventually, 5eva was able to take on Mineski in battles and rolled over them slowly and steadily. The second game against 5eva was more or less the same scenario except Mineski's lead wasn't as big as the first.
Mineski was not given much time to brood over their loss but they had one more chance to finish first in their group. They needed to finish 2-0 against then second placer MVP.Hot6 to tie TnC at 7 points and claim top spot due to previous encounter (Mineski won TnC 2-0 yesterday). However, the Filipino team was unable to take on the damage Blood Raged Zeus by MVP.Hot6. Dishing out more than 500 damage per Lightning Bolt and 427 damage to every hero per Wrath, Zeus could even take down Mineski's Slardar without any issue.
The devastating loss meant that Mineski will no longer be able to move on to the next stage of the qualifier. However, they could help their fellow countrymen (TnC) to secure first place by taking down MVP.Hot6 in game two. Unfortunately, Mineski was not able to step up to the plate as well after MVP.Hot6 pulled out the Huskar and Drow Ranger to end the series 2-0. As a result, MVP.Hot6 secured their winner bracket spot in the playoffs with a one point lead over TnC.
 
TnC, the dark horse finished 2nd in group A
Prior to the qualifiers, TnC has received a lot of flak for being unworthy of their spot but nobody is complaining now. In this qualifier, TnC played a very unorthodox style, often picking melee heroes like Bloodseeker and Phantom Lancer to solo mid against the likes of Leshrac and more. Whether their opponent got caught out of surprise or the strat really works, TnC showed strong performance on day two.
With only their match against G-Guard to play, TnC picked their stapled Bloodseeker to solo mid in game one and subsequently, Phantom Lancer solo mid in game two to crush the Malaysian veterans. 
Sitting comfortably in first place with 7 points, it was not until the end of the day that MVP.Phoenix overtook them after their victory against Mineski. TnC will versus the loser of the tiebreaker in the lower bracket of the playoffs tomorrow.
 
Best moment of the day - LOL fight
The tense group B triangle and tiebreaker
Prior to the final two matches of the South East Asian qualifier, Rave, MVP.Phoenix and Can't Say Wips were all in contention to proceed to the next stage of the qualifier. The only team safe from these scenarios would be MVP.Phoenix but the outcome of their match will decide if the tournament goes into a three-way tie.
 
Standings prior to final match
Team
Points
Next match
MVP.Phoenix
7
vs. Invasion
Rave
7
vs. CSW
Can't Say Wips
4
vs. Rave

Scenario #1

- Rave wins or ties ---> CSW eliminated

Scenario #2

- Rave wins, MVP.Phoenix wins ---> Tiebreaker

Scenario #3

- CSW wins, MVP.Phoenix wins or ties ---> Rave eliminated

Scenario #4

- CSW wins, MVP loses ---> three way tiebreaker

However, Rave was not going to let that happen. In their first game against CSW, Rave played a perfect roaming Vengeful Spirit, which coupled with Leshrac, dealt crippling blows to CSW's Shadow Fiend. Without enough support or Observer Wards around the middle lane, Shadow Fiend perished four times in less than six minutes, giving Leshrac a 14 minutes Bloodstone.
The need for support on the middle lane was so dire for CSW that the carry Abaddon and Gyrocopter had to teleport in to stop the killing. CSW's movement created space for Rave carry and supports to farm and eventually, win game one. Rave's game one win meant that CSW's road to The International 5 is over.

Shadow Fiend about to go down for the fourth time.
Rave went on to defeat Can't Say Wips in game two and finished the groupstage with 10 points. MVP.Phoenix on the other hand, handily took two games against Invasion to also finish at 10 points in the group. 
Both the teams will have to play in best-of-one tiebreaker tomorrow morning to decide who will be heading to the winner bracket to face MVP.Hot6 and who will start from the lower bracket against TnC.