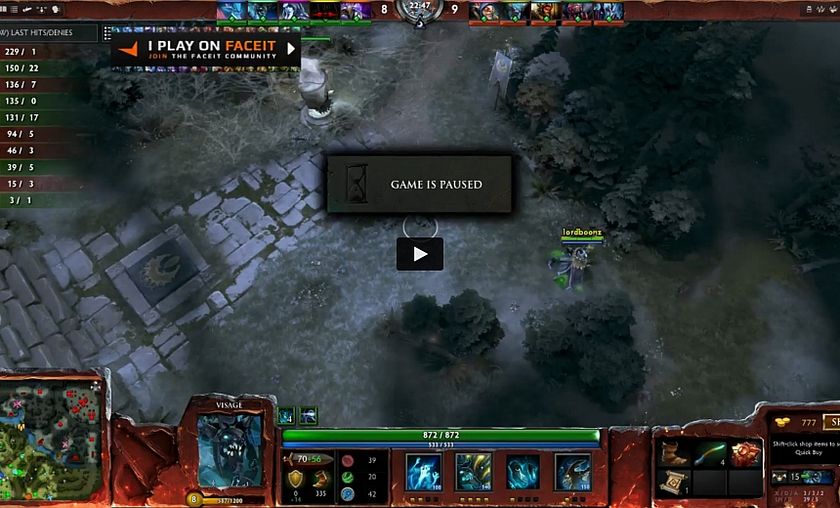 The Invasion versus K2Apes controversy in a nutshell
On May 17, Invasion was crowned the champion of The International 5 SEA open qualifiers after they defeated Execration to secure the final spot of The International 5 SEA qualifiers. Team Invasion performed well in the open qualifiers but their win is not without its share of controversy. An interview with Nasiruddin Nordin, team manager of local team K2Apes, posted on Malaysian website e-sukan stated that the underdog team was robbed of their lead against team Invasion earlier that day (round of 32).
The problem started 7 minutes into the game when team Invasion or more specifically, Slickz, paused the game because his teammate Lordboonz was lagging and needed to restart his modem. Once Lordboonz restarted his modem, he realized that he could not reconnect into the game even after several tries. Invasion players did not know how to contact live support and they were frantically looking for admin to help out but they could not find anybody who could help. After 14 minutes of pause, K2Apes decided to unpause the game leading to a 5v4 situation.
"We applied the rule, 'If 10mins of pause is used, we can resume the game unless admin states otherwise' but the admins were never there," said Nasiruddin.
The game went on for the next 15 minutes until another pause came, this time with an admin stating that the game will be remade.
"Slickz paused again and suddenly an admin came and said that they will remake where this game is paused and then they call for a chat at our match page which is private. Many things happened during the chat, the admin say lordboonz cannot reconnect at all. It was the server problem itself and Invasion want a remake from the start where we start a new game."
Nasiruddin said the team refused to have a remake because they were doing very well and they have already shown their hand. K2Apes picked Meepo in that game and it was the hero with the highest net worth at 22 minutes (refer to the picture above). However, the admin insisted to remake the game for the sake of sportsmanship.

Game paused at 22 minutes. The admin decision was made to restart the match here.
"We were devastated, we totally lost our mood to play already. We also insist that we don't want a remake but then the admin just gave us a password and asked us to join. It was a force remake then we just resume the current game and end it. Then they called us again forcing us to join. At last, we did."
Nasiruddin continued by blaming FaceIT system for the fault, stating that it was the game server problem rather than the team's (Invasion) problem. The game could not be reloaded at 7 minutes as well.
Nasiruddin also claimed that there were 3-4 teams who have contacted him about the same issue after his team lost but their request were ignored. Most prominent of all was Team Intreprid who was facing a blank page and their request was ignored.
We reached out to FaceIT the day after the incident for a clarification on what happened and they admitted that it was their game server problem and apologized for it. According to the admin in charge, he said that he could see that Lordboonz was trying to reconnect into the game but the system does not allow him for unexplained reason.
FaceIT admin also clarified that the problem faced by Team Intrepid was a different issue all together and it is something they have no logs to fix on.
Since then, FaceIT has privately apologized to K2Apes but insisted that they made the right decision for the sake of fairness. FaceIT believe that the fair decision was to remake the game in which the failure to reconnect was not caused by the player's (Lordboonz) problem. FaceIT also stated that they have made the right decision but not the most popular one in this scenario, especially when the game was still close prior to the disconnection.

K2Apes versus Invasion at 7 minutes. Game was paused because Lordboonz could not reconnect.
K2Apes' players are still unsatisfied with FaceIT's answer but the results of the South East Asian qualifier will not be changed.
"It's hard. Because opportunity like this doesn't come everyday u know? We have practised really hard for this. It's very sad. I think since it's a big match (sic), admin should be ready to provide any assistance during the match," Nasiruddin disappointingly expressed.
Banner image by Wykrhm Reddy.
 
---

More content on GosuGamers