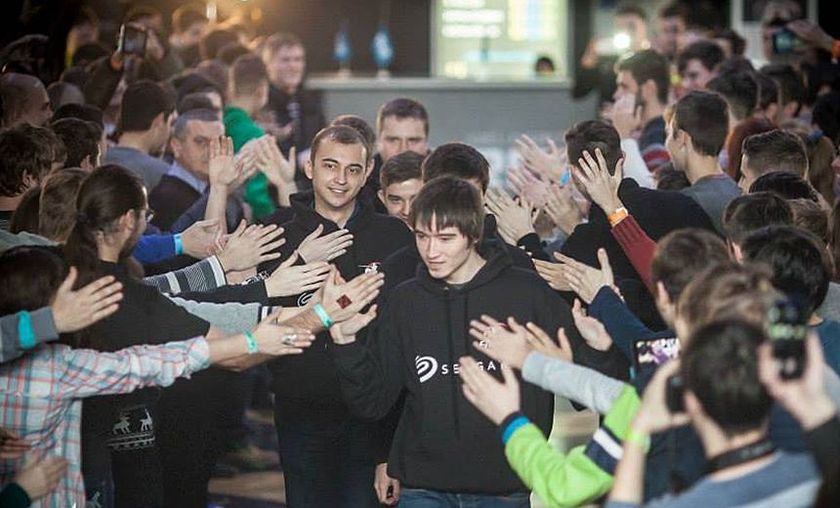 Team Empire win StarLadder Season XI

It's seventh time lucky for Team Empire as the Russian team finally won a StarLadder title by taking down ASUS.Polar by 3 games to 1 in a dramatic final. Debutants Ninjas in Pyjamas were forced to settle for third after losing their game earlier in the day.
Team Empire ended a dominant performance throughout the tournament with a 3 - 1 grand final victory over ASUS.Polar to finally win a StarLadder title and take home the $38,802 first prize. The Russian team entered the tournament following three previous grand final losses from their previous six previous appearances. But it wasn't going to be a fourth loss, as Team Empire entered the grand final a game ahead and quickly raced to a two game advantage in a 25 minute stomp that saw another appearance for Maxim 'yoky' Kim's Axe. He dominated yesterdays winner bracket final against Ninjas in Pyjamas with the hero, and again asserted his dominance to place the team one win away from winning the grand final.
ASUS.Polar were desperate to turn the final around, and in the second game they succeeded thanks to an impressive appearance by Ilya 'Illidan' Pevcaev on Slark. Team Empire had no response to his dominance as he racked up 18 kills and forced his opponents to call 'GG' and reassemble for the next game. The third and final game of the grand final was definitely a memorable one, with 77 kills on the scoreboard and both teams appearing to be ahead throughout the game. Team Empire seemed like they were going to be able secure an early victory, but a comeback from ASUS.Polar saw them take the lead as the game pushed past 30 minutes. The battle between Illidan's Spectre and Roman 'Resolut1on' Fominok's Tiny raged on but a team fight during a Roshan attempt saw Team Empire take an advantage and following an incredible team fight at the bottom lane leaving on Resolut1on and Ayrat 'Silent' Gaziev barely alive, let them push into the base and go for the ancient which saw the team take their grand final victory. ASUS.Polar are forced to settle for the $17,245 second prize in their debut StarLadder event.
Upper Bracket
Round 2 - Best of 3
Round 3 - Best of 3
Lower Bracket
Final
In the earlier game of the day, ASUS.Polar comfortably took revenge against Ninjas in Pyjamas in two straight games. Ninjas in Pyjamas originally sent their opponents in the lower bracket after their second round match, but it was the complete opposite as the Swedish team could not find the draft to defeat the Russians. The first game was anything but close as ASUS.Polar stormed to a 20 minute victory, featuring potentially the quickest Blink Dagger purchase on a Rubick in competitive Dota 2 after Ilya 'Lil HaRDy' Ilyuk stormed to a 10:46 purchase. Ninjas in Pyjamas had only picked up five kills and a single tower by the time ASUS.Polar dominated their opponents and forced the 'GG' as they entered their base.
The second game was less straightforward for ASUS.Polar as Illidan's Drow Ranger was killed throughout the game, but it was Lil HaRDy's Visage that took the spotlight instead, securing 15 kills and assisting 16 as the Russians were able to storm into the NiP base within 38 minutes and secure their place in the grand final. Ninjas in Pyjamas, also in their debut StarLadder event and only their second LAN finals under the NiP brand settle for the $12,072 third prize.
Headline image from SLTV Facebook page.
---
More content on GosuGamers