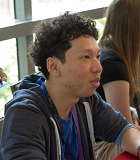 SNA beats Na'Vi.US 3-1 to grab Canada Cup Season 3 title
After several weeks of intense matches, Sneaky Nyx Assassins grab their first tournament win by defeating Na'Vi.US 3-1 in the grand finals of the Canada Cup Season 3. The third place was decided in a match prior, where compLexity Gaming took down Shadows of the past 2-0.
The third installement of the Canada Cup has concluded and saw Sneaky Nyx Assassins emerge victorious. The team around former Team Liquid players Fluffnstuff, ixmike and TC displayed a strong performance in the grand finals, taking down Na'Vi.US 3-1. Both teams were favorited to take the title, with a slight edge given to Na'Vi.US, considering that prior to this match, they won four out of the last six encounters against SNA.
The third place belonged to compLexity Gaming, who fell short to SNA in the semi-finals, but redeemed themselves with a 2-0 victory over the Shadows of the past.
Round 2 - Best of 3
Round 3 - Best of 5