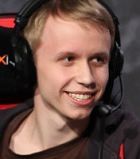 Vanskor leaves Team Empire
The roster shuffle continues and a big rumor seems to be fulfilling itself. Team Empire loses its support player Vanskor and while his new team has yet to be announced, it seems to just be a formality until Natus Vincere makes it official.
It is official: Team Empire's Ivan 'Vanskor' Skorokhod is leaving the Russian powerhouse. The team is left with four players, but a new fifth player will supposedly be announced next week. 
Vanskor's statement regarding his departure:
Thanks to Team Empire and to my teammates for all the time we played together. We've gone through a lot of things and this decision isn't easy for me. All the guys in the team understand the reasons of my departure - we already cleared everything out at TI4, and there is no reason to make it public. I wish Team Empire good luck and new victories!
After almost a year, the support player will set sail and supposedly has his eyes set on a new team already. For weeks the rumors of him joining Ukrainian organization Natus Vincere have been strong, all that was left was an official announcement from both sides. As it stands right now, it is only a matter of time until Na'Vi will make it official.
Vanskor is supposed to join up with the Ukrainians together with Power Ranger's fng, who has not played the most recent officials with the team anymore. 
Current Team Empire roster:
Roman 'Resolut1on' Fominok

Andrew 'Mag' Chipenko

Ayrat 'Silent' Gaziev

Andrey 'ALWAYSWANNAFLY' Bondarenko
Source: Team-Empire.org ; translation for the statement provided by GGnet's Ingik