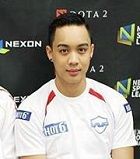 MVP.Phoenix narrowly defeats 5inQ to take NSL season 2
5inQ was able to end MVP's undefeated streak, but it is still the latter who ended up victorious after a close 3-2 series win. MVP.Phoenix takes home $75,000 for this victory.
While MVP lost their shroud of invincibility as 5inQ defeated them twice, the former has showed that they have what it takes to bounce back from a loss. 5inQ, who has not dropped a game on this tournament aside from against their enemy on the finals proved that they are well worthy of the second place finish, which also comes with a $7,500~ prize.
Game 1
Bans
* This player was a stand-in for this match
5inQ is looking to redeem themselves after suffering a 3-0 loss against MVP.Phoenix earlier on the tournament. They started the game with a clear game plan, scoring the first blood against the unsuspecting Clockwork. It went bad for MVP fast, as almost all kills by 5inQ (six out of the first seven) falls under the name of Lifestealer. If anything is working for MVP, it is that their carry in Alchemist is getting farmed up.
MVP was not able to slow down Lifestealer though, as the latter was able to build Phase boots, Armlet and Abyssal blade by the 22nd minute. 5inQ further extended their lead as they farmed up their other heroes as well. There was a small scare for them as they got greedy and got wiped at the 40-minute mark, but they composed themselves and were able to finish the game on the succeeding push. With the defeat, MVP.Phoenix suffered their first defeat of the tournament.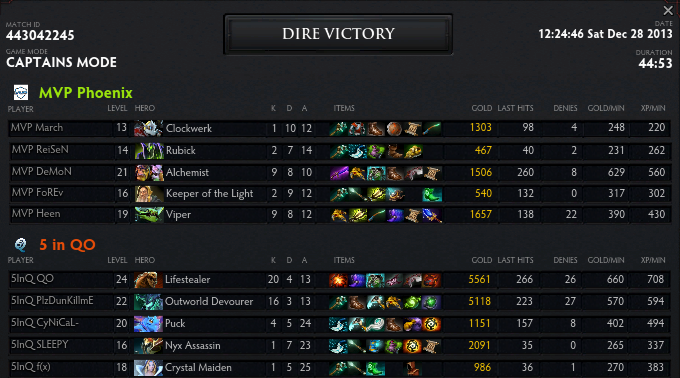 Game 2
Bans
* This player was a stand-in for this match
It is the first time we will get to see MVP.Phoenix coming from a loss, and we are quite curious to see how they are going to handle the adversity. They responded by going with a pushing line-up, opting for a Nature's Prophet and a Shadow Shaman on their early picks. 5inQ, on the other hand, has a line-up built for a stronger late-game, which includes the scary Storm-Lifestealer combo.
5inQ actually held the early game quite well, again getting the first blood and carefully channeling the push that MVP was trying to hold. Shadow Shaman went with a naked Scepter, which increased his team's team fight capability. Being the stronger early game team though, MVP has built up a decent tower-kill advantage.
As the game progresses, 5inQ's lineup is beginning to show its strength. A big battle on the Roshan pit on the 30th minute saw MVP getting Roshan, but still getting decimated by the bigger damage output of 5inQ. MVP started to choose their engagements, making use of the moonlight shadow and the song of the siren. The refresher orb Shadow Shaman also proved to be a nuisance on team fights as well, dealing massive damage even to the raged Lifestealer. MVP took the top barracks at the 37th minute mark, and then the game not too long after.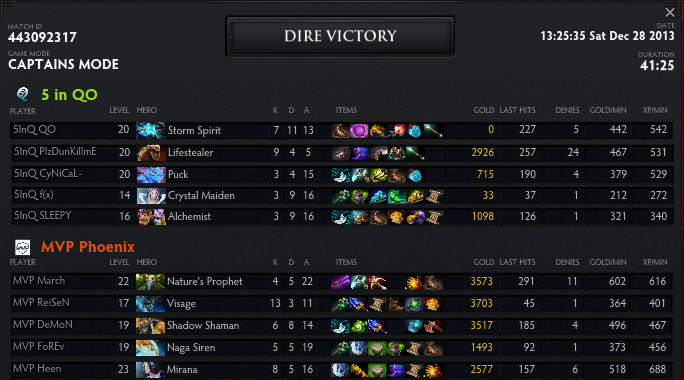 Game 3
Bans
* This player was a stand-in for this match
MVP built around a strong ganking line-up with strong burst damage, while 5inQ chose heroes with big AoE skills. MVP got off a good start this time, as they shut down 5inQ's trilane. Shadow Fiend, on the other hand, had a very easy time on farming up.
MVP was able to dominate the game, constantly diving past enemy towers and getting multiple kills. Shadow Fiend was fountain-camping the enemy past full HP tier-3 towers. Demon's Ultra kill on the 26th minute mark was the final nail on the coffin, with MVP also then taking the first barracks of the game. While 5inQ didn't call GG just then, they were just not anything they can do to catch-up and they called GG not too long after.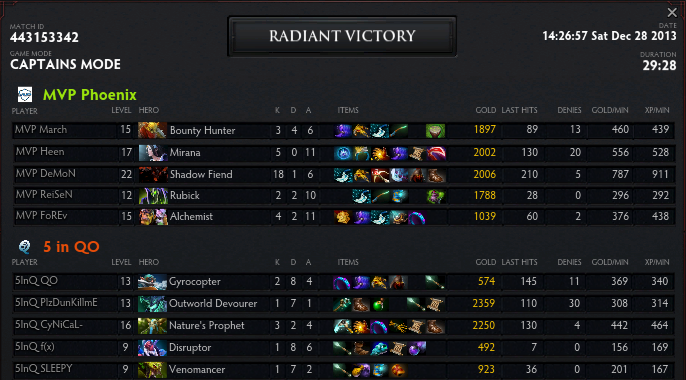 Game 4
Bans
* This player was a stand-in for this match
It was 5inQ who raced to a good start on game 4, getting a first blood and a triple kill for the Slark very early on. MVP, however, bounced back after being lead by the Night Stalker who had seven kills within seven minutes.
The great play of MVP saw them increase their advantage to an enormous 10,000 gold lead by the 20th minute. Slark was single handedly trying to carry his team, despite the rest of team lagging behind the assault of MVP. On a bizarre turn of events though, 5inQ suddenly took control of the successive team fights and ended up wining engagement after engagement. At the same time, NS suddenly was on a slump, and the farmed Queen of Pain wasn't able to do anything much against the magic immune cores (BKB) of the enemy. The gold graph took a crazy turn upwards, and 5inQ ended up winning the game behind the heroics of the Slark.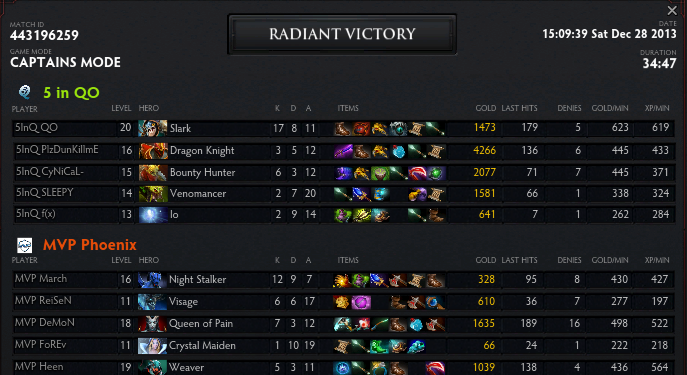 Game 5
Bans
* This player was a stand-in for this match
As with the second game, MVP.Phoenix responded to a loss by picking three intelligence-based heroes . They have low-cooldown nukes with Lich, Crystal Maiden and Clockwork, with a Storm to catch whoever was out of position. That is exactly what they did, as they raced to a very big early game lead.
5inQ lack of burst damage made it very hard for them to deter MVP's aggressive line-up. MVP was able to extend their lead after getting an uncontested Roshan, and then winning a team fight on the bottom lane after. They won another team fight at the 28th minute, and by then MVP's three cores were already significantly bigger than all of 5inQ's. 
MVP got too ahead of themselves, as they again went tower diving past tier-3 towers. They were punished hard, accumulating six deaths, doing three buybacks and losing Roshan as well. They lost around 5,000 gold and experience because of this, but they still are significantly ahead. MVP collected themselves, and then went with a big heave on the bottom lane. 5inQ, despite being behind, surprised with a 5-hero buyback as they were wiped. That wasn't enough however, as MVP's lead proved to be too much to overcome.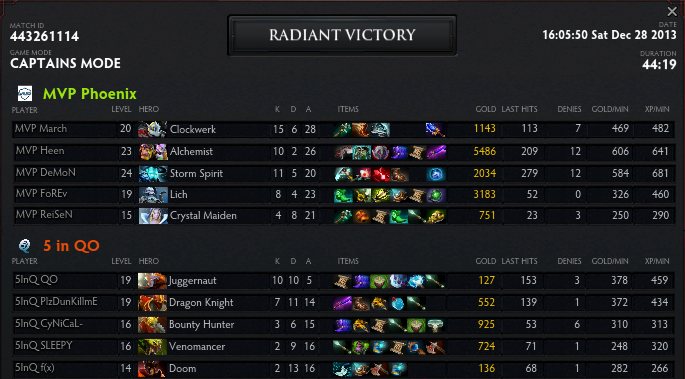 MVP.Phoenix receives the $75,000~ for the win. Startale won the first season of the NSL, which included a prize of $93,000. The winner of a NSL season will not be able to participate on the next season, which is why every season has a decreasing pool. Next year's champion will receive approximately $57,000~.
Upper Bracket
Round 2 - Best of 5
Round 3 - Best of 5
Lower Bracket
Round 3 - Best of 5
Round 4 - Best of 5
Final
Prize distribution:
1.
MVP.Phoenix - 80,000,000 Won (~$75,000)
2.
5inQ = 8,000,000 Won (~$7,500)
3.
MVP.hot6 - ​3,000,000 Won (~$2,800)
4.
EoT - 3,000,000 Won (~$2,800)