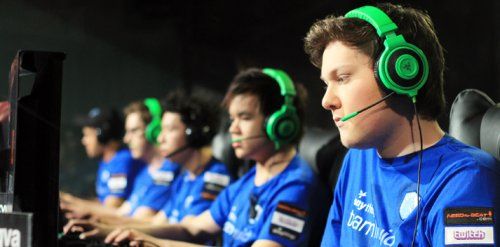 Alliance top D2L West, Liquid takes second
The last of the groupstage games for this season of the D2L ended today as the Western teams have been sorted with Swedish Alliance as we previously informed you securing their straight ticket to Las Vegas while Team Liquid come out in second place, taking the top spot for the upcoming bubble race playoffs.
Team
M
W
D
L
P

7
7
0
0
21

7
6
0
1
18

7
5
0
2
15

7
4
0
3
12

7
3
0
4
9

7
2
0
5
6

7
1
0
6
3

7
0
0
7
0
Matches and results
Liquids fortune comes at the cost of Na`Vi, who suffered a early loss during the groupstages due to the absence of Alexander 'XBOCT' Dashkevich, who has had considerable problems playing on U.S. servers recently. When Alliance also bested Na`Vi on way to their 7-0 record, this dropped Na`Vi down to third place in the groupstage final standings. Rounding out the usual suspects was Fnatic, who suffered from a bit of hot and cold syndrome, at times pushing Alliance to a game 3 and then later on losing in straight games to Liquid. Fnatic's fourth place was in jeopardy until the very end, as their game against sixth place Evil Geniuses ended up being the very last to be played, where a 2-1 win put Fnatic in fourth and kept Evil Geniuses out of the playoffs. The fifth team to make the playoffs was Virtus.Pro, who also beat EG 2-1 early in the season.
Bubble race coming up next
With their second place finish, Team Liquid head straight to the finals of the bubble race. Instead it's Fnatic and Virtus.Pro who will duke it out first, with the winner then facing off against Na`Vi in order to determine who will get to play Liquid for the second Western slot at the Las Vegas LAN Finals. The bubble race is set to begin on the 6th of December.
While the easy answer as to who should grab the second ticket to Vegas is Na`Vi, the arduous schedule that the teams will be facing over the coming weeks and the instability of CIS internet when playing against a North American opponent is a concern. Had Na`vi started at the top of the bubble race, they could have hoped to avoid Team Liquid, perhaps trusting that Fnatic would defeat them for them. The prospect of instead likely having to play Fnatic in the second round and then maybe Liquid in the third means that the Ukrainian team will have to rise to the occasion, something which they fortunately have been excellent at doing as of late. With so much on the line and no second chances any longer, this is Na`Vi's time to shine (again).
All the VODs made available can be found in our coverage hub here.
Headline image courtesy of ThisIsGame.com
Check for news, results and the latest VODs