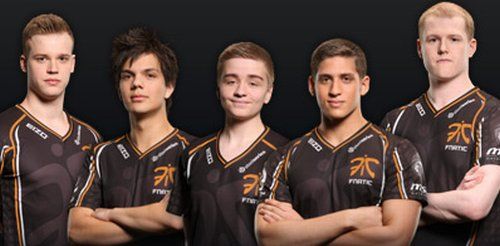 Fnatic secure spot for G-League and China trip
The first spot for the upcoming G-League event in China has been claimed as Fnatic came out ahead of the other three competitors in the upper half of the bracket today. The second team will be decided tomorrow as another four hopefuls duke it out on the bottom half of the bracket, starting at 10:00 CET.
Fnatic looked a bit tired during their first series up against Street Magic, which resulted in a rough early game as Jan 'son1' Švajgr posted some excellent Mirana plays. However, experience won out with Fnatic turning the game around and taking the series 2-0 in the end. Meanwhile Alliance looked like they might make easy work of things against RoX.KIS as well after their first game, but with RoX.KIS taking the second game the series went into a third, where Alliance drafted an early game pushing lineup, which they were unable to put in action, resulting in RoX taking the lead and carrying it through the game, eliminating the Swedes from the competition.
RoX looked to be riding high off their win against Alliance and took the first game against Fnatic by storm, but by the time they needed to close it out some cracks had started to appear. While Fnatic did end up loosing the first game, for the second one they got Era back onto his Lifestealer and made a series of it through well-controlled aggression. For the final game RoX bet heavily on an early game strategy, which allowed them to stabilize and assert some control early, but as the game went later and later more and more of the pressure fell on the Vadim 'Sedoy' Musorin's Nature's Prophet. While Fnatic took the mid Barracks Sedoy managed to keep RoX in the game by split-pushing bot and top. However, when he got caught out some time later on the bottom lane RoX lost their means of coping, resulting in Fnatic rushing down mid for the throne and taking the third game, securing their tickets to China.
Speed Gaming and Team Empire coming up next
For tomorrow's matches Speed Gaming will face off against South-East Asian team Impervious, while Team Empire take on Evil Geniuses. Under normal circumstances Speed Gaming should be heavily favored against Impervious and likely any solution which attempts to resolve the issues of server delay fairly will further favor them due to their mix of European and North American players. Meanwhile, Empire have generally looked stronger than Evil Geniuses lately, especially with their recent win at ESWC in Paris, which should leave no doubt that the odds right now favor the Russian team.