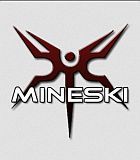 Mineski sweeps MSIevoGT in GEST August all-Pinoy finals
​Matching fellow Filipinos against each other, the August edition of the Gigabyte E-Sports Dota 2 Tournament has just concluded, and fan favourites Mineski win $1,000 in a 3-0 clean sweep.
Mineski won the GEST August edition against MSIevoGT, taking three straight games in a best of five series.
You can find the brackets in the image below:
Round 2 - Best of 3
Round 3 - Best of 5
In a very dominant fashion, Mineski took games one and  against MSIevoGT.
In game three, however, MSI managed to turn the tides around, controlling the game from the first minute. That was, of course, until Joshua 'Owa' Dela Serna saved the day for Mineski by landing two consecutive five man black holes with his Enigma. Following the teamfight, Mineski quickly pushed the middle lane, not bothering to destroy a second set of barracks before going for the throne.
Prizes:
1st place – 
AMD.Mineski (USD 1000 + 5x Corsair Vengeance 500 7.1 Gaming Headsets)
2nd place –
MSIEvoGT.TnC (USD 500 + 5x Corsair Vengeance M95 Gaming Mouse)