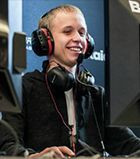 Team Empire signs Vanskor
The Russian DotA2 scene is being bombarded with changes these days. The newest addition to Team Empire roster is Vanskor, the Russian ex-RoX.KIS player that shined with his team as a support player during early 2013.
The Russian powerhouse Empire is getting closer and closer to their final roster. After the re-addition of Silent, the next player to join the squad is Ivan 'VANSKOR' Skorokhod, the former RoX.KIS support player. VANSKOR was a free agent after his recent departure from RoX.KIS due to an internal misunderstanding, and it seems he has found a new home under the roof of Team Empire. The squad needs one more player to be complete, and the last addition is expected to be announced after Techlabs, Kiev in a few days.
Vanskor's statement:
 
Greetings everyone! At the moment I have a serious plans for the professional dota, so after I left RoX.KIS I was in search of a strong team. Turned out that I started to play for Team Empire almost immediately.

So to speak, we have found each other after the first CW, and now I'm officialy going to play for Empire. It's powerful organisation with strong players. Give us some time to improve our teamwork and we'll become the best! Cheer for me, my teammates and Team Empire!
Team Empire CEO, Alexander "StrangeR" Solomonov's announcement:
 
We are very lucky that when we formed the roster Vanskor was a free agent. Ivan immediately agreed to attend Gamescom with us, despite the fact that the trip looked pretty adventurous. It's really difficult to find such skilled support now. Ivan entered in the collective without any problems and we had no doubts about his future in our team. Youth and talent make him a very promising player in the Dota 2 scene. I wish him all the best and welcome to the Team Empire!
Team Empire roster:
Airat "Silent" Gaziev

Roman "Scandal" Sadotenkov

Vladislav "Blowyourbrain" Morozyuk

Ivan "VANSKOR" Skorokhod
Source : Team Empire