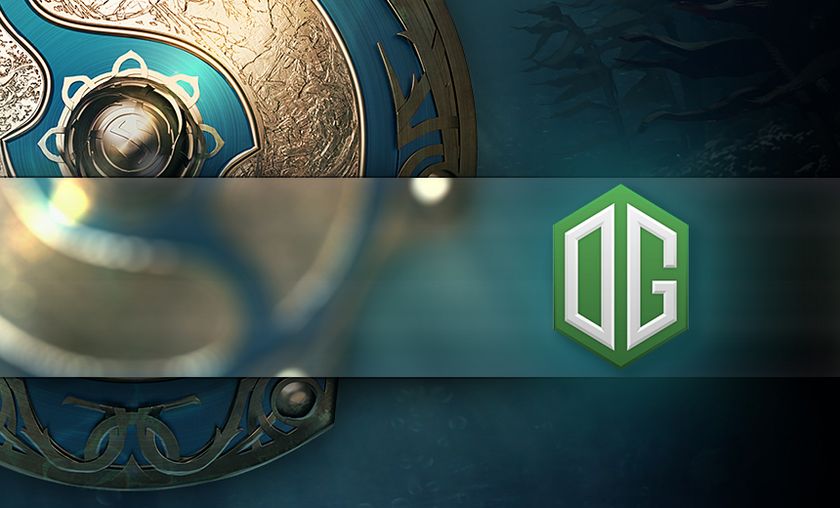 TI 7 Profile: OG and their tryst with the Aegis
From time to time, there come those teams that emerge out of nowhere and against everyone's expectations, take the scene by storm (in this case, the Dota 2 scene, but it can happen in any sport). That is the case with the Green Dream, OG. Forming in the aftermath of The International 5 (initially known as Monkey Business), the team consisted of three players who finished 9-12th at TI 5 and two others who didn't even play that year (Andreas 'Cr1t' Nielsen and Amer 'Miracle' Barqawi) in Seattle. Who was to say that they would be the favorites the next year? But after a very successful year, that included two victories at Valve Majors, OG had transformed into one of the most successful and feared teams of the Dota world. OG was, and always has been, a team devoid of any major controversy. Even in troubling times, the players supported one another and put forth the philosophy that it is the friendship that makes a team strong and not just the grouping of good players.
A dismal performance at TI 6, however, (9-12th again, ironically) led them to the conclusion that it was time for a change. While Moon, Crit and Miracle ventured elsewhere for greener pastures, Fly and N0tail stayed on and tried to further bolster the organization. And they've done a good job of it! Here is the current OG roster:
Johan 'N0tail' Sundstein

Anathan 'Ana' Pham

Gustav 's4' Magnusson

Jesse 'Jerax' Vainikka

Tal 'Fly' Aizik

Sebastian '7ckngMad' Debs (Coach)
It's safe to say that the two survivors of the initial OG have made sure the team continues to be at the top tier. Fly and N0tail have a knack of picking out talent and just as they nurtured Miracle, they have done a great job with Ana as well, who has risen to the status of one of the best mid laners from a relatively unknown entity. Jerax was the best replacement OG could have asked for in place of the playmaking Crit. s4, though a mid laner for Alliance, played the position three role with space creating heroes like Batrider and Puck and he's just transferred his skillset to another lane. There were skeptics of the new lineup who believed Miracle was irreplaceable, especially with someone relatively new to the professional scene (Ana played a bit of professional Dota with Invictus Gaming). But OG have proved them wrong, and how. With two more Valve Majors in the bag with the new lineup, the only Valve trophy missing from their cabinet is the Aegis! Here is how they have fared in premier Dota 2 tournaments since the Dota 2 took a new journey with the 7.00 patch:
| Event | Patch | Position |
| --- | --- | --- |
| Dota Pit League Season 5 | 7.01 | Runners-up |
| StarLadder i-League StarSeries Season 3 | 7.02 | 3rd-4th |
| Dota 2 Asia Championships 2017 | 7.04 | Runners-up |
| The Kiev Major 2017 | 7.05 | Winners |
| The Manila Masters | 7.06b | 5-6th |
| EPICENTER 2017 | 7.06c | Group Stages |
| Mars Dota 2 League 2017 | 7.06e | 4th |
Post the win in the Kiev Major, where they defeated crowd favorites Virtus.Pro in a miraculous five game series, it has been a bumpy ride for OG. There was a drastic change in the game from 7.05 to 7.06 with the current meta being a more team fight based faster one as compared to the earlier one, where games went on for a long. Since the turn of the meta, OG have lost out on some of their favorite heroes in the form of Alchemist, Naga Siren and even Terror Blade to an extent. This lack of farm or rather the decrease in the farming rate in the new meta has been evident on the two OG cores, N0tail and Ana. The dearth of gold in the pockets of the two main cores has affected the team GPM as well, which is natural. OG have recently gone back to the old days (with Miracle) where with Ana playing position one and N0tail on a hero like Visage or Death Prophet.
| Entity | GPM in 7.05 | GPM in 7.06 |
| --- | --- | --- |
| N0tail | 633 | 467 |
| Ana | 614 | 546 |
| OG | 2215 | 1917 |
OG by the number in 7.06:
31 games played
13 won
18 lost
Win percentage: 41.94%
OG's most played heroes of 7.06:
| Hero | Total Games | Wins | Losses | Win Percentage (%) |
| --- | --- | --- | --- | --- |
| Invoker | 14 | 9 | 5 | 64.29 |
| Nyx Assassin | 11 | 8 | 3 | 72.73 |
| Kunkka | 10 | 6 | 4 | 60.00 |
| Visage | 10 | 7 | 3 | 70.00 |
| Faceless Void | 9 | 6 | 3 | 66.67 |
| Storm Spirit | 9 | 6 | 3 | 66.67 |
| Dazzle | 9 | 6 | 3 | 66.67 |
| Batrider | 8 | 3 | 5 | 37.5 |
| Sand King | 8 | 4 | 4 | 50 |
| Phoenix | 8 | 4 | 4 | 50 |
Last year, when OG went to TI 6, all eyes were on them as they were deemed to be the favorites to take the Aegis. I believe the tags of favorites put a burden on their shoulders and they cracked under the pressure losing to MVP Phoenix and TNC, two teams against whom they had superior records and were expected to win. This year however, the spot light isn't on them. Truth be told, it is difficult to decide who the spotlight is on with the likes of Evil Geniuses, Newbee, Virtus Pro, LGD Gaming and Team Liquid all claiming a lan to their names in the last couple of months. This could work in OG's favor who, despite having a bad run prior to the Manila Major, came forth to win it when no one expected them to! A new addition OG have to their arsenal which they didn't last year is coach Seb, about whose contribution the players have been quite vocal. It will be interesting to see what strats Fly and coach Seb will cook up for the biggest e-sports event of the year. In any case, one thing is for certain: You can never rule out the Green Dream!
Click here for results, VODs and all the other information