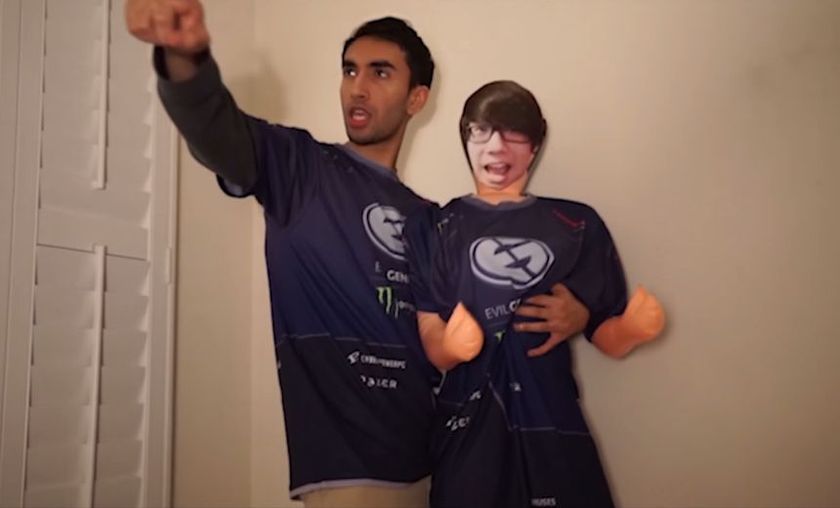 Top 5 bromances going into The International 5
5. ChuaN and Faith
After having left invictus Gaming to play with LGD shortly after TI4, Zeng 'Faith' Hongda rejoined his old squad earlier this year, reuniting himself with his true support counterpart: the truly loveable Wong 'ChuaN' Hock Chuan. Along with the roster's long-time midlaner, Luo 'Ferrari_430' Feichi, Faith and ChuaN make up the majority of iG's TI-winning 2012 lineup. With legendary carry player Xu 'BurNIng' Zhilei at the helm, and Faith himself filling the seat of the captain, many fans of Eastern Dota are excited to see if the new and improved iG is capable of channeling some of the dominance they showed at TI2 into another top tier finish at this year's International.
 
4. Fenrir and fy
There is perhaps no support duo in all of Dota that is more feared than that of Lu 'Fenrir' Chao and Xu 'fy' Linsen. Having both joined Vici Gaming together, they have each been a part of the team since 2012. Not only are they the players who have been active on the roster for the longest duration of time, but they are also two of its youngest members. They have often been called the very 'lifeblood' of the team, the foundation upon which all else that is shifting rests. Aside from their success in the competitive sphere, they have been very close friends outside of their professional careers for many years and many have attributed the palpability and durability of their in-game cohesion to the personal connection they maintain outside of the game.
Since their second place finish at last year's International, Vici has continued to be one of the most dominant teams in all of Dota. In the last year they have secured first place finishes at ESL One New York 2014, The Summit 2, and StarLadder Season 12, due largely to the pervasive ferocity of its support duo.
 
3. Fear and Arteezy
The International is equally a time of opposition as it is one of companionship. Clinton 'Fear' Loomis and Artour 'Arteezy' Babaev inhabit Dota 2's resident father and son relationship. Having been teammates within last year's Evil Geniuses lineup, the (not so recent) Great Western Shuffle saw them part ways when Arteezy went on to fill Team Secret's carry position. A truly enticing rivalry has since developed between both teams—especially after the 'Cinderella story' of this year's DAC where EG triumphed over a 15-0 (in the group stage) Secret in the tournament's semifinals.
Despite the fact that there still appears to be some bad blood—albeit rather vestigial at this point—between Arteezy, Ludwig 'zai' Wahlberg, and the remaining members of EG, it serves mostly as a means to add entertainment value to what is already the greatest rivalry in Western Dota. Despite EG's unexpected (and decidedly gloat worthy) success at DAC, it is a triumph that ultimately means very little in the wake of a TI championship, something which both teams are each vying after. Next month's tournament—the biggest in all of eSports—will deliver the final say on whether or not Arteezy made the right decision in leaving Old Man Fear.
 
2. Puppey and KuroKy
There is a sense in which this support duo is the Western equivalent of that of Fenrir and fy, one that is superior only in age and in fan recognition: and with renown comes reverence. Clement 'Puppey' Ivanov and Kuro 'KuroKy' Salehi Takhasomi are the most legendary support duo in all of Western Dota, maybe even Dota at large. Known for their time spent on 'the old Na'Vi', Puppey is glorified mostly for his drafting skills whereas Kuro is often praised for his mechanical skills and the depth and diversity of his hero pool—for it is one which is deservedly called vast.
It is important to understand that these two players are cherished by fans mostly because of the impact that their personal connection has had on the decisions that they have made together as professional players. After having had some internal disagreements with the other members of their old Natus Vincere teammates, Puppey and KuroKy decided to leave and make it out on their own; fueled above all else by a desire to win, and a belief that ultimately they could do it together, they left behind the comfort and security that sponsorship has to offer and instead ventured to achieve success independent of any organization. In light of this, it is also important to understand that there is truly a lot at stake on Secret's finish at this year's International: if at last they do prove successful then their veering from the ordinary path to success will almost certainly result in Puppey and KuroKy being granted pioneer-status within the scene at large.
 
1. UNiVeRsE and Aui_2000
After Kurtis 'Aui_2000' Ling's rather sudden and untimely kick from Cloud9, he was offered a chance to fill zai's recently vacated spot on Evil Geniuses. EG's enlistment of Aui gave way to the single most glorious bromance in all of Dota: that which exists—on plains both mortal and ethereal—between he and Saahil 'UNiVeRsE' Arora.
Princess Aui and Saahil O'Neal are not so much teammates as they are soulmates. To all members of the Dota community alike they provide wondrous masterpieces of the performance art; to those who face the immense darkness of the poor laning stage they command the jungle to bestow as a gift KotL's twelve minute Aghanim's Scepter; to those who yearn for the warmth and comfort that births from everlasting companionship they act as inspirational exemplars. They instill within each and every one of us a sense of resolve, one that urges us to keep hope alive in the wake of ill-timed division, to look with glee upon the fortunes of the hereafter, and to find solace in the throngs of only that which is evergreen: true love.
---
More content on GosuGamers