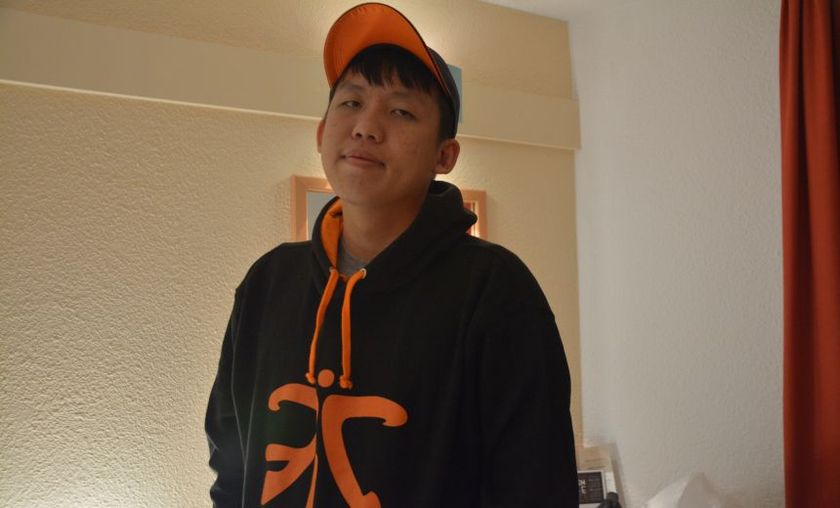 Interview with Mushi: 'Our target for ESL One is top 4'
Is this your first time in Germany?
Yes, it is my first time. We arrived in Frankfurt earlier and we boarded a train to come to Cologne immediately. So, I haven't got much time to travel in Frankfurt yet but I am very excited to go back to Frankfurt tomorrow. I don't have much thoughts about Cologne because we came to the hotel when we arrive, I took a nap and we had McDonalds and some Chinese food for lunch and dinner. We didn't do anything special beyond that.
So how's the hotel?
It is not ideal. The room is small, the wifi is not very big and there's just not much space in general. I hope that we get a much more comfortable place in Frankfurt for us to rest.
Alright, so tell me more about your new sponsor Fnatic. How did you end up going under them and your first impression about them.
When we formed Team MY, there are a lot of people who approached us in attempt to sponsor us but we end up going with Fnatic because Patrik (Fnatic's Chief Gaming Officer) is very sincere and is very patient in accommodating us. Before we took up Fnatic, we had to train in a cyber cafe, we had no salary and we have no proper manager. Therefore, the players end up having to manage a lot of stuff and now that we are under Fnatic, we will have a team house, a stable income and a manager to handle our external stuff.
I am very happy because it has been a few months since we played under a brand and Fnatic is a very big brand. I'm very proud to carry the Fnatic brand.
When the announcement was made that Team MY has been acquired by Fnatic, a lot of the fans, especially Malaysian fans were unhappy about the name change. Do you have anything to say to the fans about this?
I actually really like the name Team Malaysia. Using the name, we are essentially carrying our country's flag in tournaments. It feels comfortable, it gives us more power. However, now that we are Fnatic and although we are not called Fnatic.my, we still haven't forgot that we are Malaysians and we are fighting for our country.
Your team played with the Fnatic tag for the first time in joinDOTA MLG Season 2 and you got third place. Are you satisfied with the result?
Personally, I had a lot of confidence that we could go into the finals but our loss to Alliance means we are one position short of our target. That's okay though because we have tried our best.

Fnatic waiting to check-in to their hotel at McDonalds.
There are a lot more TI teams playing in ESL One, do you have any particular target for this tournament?
The old me will not care about "targets" because I try my best in every tournament. However, after forming Team MY, I will give our team a target to motivate them and confidence to compete. We have the ability to do it. Our target for ESL is top 4.
During your time in MLG, you were playing in a Dota 2 tournament alongside X-Games. Are there any difference between the tournament in comparison to other tournaments out there?
X-Games is a very big event and the Dota 2 tournament is just a very small part of it. I am very impressed with the event because I have not experienced anything like it. In X-Games, there are a lot of extreme sports and while I have watched it on TV before, seeing it live is very different. I feel like a fan there and I would often go watch it when I have the chance.
What is the event in X-Games that impressed you the most?
I'm not sure what it was called but it was the one where the guy with the skateboard comes zooming down and he has to jump over a ramp and onto the slope.
What do you think about the ESL One format, especially the seeding bracket. No other organizers have done anything like this before. Do you think it is a better format than what other tournaments had?
This format is very fair for all the teams because you have to depend on your own capability to get a better spot in the event. On top of that, it is also advantageous for us to play in more matches because this will give us a chance to learn more from other teams.
Do you think it is weird that you are playing a double elimination into a single elimination at the main event?
It is indeed a little weird. I really did not see that coming. Assuming that it is a single elimination to a double elimination, or a double elimination to a double elimination, I think that is more acceptable. This is something they can improve on I suppose.
So you are hoping that they are more forgiving at the main event.
No, it is not that but it seems more professional that you don't go back right after you play one bo3 since every team travelled from so far away to compete here.
Do you think teams will be hiding their strategy in the tournament considering it is so near TI, especially during the seeding bracket?
I don't think there is a need to hide strats because if you don't use your strat, how would you know if the strat would work. A lot of teams used to do it last time but that is not how you win tournaments anymore. You don't win a tournament off a single secret strat.
You would be facing off against Vici Gaming in the first round of the seeding bracket and VG is very known for their aggressive playstyle. What is your plan going into the game tomorrow?
I think every team in ESL One is very strong and my mentality going into every game will be the same. Analyse them and use our best playstyle to defeat them.
You talked about analysing them. How does Fnatic usually analyse their opponents?
We, as a team, would analyse the replays of our opponents and then discuss their strong points and weak points together. Then we would discuss about how we can use our playstyle to defeat them.
How far do you think you can go in the seeding bracket?
I never thought about how far we can go. We will just try our best. It is okay if we lose as long as we learn something.
Who do you wish to face in the first round of the main event?
As I said, all the teams here are really good. For obvious reason, I want to play against Alliance because they knocked us out at MLG. Hopefully, we are able to meet them again for revenge purposes.

Mushi and Ohaiyo on the train to Cologne.
Which team do you think have the biggest chance to finish top two in this event?
I think Team Secret, Virtus.Pro and Evil Geniuses.
Virtus.Pro? That's a surprise pick. Tell me more of what you think about them.
I think they are a really good team although their performance can be unstable at times. I have always regarded them as a strong team even before MLG began. Picking top two is actually very hard and with the new patch kicking in, everybody can beat everybody. So, predicting top two is really just my personal opinion.
There will be no more major tournaments after ESL One. What is the team's plan until The International 5?
We will be flying to Sweden to bootcamp for a month. We will be training there until TI5
Why do you not want to bootcamp in South East Asia instead?
We are able to focus more when we stay overseas because we will have no distraction. If we are in Malaysia, we will go out for tea or hang with friends but we will not do that when we are overseas. We will focus fully on the training. Besides that, we will be able to train against European teams and learn their playstyle.
In the last few tournaments after the patch, almost all the major tournaments were won by European teams. Do you think the European teams are stronger than Asian teams at the moment?
I have to admit that the European playstyle is ahead of the Asian playstyle at the moment but that does not mean they will be able to finish first in The International. The duration of TI is very long and in such a long tournament, anything can happen. All the teams will have a chance to learn and adapt throughout the tournament.
---
More content on GosuGamers