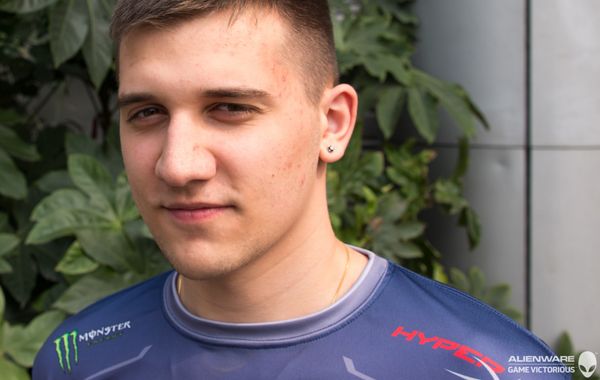 EG.Arteezy: 'As always, we have a lot to work on'
At World e-Sports Championship in China, our crew snatched Evil Geniuses' young star player Artour 'Arteezy' Babaev for an interview. It was recorded on video but due to the limited options to upload larger files, the actual video interview will be available after the event. Meanwhile you can read the interview with the famous mid laner here below.
Artour was known as a teamless rising talent in 2013, where he won MLG Columbus as a stand-in for Speed Gaming (now Cloud9). In February 2014 he joined EG's tryout roster SADBOYS which was later officially confirmed to be their new line-up. Artour finished school in June and is since then going full time with gaming. Along with his team he finished third at The International where they won just over one million dollars.
Hey guys, Skim from GosuGamers here. We're here at WEC 2014 and with me is Arteezy from Evil Geniuses. Arteezy, how is it going?
It's going okay but you know, we lost. But everyone loses, so...
You don't seem too demotivated. Talk a bit about the games, the first one was one-sided while the second one was more back and forth. How would you describe them?
I think the concept about draft of the game one leads to any error made with our heroes resulting in instantly losing. Because our heroes are based on killing opponents, if we fail to kill them and instead we die, it's an auto-lose situation because they can get towers with theirs ultis and Roshan without us being able to stop them.
Game two, I feel like we should have won that game by we made a lot of individual errors and turned out it wasn't good enough for us to win.
Anyway, this is your first time in China. How is your experience so far, outside of the tournament?
I haven't visited much of China but all I can say is that the traffic is nuts here, a 15 minute taxi ride ends up taking over an hour and a half, the traffic is insane. I hate this weather so much, it's fucking hot. Sorry if I am not allowed to swear. Besides that, the hotel is really nice, I think that's the only positive side of this trip so far.
It's really epic, the bathroom has this special shower.
The shower is so nice, holy shit.
Lets talk about the team, you guys didn't do too many roster changes, just Fear returning. Did you guys any notice any difficulties integrating him back into your team or was it natural since he's been coaching you anyway?
I think in our scrims it's been pretty easy cause he's been our coach the entire time, he's been behind us and watched all of our games so he has an understanding about how we play. But there's still stuff to work on obviously as you can tell from our results here so far. As always, we have a lot to work on.
Do you think the fact that you guys didn't play many official games is an issue? Comparing to Na`Vi for instance who's had several solid matches already?
It'd be nice to have have played versus other teams on USeast server since even if we are to practice online versus other teams we would play on the Luxembourg server. That's not even good practice because we have to adapt how we draft due to ping and stuff and you don't want to play like that since on LAN it's zero ping. So, I guess it's not very good for Americans right now.
And especially considering that with Team Liquid there's another American team pulling out. What do you in general feel about the American scene? You guys have a few talented teams but there's not many top ranked teams.
I think the issue with American Dota in general is about people sticking together and training. People prefer playing leagues and individual stuff and when they form a team they keep the same habit, so it takes some time for players to change into the team oriented style. There's a few players and teams starting to rise up in NA, so that's good. Need more competition.
Definitely. So looking back on TI4, how depressed were you after the tournament and how long did it take to get back up?
I was very very sad and the way we lost was very bad. I wish we could have played better in the final game but we couldn't. I was pretty depressed for a couple of hours then I popped the Grey Goose and began celebrating, at least I won something right? I was not too happy though, even though I was celebrating I was still emo inside.
How did your family react? I recall you saying your mom watches all of your games.
My parents actually came to watch all of our games so when we lost I came in and hugged my parents, it was a bit weird. No, not weird but, eh... embarrassing.
Good old parents. So you've be sticking with EG for quite some time, how's it been in your team? You guys are quite talented and quite young, except for Fear who's been around for a while. Still very young players, any plans for the future?
I believe we'll stick together for the end of The International for sure. We all have the same goal in mind which is to win TI, it's easy when you have five players all on one page.
Do you also get along on a personal level? I recall PPD saying something like he's alone in a team of kids.
*laughs* I don't know, I think we get along very well compared to other teams. There hasn't been any crucial drama that made us angry with each other for a long time, only small fights resolved really quickly because at the end of day we're a Dota team here to win some Dota games. *laughs*
With Fear returning though, is he the new dad of the team or is it still PPD? 
It's still PPD. The clowns are me, Fear and Universe and then Zai comes in every now and to clown around as well. PPD is just in the corner getting angry at us, but he keeps us in check.
It's not what you'd expect consider Universe and Fear are actually the oldest players on the team.
I think it's my fault.
Do you drag them down with you?
I don't drag them down it's just that I participate in a lot of clowny things, makes their mood all good, you know.
That's what player got to do. Arteezy, it was nice interviewing you. The last one is obviously for you, got any shoutouts?
I'd mention all my sponsors but I am really tired so just shoutouts to my sponsors and our fans. Hopefully we'll bounce back against HyperGloryTeam.
>> Follow the World e-Sports Championship here
---