Day 3 Event Blog: Arrow Gaming eliminated, western teams in a tough spot

Click here for our gallery of photos! 
---
Round 9: Empire!
Empire's hopes remains alive as they take yet another fierce match against Fnatic. They are finally living up to the form that they previously had before TI4, and who knows, we might see them go all the way. Liquid took the victory against Alliance however, and it appears that they might be eliminated tomorrow. Tough luck for the TI3 Champions. 
The EG - Na`Vi.US match is yet another amazing match, with EG seemingly making a comeback despite falling behind early on. With Liquid taking the match against Titan, and C9 coming back against Vici, the field remains open for a large group of tiebreakers tomorrow. 
It's getting really late here now, and the hall only has a few attendees left and some pro teams just watching the iG-Na`Vi match. Na`vi are at a really big disadvantage now, and they may have to wait until tomorrow to seal their spot in Phase 3. I won't be updating this blog anymore for tonight, it's late, and I'm exhausted. Have a good night, everyone, and see you tomorrow! 
---
Round 7 - 8: Epic East vs West matchups
Dinner has been served, and on top of that we have seen two epic matchups here that have once again elicited many cheers. The first match involved Ferrari_430's insanely farmed Ember Spirit trying to carry iG against C9. However, despite having two Divine Rapiers, two Battlefuries, a Daedalus and a Monkey King Bar, he was unable to lead the comeback against the hit-and-run- style of C9 in breaking their base. 
The other match was a back and forth affair between NewBee and Empire, which saw multiple refreshers, buybacks, aegises and all sorts of great play. AlwaysWannaFly's support Leshrac became a monster in the late game, which eventually allowed Empire to take the game and keep their hopes alive. At a score of 4-9, Empire will have to win their next games and hope that the other teams drop games so that they will be able to enter a large 5-6 way tie.
In terms of players, I'm seated directly in front Team DK, who are enjoying themselves joking and spectating the matches following the conclusion of all of their matches. They are in a really good mood, engaging in constant banter and joking, and hardly seem worried for tomorrow's showdown against EG. I would be confident if I were them too, if I had a coach like 71 - while they have been spending time joking and laughing after dinner, 71 has been staring at his laptop watching replays and taking notes with furrowed brow. 
---
Round 6: So much excitement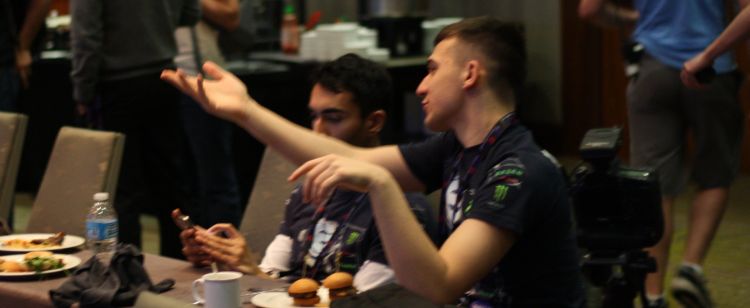 Round 6 has given us two of the most exciting matches so far: EG vs Empire as well as Fnatic vs Mouz. As I had called it back in round 5, both Mouz and Empire are on the verge of being eliminated and they are trying their very hardest with every fibre of their being to ensure that they make it through to phase 3. The cheers are numerous with the stakes hinging on each match, and the largely European/American crowd are very split on who to cheer for. 
In the Chinese grudge match, DK busted out a pocket strat to deal with NewBee, with BurNing on his signature Antimage but DK still ending the game within slightly over 20 minutes, on the back of an Undying offlane and Tusk support. I wonder if Alliance, who are sitting behind me, are taking tips from DK to try this out. EG have defeated Empire, and this means that Empire's hopes for the top 10 have been crushed.
Cheers abound as the Fnatic - Mouz match ends, given that extremely tight base race and the amount of huge plays being made by both teams. What a game! Mouz keep their dreams alive and Fnatic go into the danger zone with a score of 5-8. 
---
Round 5: Matches galore
Most of the matches in round 5 have ended, with the exception being DK vs Na`Vi. IG continue their dominance against LGD, Titan have a hard time against Na`Vi.US, and Alliance keep their hopes alive by coming back against C9. The really polarising match however, is the DK- Na`Vi match which sees people pointedly cheering for each team. I'm a DK fanboy, so I'm cheering for them, but the CIS audience to my left and a couple of Chinese attendees to my front are clearly cheering for Na`Vi. Given how these are both the "bandwagon" teams to support, I am not really surprised. 
DK takes the victory, and the matches of the next round have already started. I believe that round 6 will be a real test for Mouz and Empire, since a loss for either team will almost definitely result in them failing to make it into the next phase. I look forward to those two matches with so much on the line. 
---
Round 3 - 4: Watching the DK Coach

Sorry for the slow updates everyone, I spent the entirety of the DK-Na`Vi.US match hanging out with 71, DK's coach. I say hanging out, but it was more of me sitting next to him watching the match, as well as watching him watch the match. He had his laptop out and was spectating the game from within the client. It is really interesting to watch a coach and his reactions to his team's play - he would occasionally make exclamations, talk about the ongoing matches on the big screen as well as occasionally answering a question from me. He seemed quite frustrated when DK failed to deward, especially key ward spots such as the hill within the Dire jungle, and a ward watching the mid river area.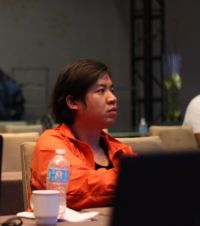 I'll translate a couple of the interesting things he mentioned here:
Why did DK lose to Vici Gaming?
Vici played a pushing lineup, which no one else is playing at the moment, and we were unprepared. I have every confidence we will beat them if we have to meet them again. 
Why did Vici Gaming lose to EG?
Vici Gaming's lineup was not suited to taking head-on fights against EG, who had too much fighting potential with the Prophet, Sand King, Razor and Mirana, but they kept forcing fights and eventually lost. They should have splitpushed against EG's lineup. 
~~~
The hall seems a lot more serious today since it is reaching the point where every match feels more and more important since the final standings are starting to crystallise. It is quite interesting to watch how there are fewer and fewer team supporters but instead applause is reserved for big plays on each side. This was very evident in the iG - Empire match, which iG won, but the audience was cheering every teamfight, be it Empire or iG winning. 
At the same time however, Korok did tweet this: 
Chinese teams here cheering every time DK dies

— Steven (@KorokDota) July 11, 2014
I have not really seen the Chinese teams since they don't hang out in the main hall, but it is quite obvious that DK does not really hang out with the other Chinese teams - they prefer the right side of the hall, while the other Chinese teams tend to gather on the left side, closer to the practice area. 
Meanwhile, Liquid managed to take a good win over iG, reinforcing North American hopes at a good placing for phase 3, while it appears likely that Mouz after their comeback loss to EG, as well as Empire's loss to LGD, have almost definitely sealed their fate in the bottom 6 of the group stage. I wonder how VG are feeling though, after having the wind taken out of their sails by EG. I'll try to get a chat with one of their players soon. 
There are so many cheers going on right now! Alliance have run the first level 1 Roshan strat of the entire tournament but have been punished hard by Vici Gaming. At the same time, many people are cheering for Na`Vi in their comeback against Liquid - some are cheering for Na`Vi, and behind me iceiceice is chanting "USA USA USA". The two matches have raised the spirits in the otherwise sombre hall, and we are rfeally watching some exciting Dota right now. 
NewBee seem to have recovered from their abysmal performance yesterday, taking a quick GG against Na`Vi.US, while Mouz keeps their dreams alive by taking a hard fought win against Titan. The highlight is still the Na`Vi - Liquid match, and its end has elicited the loudest cheers I've heard so far at the main hall. Round 5 is starting soon!
---
Round 2: Lunch is served.
DK will soon begin their second of their three straight matches today, and we are also interested to see if Arrow will be able to build on their momentum from yesterday and take their next game against Fnatic.
I've been sitting next to the DK manager and coach, and they are clearly unhappy over DK's play in their last two games, dropping to both Titan and VG. In the meantime, Arrow's fate has been sealed now that they have lost to Fnatic, they have gone 2-9 but they should be proud of their performance at the event so far. Lunch has been served and many of the players have come in to feast on the burgers and fries served today, which includes Empire and C9 coming in as well - C9 looking visibly happier after their relative letdown yesterday. 
---
Round 1: How's everyone doing?
The third day of the groupstage has started and I am already looking forward to it. We're watching the Na`Vi-Na`Vi showdown right now while waiting for the DK-Vici match to begin. The hall is emptier today, I believe that the two long days of the groupstage have taken its toll on the attendees here, who have reason to be tired. This is probably the most important day of the groupstage since it will mostly confirm who qualifies for phase 3 and the main event, and I am looking forward to even better games today. 
The first two matches have ended today with iG taking out Fnatic, and DK failing to build on their 4 win streak. Vici Gaming have sealed their qualification into the next phase with their 8-1 score, and it looks like they are currently the team to beat in the groupstage. Na`Vi have dropped their match to their American brandmates, which puts Na`Vi.US back in contention for a place in phase 3. LGD have beaten Alliance, putting both teams at 4-6, and both are in a dangerous position to not make it into the playoffs. 
---