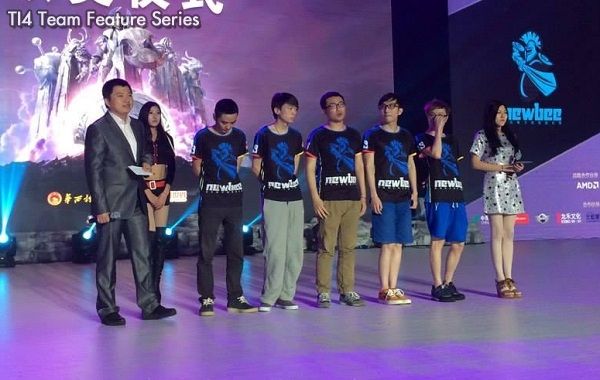 NewBee - Dream Team in the working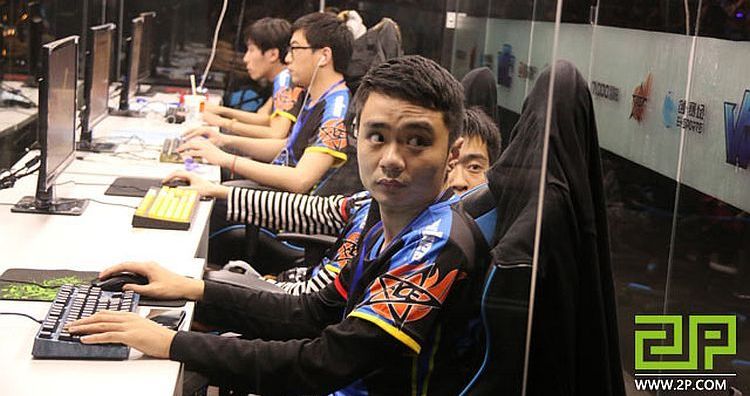 "
"
All great beginnings start in the dark, when the moon greets you to a new day at midnight.
" "
- Shannon L. Alder
Team NewBee is one of the youngest teams in the Chinese Dota 2 scene, and yet one of the strongest. Consisting of many experienced players previously from top tier teams such LGD, TongFu, and Invictus Gaming, NewBee at the moment seems adam?nt to keeping their top spot in our ladder rankings.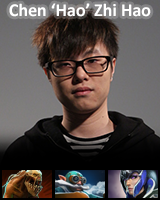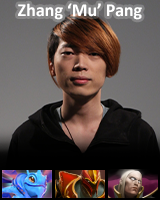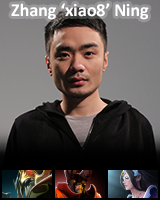 Famously formed from the backbone of TongFu, a team which played extremely well during The International 2013, coming in fourth position during that tournament. After TI3, it was Yao 'Zhou' Chen's retirement that sent the team packing: without his carry skills and synergy, the team simply fell apart. Rather than looking for a replacement player, the remaining members of TongFu decided to go their separate ways and put an end to their cooperation.
"
It won't affect my mentality, but it will give me more motivation
. " -
Ning 'xiao8'
'
Zhang, regarding The International 4's prize money
.
In February 2014, NewBee, a Chinese gaming organisation, decided to form the new 'Dream Team' in a surprising move. Picking up mostly former players from the TongFu class of '12 - '13 along with Gong 'ZSMJ' Jian, the team looked all set to go. By the 23rd of that month, roster transfers were complete but it was not till the 28th that it was all made official when Chinese esports media revealed that RMB 500,000 (USD $81,000) were exchanged in order to transfer xiao8 from LGD.cn to NewBee.
It was xiao8's transfer that started the upheaval of the team in terms of their roster. Within two weeks, the founding member of NewBee ZSMJ was replaced with former iG player Jiao 'Banana' Wang. In a another two months, Zhaohui 'SanSheng' Wang was introduced into the team, with KingJ stepping into the sidelines.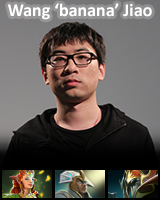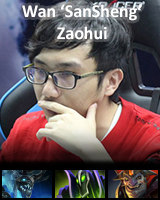 "
Teamwork and trust are the most important aspects of winning.
" -
Zhi Hao 'Hao' Chen
Despite their star line-up, things got off to a rocky start for NewBee. The dream team started with four straight losses in the Netolic Pro League, and Sina Cup including one to CIS' bizzare Wraith King, Sniper, and Mirana pick ups. NewBee were not living up to the hype of being the real 'Dream Team' but this soon changed with the adjustment of players over a period of time and it was then when xiao8 started to understand his team's playstyle more efficiently, after ZSMJ's depature from the team. The new line-up combining xiao8, Hao, Mu, Banana and Sansheng started showing results as it was expected when compared to the alleged transfer of Faith and ChuaN for a second time.
"
At first we had some adjusting to do, but after a period of warming up, we've made some progress.
" - Zhang 'Mu' Pan
The first real break for NewBee came during June, while participating in the recent MarsTV Dota 2 League. Reaching the playoffs stage with five straight wins in the groupstage, they proceeded to beat Team DK 2-0, and LGD.cn 2-0 as well. This earned them nine straight wins in the tournament, heading in the direction for the top prize of RMB 100,000 (USD $16,000).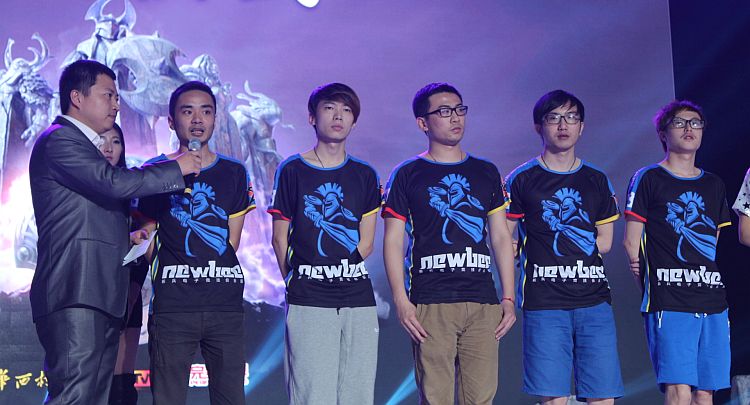 NewBee on stage to receive their prize, first place at the MarsTV Dota 2 League
Post TI3
2014
-
 MarsTV Dota 2 League
-
GEST June
- CDEC Newstar Cup

- WPC-ACE #2
Since its formation, NewBee struggled to live up to the potential it really possessed on paper. Constant roster changes combined with sub-par performance against lower tier teams, deprived them of any chance to win against other powerful teams. However, after ZSMJ and KingJ's departure the team started picking up on their form and established themselves a force to be reckoned with, after taking games off LGD, iG and DK in major tournaments. They even had a winning streak of six games against DK, starting at ECL.
Realising that they could work with the draft, they started winning by outdrafting their opponents in two ways: Counterpicking their opposition, and playing heroes that they were comfortable with whilst luring their opponents to play those that they were unfamiliar with.
As far as competitive play is concerned, they have little international experience. With the exception of playing literally a handful of games against Alliance, Cloud9, Titan, and Scythe, NewBee has not faced other international opponents. Despite their long individual gaming careers and experience, their efficiency as a team might be undermined when they go on to play Western teams on Western soil.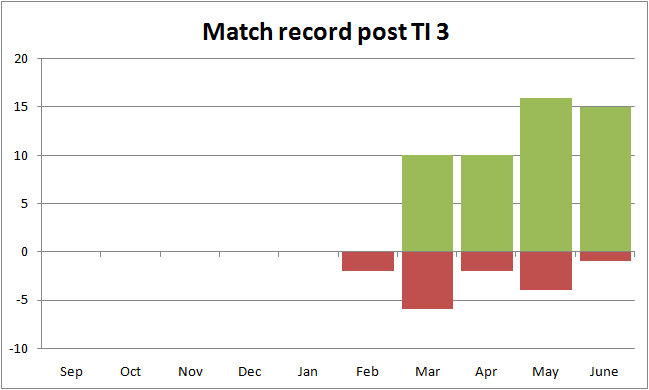 A quick look at the graph above would reveal NewBee's increasing win-loss percentage/ratio. Tracking NewBee's performance since their inception it leaves little doubt that their performance has been getting better and better, almost at a linear rate. This in turn raises the questions has NewBee reached their peak, is there more room for them to improve, and if so, what team can set a benchmark for them?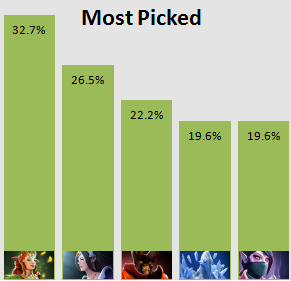 In the drafting stage NewBee favor Enchantress the most with 32.7% pick rate for Enchantress, with Mirana next at 26.5%. In third place we have Doom Bringer, then Ancient Apparition, and Templar Assassin. 
These heroes are not only able to input a large amount of damage early on in the game, but have tons of tower pushing potential as well. Nature's Attendents provided by Enchantress, and the Chilling Touch by Ancient Apparition make for great sustainability, allowing NewBee to keep up pushes and have extra impact in the early game.
NewBee also seldom chooses hard carry heroes such as Morphling and Lifestealer, opting to pick them in roughly 10% of all their games played, prefering semi-carries and taking the fight to their opponents.
Playing a pushing line-up and relying on counter-drafting their opponents, NewBee like to have tempo-controlling heroes on their side or have them excluded completely. Invoker is banned the most, at an extremely high 38.6%. Batrider follows next at 32.7%, and Lycan at 30.7%.
With their propensity to push and play with their opponents in the disadvantage, NewBee take heroes that can turn the tide of battle in an instant, allowing them to play the game in their own style. With that being said, there is a large disparity between their top three banned heroes, and those that rank fourth and below on their ban list.
Extrapolating the data, it might be possible that this data could be skewed due to NewBee playing a large majority of their games against Chinese teams. 
NOTABLE GAMES
 
Trivia:
- ZSMJ was captain of NewBee for only 15 days before getting replaced by Banana.
- Banana and Hao were previously players of TongFu, before moving on to Invictus Gaming then NewBee. Mu and Sansheng were playing together in TongFu before the team disbanded, later moving on to NewBee.
- Xiao8 is sometimes known as 'Director 8'. Appearing on a Chinese dating show last year, he met his girlfriend there, and married her this year.
- NewBee lost their first three games to a relatively unknown team, CIS, which picked Sniper, Mirana, and Wraith King.
Head over to the Gosuwiki for more information on NewBee and The International.
Photo sources: 2P.com, GosuGamers
---