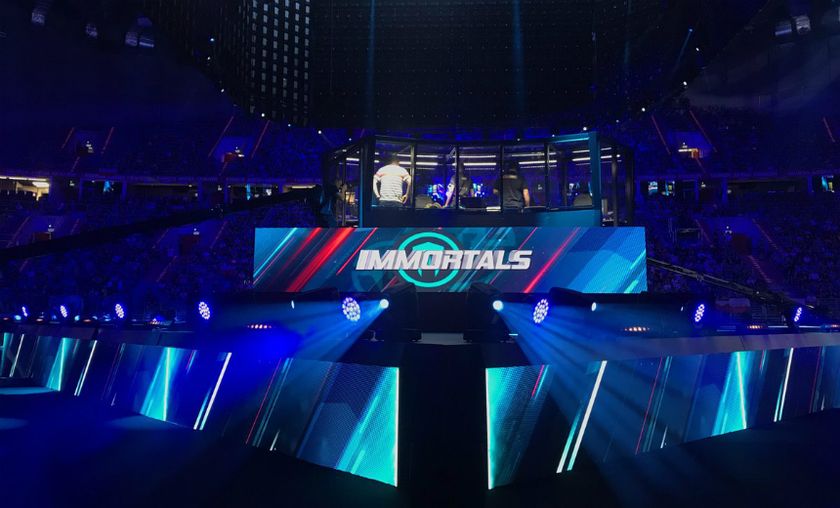 PGL Major Kraków 2017 - Immortals to face Gambit Esports in grand final
Immortals have eliminated home crowd favourites Virtus.pro, securing a match-up against Gambit Esports in the grand final of the Major.
Immortals vs. 
Virtus.pro - 2-0
de_inferno - 16:5 (11:4, 5:1)
Unrelenting aggression from the CT-sided Virtus.pro, with four members rushing down middle in what proved to be an incredibly risky decision. Two Brazilians were dropped in the process, however that was all she wrote for the Poles in the pistol round, as Immortals flanked around into the A site, securing a bomb plant and favourable positions for a retake. Apparently more conservative in round two, V.P saw a full eco, able to dispatch Vito "kNg" Giuseppe, snatching the Brazilian's rifles for round three. Immortals make quick work of the Poles, leaving two members saving an AK-47 and UMP45 post-plant. Conscious of this, the Brazilians hunted the two down on the B site, forcing the Poles to drop the Brazilian equipment. Virtus.pro purvey equipment of their own in round four, as finances are an, as is a full set of weaponry. Split pressure was applied to both bomb sites by the Ts, a move that proved to be their undoing, as V.P's defence proved ever efficient. Paweł "byali" Bieliński concluded the round with two kills at A site, securing his team their first round of the half at 1:3. A painful start that saw two members culled, coupled by slow play meant two members of Immortals would be forced to save their equipment. 
With an AK-47, an AWP and three upgraded pistols the Brazilians went into round six. A two for three exchange on the A site allowed a man advantage, one that Virtus.pro were unable to contest, instead opting to save rifles for better times to come. With financial issues affecting three members the home crowd favourites decided to force buy again the odds, leaving all members with less than $1,000 each. A flawless round from Immortals saw all five members eliminated, forcing the Poles into an full eco. Despite the apparent disadvantage, Virtus.pro managed two frags on their eco round, denting the finances of Immortals going forward, albeit conceding a further round. Round nine saw a very late A execute from Immortals, one that was quite impressive, as the site's defences were exposed and a bomb plant came out at just four seconds prior to the finalisation of the round. Wiktor "TaZ" Wojtas was the only live member of the defence, able to save an M4A4 for the upcoming pistol round. Full aggression from Filip "NEO" Kubski and Jarosław "pashaBiceps" Jarząbkowski, as the CTs sprinted down mid, catching one T at second mid. Lucas "steel" Lopes found both of the hyper-aggressive CTs, leading to a 4v3 situation for Immortals. No clutches from V.P, as a further two fell leaving Wiktor "TaZ" Wojtas saving his M4A4 once more. 
Once more we saw split pressure applied from Immortals, leading to confusion on the Polish side. Two frags were sustained by both teams in A short, with all but one member of Virtus.pro defending the site. Three members of Immortals hit the B site where Janusz "Snax" Pogorzelski resided, dispatching the defender swiftly. Having accrued quite the consecutive round loss, Virtus.pro finally found some closure, as the AWP saved in the prior round by Jarosław "pashaBiceps" Jarząbkowski accounted for three Brazilian deaths in middle. Having lost three members in such unlikely fashion, Immortals ran to the B site, only to be mowed down by Wiktor "TaZ" Wojtas' CZ-75, culling the final two terrorists. Further resurgence from the Polish side, as the thirteenth round only saw one member of the CT side fall, four less than the toll for Immortals. The Brazilians accrued a double digit score in the following round, as the terrorist twins in Henrique "HEN1" Teles and Lucas "LUCAS1" Teles scored two frags each with their weapons of choice - the AWP and AK-47, respectively. Further insanity from Lucas "LUCAS1" Teles, as rifler dispatched three members of Virtus.pro to secure his team an 11:4 lead come half time.
The Polish bears charge down banana, eyes set on B. An absolute brawl on the site saw three members  of Virtus.pro fragged to just one on Immortals. The bomb was planted regardless as the round entered post-plant. Two frags from Janusz "Snax" Pogorzelski equalised the man count at 2v2, however a lucky frag through a smoke from Henrique "HEN1" Teles converted the situation into a 2v1 for the Brazilians, subsequently a 2v0 as Wiktor "TaZ" Wojtas fell to the defence, allowing a bomb defuse. Miracles in round two of the latter half, as a solo AK-47 on Wiktor "TaZ" Wojtas proved to be the undoing of Immortals. An A hit saw an initial frag for V.P, immediately followed by three kills onto the offense. As the situation worsened, Janusz "Snax" Pogorzelski was found in a 1v3 situation, but with TaZ's trusty AK in his hands he was able to spray transfer all three remaining Brazilians down, securing round seventeen against all odds. Money was present on the Polish side, not so much on the Brazilian, however it was not utilised to great effect, as Wiktor "TaZ" Wojtas managed two consecutive frags, a development that proved to be the only highlight for Virtus.pro, as the team fell despite sporting a weapon advantage at 5:13. Upgraded pistols for the team in the following round, three of which were shut down by Lucas "LUCAS1" Teles' AK-47, picked up from the previous round.
Another eco from V.P ensued, once again witnessing a fall for the team, conceding map point to Immortals at 5:15. Round twenty-one was opened by Brazilian AWPer Henrique "HEN1" Teles, who was able to put down two members of Virtus.pro aggressing onto banana. Janusz "Snax" Pogorzelski was able to sneak behind enemy lines via middle through to CT spawn, ending up at ruins. The Polish butcher was able to catch an unsuspecting Lucas "LUCAS1" Teles, only to be subsequently caught out himself at CT spawn by Vito "kNg" Giuseppe when rotating to the A site. Wiktor "TaZ" Wojtas and Paweł "byali" Bieliński were over in A apartments meanwhile, deciding to fly out of balcony. Little did they know, two CTs were ready and waiting, silencing both terrorists with surgical precision. Immortals closed out their first map with a commanding 16:5 score.
de_mirage - 16:11 (11:4, 5:7)
A T side start for the Poles saw a split, with two members distracting in B apartments, whilst three were sneakily residing in palace. The fake was semi-sold, as Ricardo "boltz" Prass dispatched a T on B, and as a result gaining information on the Ts whereabouts. Meanwhile three members of Virtus.pro poured out of palace into A, two of which fell to Vito "kNg" Giuseppe's USP-S. The bomb was defused whilst the final member of V.P, Filip "NEO" Kubski was making his way via underpass, only to increase kNg's frags to three. Pistols for Virtus.pro in the following two rounds were both shut down, with only a single member of the defence dying in each. At 0:3 the Ts opted for a slow play, one that was utterly shut down by Ricardo "boltz" Prass's three man spray with the M4A4. Another pistol force buy for Virtus.pro, yielding but two frags, furthering Immortals to a 5:0 lead. 
Able to purchase a comprehensive set of equipment, Virtus.pro took middle control, allowing for an extensive list of movement options. The Poles opted for an A split, one that ended up producing the team their first round. Not only was a 1:5 score accrued, V.P managed to perform flawlessly, saving all rifles purchased in the previous round. Round seven saw a B rush from Virtus.pro via apartments, able to breach the defence and secure a plant. Immaculate play from Lucas "LUCAS1" Teles, as the Brazilian forced his way out of a 1v2 situation, dispatching both remaining Ts, subsequently defusing the bomb. Money was still decent for the Poles, as they are able to afford a full buy in round eight. Two frags apiece on Vito "kNg" Giuseppe and Lucas "steel" Lopes meant dire times for V.P, as the team are reset once more in the following round. Against all odds the Polish team dealt massive economic damage to the CTs, culling three members of Immortals on the A site. Nothing prepared a Virtus.pro that was now working with rifles from fallen enemies to a fired up Lucas "steel" Lopes, who secured four kills in the conclusion of the round, single-handedly securing an 8:1 lead for his team. 
Virtus.pro saw success in round ten, perhaps in not the most orthodox of ways. Once more Virtus.pro were faced with a sad situation, down four members, leaving Jarosław "pashaBiceps" Jarząbkowski in a 1v4. The biceps were truly with him, as the Polish legend slowly ground each remaining member of the Brazilian roster to dust, all the way to a 6 HP 1v1 against Henrique "HEN1" Teles. A display of audacity saw the last standing Pole rotate around the Brazilian, backstabbing him from jungle, in turn securing Virtus.pro their second round. Economy in tatters, Immortals upgraded their pistols and decided to see what it would yield. Against all odds the round came down to a 1v1 in the post-plant, with Virtus.pro losing quite the bank due to lost rifles, but hopes were high, as the third round had been accrued at 3:8. Full pistols for the Brazilians in the following round, with nothing to show. No longer broke, Immortals purchased five M4A4s, immediately securing control of middle. The entire roster of Virtus.pro was sneaking in B apartments, waiting to pile out onto the site. Two Molotovs signified their advance, but a strong hold from Lucas "LUCAS1" Teles saw three kills accrued, abruptly shutting down the offense. Round fourteen witnessed an A site advancement from Virtus.pro, where a bomb plant was secured. The Poles toppled, leaving Filip "NEO" Kubski to fend alone. The Counter-Strike legend fell, conceding the round. Round fifteen saw another A take from V.P, and hopes were high in a 2v2 situation, but the Brazilians got the better of the home crowd favourites, concluding the prior half at 11:4.
Resurgence from Virtus.pro, as a stellar hold on the B site spearheaded by Wiktor "TaZ" Wojtas saw two opening frags for the CTs. Backup rotated from the A site, ensuring a clean dispatch of the Ts, whereby TaZ was the only casualty of the round. Immortals force bought in round seventeen, working with upgraded pistols. All but a single frag was secured by the team, leading to a second consecutive round victory for Virtus.pro. A fast round once again, as Immortals pile in through connector, shut down entirely by Virtus.pro at 7:11. The first buy for Immortals saw dire developments, as four members perished in quick fashion, leaving Henrique "HEN1" Teles lonesome. Two kills for the Brazilian were accrued, as well as a bomb plant meaning an exceedingly positive performance irrespective of the subsequent loss. Virtus.pro reset the Brazilian economy with the prior victory, as well as  shutting down the opposition's upgraded pistol in the current, just two round victories away from equalising at 9:11. Struggling to get back into the hang of things, Immortals lost their rifle buy, as lacklustre clearing of the A site saw Wiktor "TaZ" Wojtas dispatch two members of the opposition from shade. A rotation from B defenders saw the closure of the round, leading to a 10:11 score for V.P. 
Contrary to the prior round, Immortals found it within them to secure a bomb plant on the B site. Two members of each team fell in the fray, but a post-plant was achieved and the round was for the CTs to retake. Culminating in a 1v1 between Lucas "LUCAS1" Teles and Janusz "Snax" Pogorzelski, the Brazilian played the clock like a pro, wasting time and baiting a response from the Pole who was aiming to defuse. No such defuse came through, instead a Glock9 bullet to the dome did, landing Immortals 12:10. A pivotal round followed, whereby Immortals were faced with a full reset if the team was to sustain a loss. An A hit fell through for the Brazilians, losing four members in the process, leaving Henrique "HEN1" Teles in underpass saving an AWP. An unimaginable round ensued, as four pistols and an AWP convert a highly unlikely situation into a win. Over-aggression from Virtus.pro saw pushes into T territory, met by the highly lethal Tec9. Janusz "Snax" Pogorzelski conceded an AWP to Ricardo "boltz" Prass, followed by Jarosław "pashaBiceps" Jarząbkowski conceding an AK-47. The rifles were employed against their owners' team, leading to a massive upset from Immortals at 13:11. 
Both teams sported rifles in round twenty-five, however Virtus.pro were sitting below $500 each, meaning if the team sustained a loss - it would most likely be game over. An immaculate A hit from Immortals saw four members of Virtus.pro fall to zero fatalities for Immortals, leaving Wiktor "TaZ" Wojtas sporting an M4A1-S. The Brazilians attempted to hunt down the veteran - to no avail, as Lucas "steel" Lopes and Lucas "LUCAS1" Teles both fall in attempt to force the withdrawal of the rifles from TaZ. Map point for Immortals ensued, as another A site hit was successful, with two kills from Ricardo "boltz" Prass. A close call for the team, as two members of Virtus.pro in Wiktor "TaZ" Wojtas and Janusz "Snax" Pogorzelski picked up rifles, attempting to upset the established presence on A, however no such upset was seen, with the two remaining Poles dispatched by the Brazilians twins - Henrique "HEN1" Teles and Lucas "LUCAS1" Teles. Round twenty six saw Immortals step up to close the match, as Ricardo "boltz" Prass and Henrique "HEN1" Teles opened the round with two kills each. Filip "NEO" Kubski did his best in attempt to salvage the round, but was subsequently dispatched by the aforementioned Brazilian AWPer. Left in a 1v3, Wiktor "TaZ" Wojtas played his heart out, but his heart was broken by the Brazilians at 11:16.
Image courtesy of Immortals' Twitter