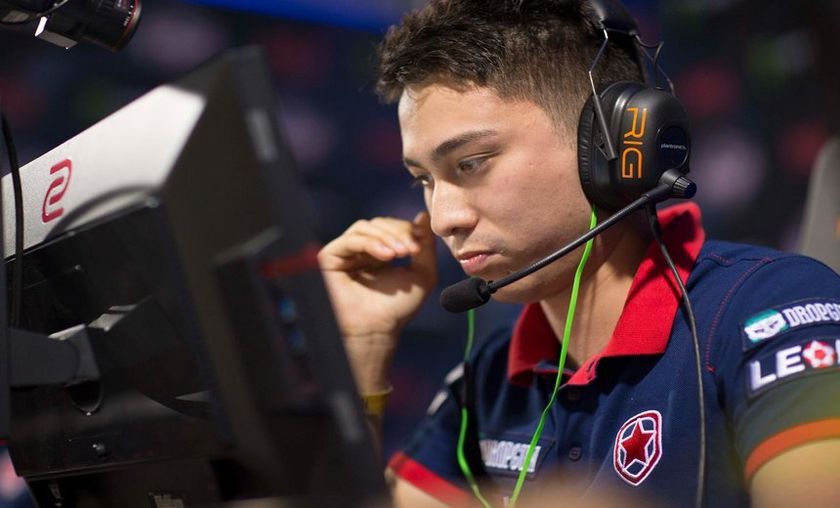 PGL Major Kraków 2017 - Gambit and Astralis play out nail-biting semi-final
The surprise package of the Major took on tournament favourites Astralis in the first semi-final of the day, but could Gambit continue their Cinderalla story, or would the Danes send them packing?
Gambit Esports vs.
Astralis - 0-2
Game One: Gambit de_overpass - 15:10 (10:5, 5:5)
Gambit started out on the CT side of Overpass, and the teams wasted no time in getting acquainted. A fast contact play onto B saw Abay 'HObbitt' Khasenov and Dauren 'AdreN' Kystaubayev cleaning things up, to put the British org ahead  for the loss of just one man. Control of round two was theirs too as Astralis saved, and the crowd were firmly behind X-GOD and friends in the early stages. Astralis picked up some guns in round three, but with few kills to their name had very limited utility, and paid the price as Peter 'dupreeh' Rasmussen could not finish his food, dying last.
At 3-0, Astralis had just two players with kills, and a handful of pistols to defend themselves, which worked out how you'd expect, with another team wipe suffered without return. Another buy from the Danes in round five had pressure on it with no member of Gambit below $5k in the economy, but Rustem 'Mou' Telepov was the clutch god, and took out two damaged Danes to make it 5-0 to Gambit, although Astralis got a plant at least.
We saw another 2 v 2 in round six, with HObbitt and Mihail 'Dosia' Stolyarov down after doing good work and Mou the hero once more, and the score line was starting to look really good for his side, which forced the first tactical timeout from the favourites. Both teams had a decent buy into seven, with Nicolai 'dev1ce' Reedtz on the AWP, and for what seemed like the first time the Danes started winning their duels. The A plant came with Astralis having the two man advantage with four left, and Dosia was last to fall as Astralis finally won a round on their seventh attempt.
Early contact in round eight saw Markus 'Kjaerbye' Kjærbye dropped first to give Gambit another numerical advantage, and they read the Astralis plant on B perfectly. Dupreeh did his best to make it tough, but once more Gambit took the round, leaving their opponents slightly shell-shocked, but rich enough to buy into the next at least. At 7-1 down in the first half though, it was clear it wasn't all going the Danish way.
Dev1ce was finally able to give his side the edge, picking off Mou first, but Gambit quickly evened things up. The pressure didn't relent though, and with the plant on B and only two men left, Gambit decided to save and fight another day, given they would still have a five round lead at 7-2. This prompted a tactical timeout from Gambit, which was followed by a fast start, with that man Mou not interested in taking his foot off the gas, dropping two and putting his side back in control of the round, which they subsequently took.
Great team play sees Gambit wipe an Astralis eco
Apparently, eleven was the magic number for Astralis, as they slowed the pace, finally woke up and took a round for no loss, putting some pressure on the Gambit economy in the process. Dev1ce opened the next with another typically sharp shot, then dropped Dosia as his friends worked, and before we knew it the gap was closed to four rounds with Gambit basically broke.
Gambit needed a hero, and Mou looked to be that man before Daniil 'Zeus' Teslenko burst onto B and took over. AdreN got a couple to take home the bacon, stretching their lead to five, and slightly rescuing their economy. Astralis pushed onto B in round fourteen, but four Gambit killers were ready and waiting, and took the penultimate round of a half that had gone very well for them so far. When fifteen went to the Danes, it was a stopper for the underdogs, but 10-5 at the half was still a good result.
Obstinate work from Andreas 'Xyp9x' Højsleth gave Astralis the pistol at the start of the second, the first pistol round Gambit had lost in a while, and with it some momentum too. Frustratingly, they lost dev1ce in the following eco, as well as Kjaerbye, but took it to get to 7-10, although the next went to Gambit. At this point Mou had 25 kills, with the next best player on the server sitting at 11, which should give you an idea of the win condition for Astralis. In short, get Mou.
They managed to take down Zeus in round 19, but with only pistols that was the limit of the Danish ambition, making it 12-7 to Gambit, or Mou and co as we should be calling them at this point. Team Mou planted on A in the next, and managed to finish that out with three men still standing, leaving Mou 30-8, and his team three rounds from victory, which became two in the next.
It seemed like this was the point Lukas 'gla1ve' Rossander began to worry, and the Astralis captain got a couple to open up round 22, including a great Molotov kill. HObbitt was first on B, but great timing from Zeus opened things up, and before we knew it was 15-7 to the British org. That woke the Danes up, and they dominated the next to go to 8-15, but Gambit were still loaded with cash and one round from taking the first match.
HObbitt started round 24 by sending gla1ve to the afterlife, before Kjaerbye fell to the same Kazakh killer, giving Gambit a four on two advantage onto the B site. Xyp9x girded his loins to hold them off and prevent the plant, forcing Gambit to play another round, and the pressure was mounting for the leaders. When dev1ce dropped Dosia early in the 25th things were looking really shaky for Gambit, with players overexerting a bit, even the previously godlike Mou, and that played into gla1ve's hands as the score went to 15-10.
Fate smiled on Gambit though, and it was AdreN who beat dev1ce in a duel before dropping another on A. The round unfolded to leave dupreeh last man up, and despite his best efforts there was no way around Gambit, who closed out game one 16-10 on Overpass. There is no denying that was a shock result, and left the series beautifully poised going into game two.
Game Two: Astralis de_inferno - 8:16 (5:10, 3:6)
Whatever was said over the halftime oranges clearly worked, as Astralis came out on T side for game two on Inferno in blazing form, taking the first round. Apparently nobody had told Mou game one was over though, as he wrecked the Danish shop once more, before his team cleaned things up to make it 1-1. The see-saw style continued in the next, which the Danes took, and it was clear there was a power struggle afoot that could dictate the outcome of the entire BO3.
As expected, it went to 2-2 after Mou stepped up again, and early trades opened the B site for the T side. Zeus was last left for the European mix, and the former Na'Vi leader chose to hold onto his AK and live to fight another day. HObbitt was left alone after a good A site plant in round five, and a lonely UMP kill was nothing more than consolation for a Gambit that suddenly seemed far less comfortable.
The Danes pushed A again, with Gambit only having two men in position when the bullets started flying, meaning another clean victory for the favourites and a four round lead to go with it. Gambit took a timeout to try and talk things out, as is only sensible, but this didn't seem to faze their opponents, who took advantage of a weak CT buy to stretch their lead to five.
Both teams were able to buy into the tenth round, and things didn't look bad until the X GOD decreed that three Danes should fall to his wrath. The spray transfer was worthy of a deity, and Gambit won their first round for a while to make it 3-7, giving them hope, and the half-naked fans reason to dance once more. As it turns out though, neither gla1ve or dev1ce are believers, and Astralis hit straight back to make it a five round lead again, and another Gambit eco.
Said eco was fish in a barrel, and at 9-3 we saw the sort of lead Astralis were probably expecting to have in game one, as well as a huge economical advantage. Gambit did not care though, buying again to make it 9-4, although they lost three men, and therefore three guns to further increase their financial woes. Once again, Zeushad perfect timing to get the first kill, and Astralis made a desperate rush onto B that took them right into the crosshairs of HObbitt and AdreN, making the gap just four game, with one left in the half. Full buys followed, and Astralis took that to mirror the score at the end of the first half of game one, 10-5 in their favour.
Hobbitt shows it's his shire with three quick kills
Pistols at the dawn of the second half saw Kjaerbye getting three kills, but HObbitt got the plant as last man standing, and his 1 v 2 became a 1v1 versus dev1ce for control of the round. HObbitt delayed until the defuse was impossible then killed dev1ce just for fun, and Gambit seemed ready to make an impact. This forced Astralis into a round two eco, and that meant another win for Gambit, and the gap closing to just three, at 7-10.
More Danish saving into round 18 meant Gambit only had to take care to make it 8-10, and they did for the loss of just one man, but there was finally enough money on both sides for a gun round. Sadly, technical issues raised their head for the first time in this match, and the crowd were made to wait, but it was worth it as Xyp9x decided to turn up and closed out an eleventh for his side.
Apparently dev1ce hadn't been paying attention to Mou's play, as he peeked and instantly lost his life as a result at the start of round 20. Two from Gambit went to B, but Dosia was uncharacteristically slow to follow, and his friends walked into a mincer without him as a result, making it a four round lead for Astralis. His frustration was obvious at this point, and Gambit burned their last timeout in an attempt to shake that negative emotion.
As a result, the money was not good for Gambit, who only half bought and suffered for it. An A push saw them walk into a series of hopeless spots, which were ruthlessly exploited, and with five rounds between them Gambit felt compelled to force buy to turn the tides. Kjaerbye and AdreN went down early, before great positioning from Xyp9x put his team in control and gave them the round. At 14-8, the Danes were looking to close things out, and Gambit were shaken.
Dev1ce brought himself back into the action after getting one at the end of the last, picking off two and putting Astralis in a winning position in the 23rd, despite AdreN making a highlight reel shot on his way to the grave. At match point AdreN walked onto A and got two kills, but gla1ve and then dev1ce struck, leaving only the XG0D standing. As it turns out though, Xyp9x is not a believer, and flexed his own divine muscles to clutch a 1 v 1 over Dosia, making it 1-1 and taking us to a deciding third match.
Game Three: Gambit de_train - 16:12 (9:6, 7:6)
Game three saw Gambit get back to their winning ways as far as pistols were concerned, meaning their opponents started round two with pistols and not much more. That meant a win without losing a man for the underdogs, no money in round three for the Danes, and a quick 3-0 advantage for the side it is fair to say the crowd had taken to their hearts by now, partly due to a mistake by gla1ve. If Poland could decide, Gambit would be in the final already.
The first buy for Astralis came in round four, and they gained a man advantage before pushing B hard. Some good work from Zeus almost saw them drop it, but eventually they were able to frustrate him and take their first round in the game, as well as potentially gain a spot of cash and a modicum of momentum. That all came up against the XGOD and Mou on B, and as you'd expect, mere mortal momentum was no match for Dosia and friends.
Another half buy was forced from the Danes, meaning another opportunity for the Red Stars to add to their lead, which they duly did thanks for Mou and Zeus. Astralis took pistols to A in round seven, and got good early penetration before they were shut down post plant, which wasn't the worst result they could have hoped for, and meant they could take AK-47s into their next attempt at a scoring play.
They went back to A again, and it initially seemed like Zeus was overwhelmed there, but some great work from him before HObbitt stepped up and made a hero play shut out Astralis one more, and cost them another chunk of cash. That eco was exploited for the loss of just one, and before anyone realised Gambit were 8-1 in the deciding match versus the current reigning champions.
Aggressive play from AdreN meant a man advantage early in round ten for his team, but a patient dupreeh eventually took him down. That opened things up for Astralis, and dupreeh finished the round with three kills to help his money, although there was still a considerable gap in finance between the two sides. Astralis gathered at ramp and flew onto the A site like pigeons onto breadcrumbs, with Mou unable to play pest control as the last alive for his team.
Four rounds were left in the half, and Gambit were 8-3 up with enough for almost a full buy as they called a tactical timeout. That break was extended as gla1ve dropped out of the game for the second time, and when we returned it was neck and neck with the leaders not being as flush with cash as they would have liked, or felt comfortable with.
On resuming the action, dev1ce opened up the B site before dupreeh went ape, killing two and guaranteeing the round win. The very same man took out HObbitt before the round ended, and Zeus also fell to a cheeky wallbang, leaving three rounds in the half and Gambit 8-4 up. The leaders eco'd, Astralis slayed, and in the blink of an eye it was 8-5 and guns all round.
Fourteen looked to be in Astralis's hands, with a clever flank from gla1ve giving them a 2 v 1 post plant, but the captain then took out his own teammate Xyp9x to give a chance, and then the round to Gambit. Dev1ce clearly felt bad for his buddy, and destroyed Gambit on A to put his team back on the road to recovery, ending the round with a 9-6 score line to Gambit.
The final pistol round started slowly, with a five man walk to B from the leaders, and Mou brought us back to his game one form with some crucial kills to make it 10-6, and push Astralis to force into round two. Dupreeh made Gambit sweat with a crispy deagle shot, but AdreN, HObbitt and co shut that down, and put their team just four from an incredible and truly unexpected place in the grand final.
The Astralis economy was broken again, and Gambit took full advantage, taking the 18th without loss. They also had double the cash of their illustrious foes, who were forced to invest again, and flooded B to take control with the plant. Xy9px did some good work, and somehow Astralis were able to eke it out and take a round, pressuring the cash and the composure of their adversaries.
There is a reason they call Xyp9x the clutch master, and he went supersonic to get a clean triple at the start of the next round. dupreeh outplayed Mou in the final moments to capture another round, and suddenly the gap was down to four. An alley push saw Gambit walk into Kjaerbye's crosshairs for the loss of one, and when Zeus, then AdreN went down, it was time to save again, with three in a row now going to the Danes.
At this point it looked like Astralis were in full 'major champion' mode, having seemed to be asleep earlier, and even their utility was fully on point. Dupreeh took down HObbitt, but Kjaerbye was dropped to give Gambit a chance. Some madness on A followed, and when the dust had settled Xyp9x could not make another miracle happen, making it 13-8. A round loss in the next would put Astralis in an almost impossible situation with the money at basically nought, and Gambit seemed to recognise this, using their third timeout ahead of the crucial encounter ahead.
Gla1ve made a typically bold call, fake pushing at the start of the round to give dev1ce a chance, and he duly dropped Dosia. Xy9px baited HObbitt to his death, and two Gambit fell like dominos to put Astralis firmly in the driving seat. Gambit were forced to save, and at 13-10 we had a tight battle on our hands.
At this point it looked like gla1ve had Gambit's number, controlling the map and freezing the normally aggressive CIS mix out. Zeus and AdreN were picked off, and even some heroics from Mou couldn't stem the deluge of Danish damage. An eco meant Astralis picked up their twelfth, with nary a death to trip them on their way to victory. Gambit used their final timeout with just a one round lead, and the pressure on the Ukrainian was intense.
He did not buckle though, opening things up with a kill on dupreeh that gave Gambit control of the A site, and when dev1ce was the last Dane standing he ran for his life rather than peeking into the perfect crossfire. This was it for Gambit, the true test of mettle, and they stepped up in the form of Zeus, Dosia and AdreN. When Xyp9x fell, not a single Gambit man had died, and the final was close enough for the underdogs to taste as gla1ve called a timeout.
A gut check of a grenade landed on Mou at the start of the 28th, stopping the early Gambit rush and giving them pause for thought, but instinct took over and they pushed onto A. Dosia and AdreN started things off, and the plant on B came with dev1ce last man standing. His scout was no match for the inspired Gambit, who closed out the game and took their place in their first ever major final, making history in the process.
Image courtesy of PGL