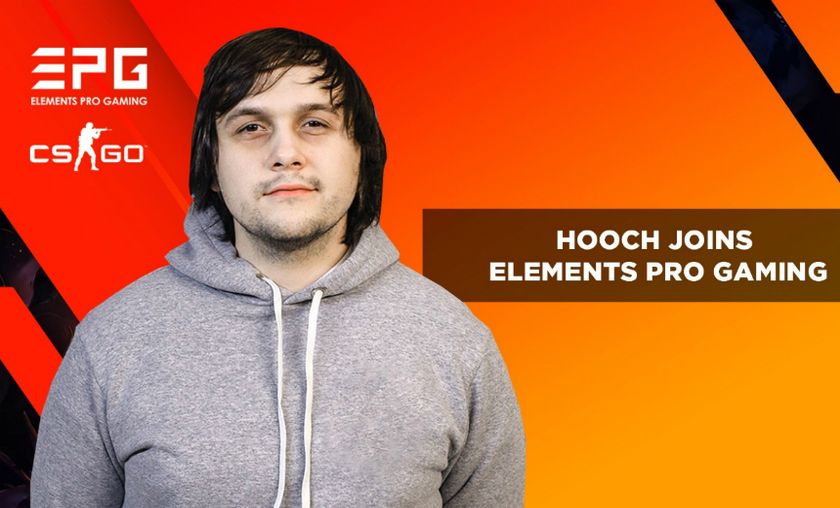 Elements Pro Gaming sign hooch
Elements Pro Gaming announced the addition of former Gambit player Dmitriy "hooch" Bogdanov.
Elements Pro Gaming ventured into Counter-Strike: Global Offensive when the organisation signed the Russian-Ukrainian roster of PiTER in November last year. The team achieved minor success since joining Elements Pro Gaming, reaching the semi-finals at GO: Champions League Season and Binary Dragons Cup #5, as well as finishing HellCase Cup #1 second. Last month, the roster changed to an all-Russian line-up with Kirill "Bombl4" Mikhailov replacing Vlaidslav "arch" Svistov.
According to the announcement, EPG are set to experience their second roster change. 30 year-old veteran player Dmitriy "hooch" Bogdanov will be replacing Dmitriy "facecrack" Alekseyev. Hooch's last regular spell with a team was with Gambit Gaming when he led the team to the quarter-finals of ESL One: Cologne 2016. After being released from Gambit, he attended the European Finals for WESG Global Finals with Russian mix .Russia and qualified for the main event but in China, the Russian mixture failed to advance past the group stage.
Elements Pro Gaming now field the following roster: 
 Saveliy "jmqa" Bragin

 Alexey "ub1que" Polivanov

 Nikita "waterfaLLZ" Matveyev

 Kirill "Bombl4" Mikhailov

 Dmitriy "hooch" Bogdanov
Images courtesy of Elements Pro Gaming Twitter