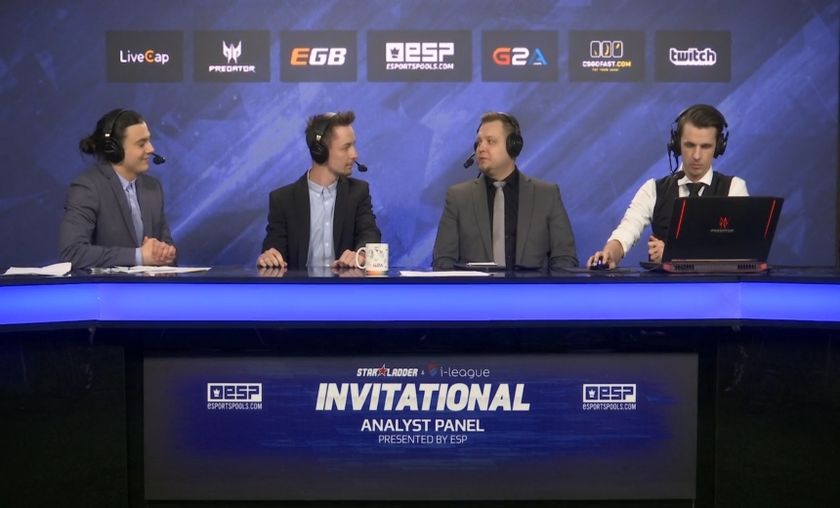 StarLadder i-League Invitational - Day 1 recap
Natus Vincere vs. 
FlipSid3 Tactics - 4:11, 0:5 (4:16); 10:5, 6:9 (16:14); 12:3, 4:6 (16:9) 
Winner: 
Natus Vincere - 2:1
Maps: de_Train, de_Overpass, de_Cobblestone
MVP: 
 Ladislav "GuardiaN" Kovács
The only series of the day that went into three maps. Initially it seemed Na'Vi were out of shape after their period of rest. The team was unable to perform on one of their stronger maps, de_Train, giving away the map at a rather embarrassing 16:4 score in favour of F3 Tactics. Following this lacklustre performance, GuardiaN and co. were set on mounting a comeback. Whilst de_Overpass saw an incredibly close score line of 16:14, the team was able to get a grip and take it away. Finally we saw de_Cobblestone, where Na'Vi showed a dominant performance on their CT side, with only four rounds left to take away the series. The Ukrainian team did just that, sending FlipSid3 Tactics packing.
Virtus.Pro vs. 
HellRaisers - 9:6, 7:0 (16:6); 4:11, 12:1 (16:12)
Winner: 
Virtus.Pro - 2:0
Maps: de_Mirage, de_Cache
MVP: 
 Janusz "Snax" Pogorzelski
A very strong performance from Virtus.Pro, reminiscent of pre-winter 2015. The Poles were able to completely ravage the European roster on de_Mirage. Kicking off on the T side flashbacks from the glory times of Virtus.Pro were seen and felt, as the Polish bears were amassing round after round. The initial half proved fruitful, as the team landed 9:6. What ensued was a mercy killing, as Virtus.Pro demolish their opponents 7:0 on their CT side. de_Mirage saw a closer game, as both teams seemingly had the opportunity to emerge victorious. HellRaisers kicked off to a solid start, mowing down V.P's T side 11:4. The odds were stacked in the European mix's favour, however their opponents had other plans in mind. Virtus.Pro absolutely thrashed HellRaisers, giving up but a mere round on their CT side, closing out the series in a quick two maps.
Dobry&Gaming vs. 
GODSENT - 14:1, 2:0 (16:1); 11:4, 5:1 (16:5)
Winner: 
Dobry&Gaming - 2:0
Maps: de_Train, de_Cache
MVP: 
 Grzegorz "SZPERO" Dziamałek
The final and perhaps most unexpected series of the day. GODSENT, lead by ex-Fnatic in-game leader Markus "pronax" Wallsten, saw disappointing results over the course of both maps. Kicking things off was de_Train, where D&G set off on an incredible note. Their T side on de_Train was absolutely phenomenal, so much so that the Swedish roster was incapable of doing anything about it. A whopping 14:1 finish for D&G, only to be follow by two subsequent CT rounds, laying de_Train to rest at 16:1. de_Cache wasn't too hot for the Swedes either, as they weren't able to secure a solid start on their T side. Despite all efforts, GODSENT finish the first half at 4:11. D&G weren't about to throw this chance away as the team pulled five rounds to one, closing out the best-of-three on a swift note.