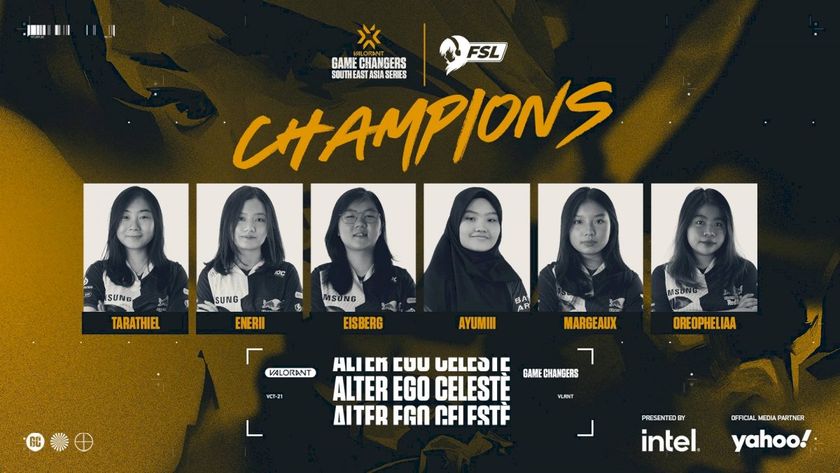 Alter Ego Celestè wins another championship at the VCT Game Changers SEA: FSL VALORANT Circuit
They did it with a perfect run through the competition, and a 3-0 win against Galaxy Racer Female
The ladies in team

Alter Ego Celestè have another reason to smile. They just claimed their fifth, straight championship wins in the VALORANT Champions Tour (VCT) Game Changers SEA: FSL VALORANT Circuit when they won against
Galaxy Racer Female 3-0 over the weekend.
Headlining the FSL VALORANT Open V playoffs, Alter Ego heads the pack alongside:
Alter Ego reached the Grand final by beating Magnifique, Kid Mai Ork and Galaxy Racer in straight wins of 2-0 in the playoffs, and then met with Galaxy Racer yet again in the final round after Galaxy Racer met Magnifique in the lower brackets.
The grand final saw the team from Indonesia initially suppressed by Galaxy Racer, but then they rallied after switching sides to eventually win the round. They then maintained the momentum in the next couple of rounds and finally won with a 3-0 sweep, claiming the FSL VALORANT Open V championship.
With this win, team Alter Ego Celestè won the grand prize of $1,500 while Galaxy Racer walked away with $1,200. With this win, Alter Ego Celestè is at the top of the FSL Circuit leader board with 50 points - which means the team takes the first qualification sport for FSL Elite, slated to happen this October. The grand event will have a pot of $25,000 spread among the winning team.