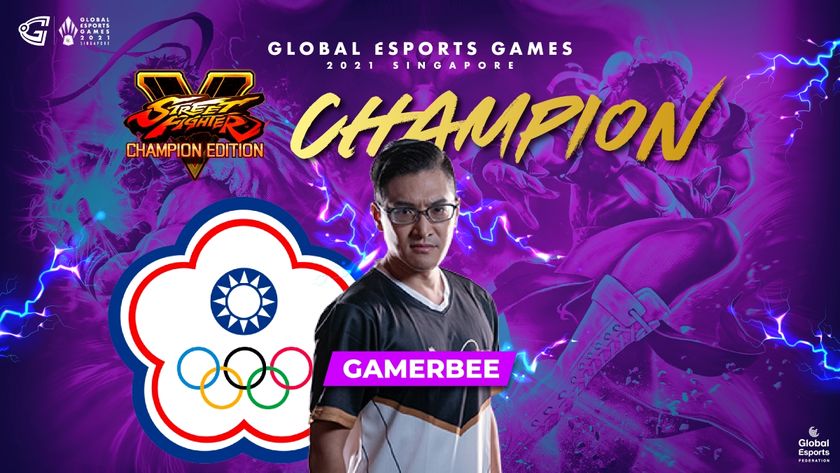 GamerBee takes home the gold in Street Fighter V at the Global Esports Games 2021
Street Fighter V: Champion Edition was on display earlier today at the Global Esports Games 2021 in Singapore as GamerBee walked away with the win as well as the bragging rights.
After a long and arduous day of Street Fighter V action, we finally have a winner in the form of Bruce "GamerBee" Hsiang, one of Taiwan's most prominent SFV players. He defeated Saul Leonardo "MenaRD" Mena II in the grand finals 3-1, winning the best-of-five almost effortlessly to put Taiwan on the map as one of the best regions for SFV.
Taiwan was also the only Asian country to make it past the quarterfinals with Singapore's Brandon "Brandon" Chia unable to get past Pakistan's Amu_PS4. The Pakistani was in fine form but was overwhelmed during the semifinals against MenaRD. However, he did redeem himself in the third-place decider against The Great Britain's Kim-Philippe "The4Philzz" Badiabio.
As for Gamer Bee, the 42-year old veteran didn't seem to put a foot wrong during the entire tournament, dropping only one match in three of his best-of-five series, including the grand finals. Gamer Bee made it look easy for himself in all three series as his Luke was almost untouchable in all three series.
While Singapore as the host country didn't manage to come out on top in Street Fighter V, they can be proud of their Dota 2 women's team, who claimed the gold medal yesterday. We also have the Dota 2 open grand final to look forward to later today!