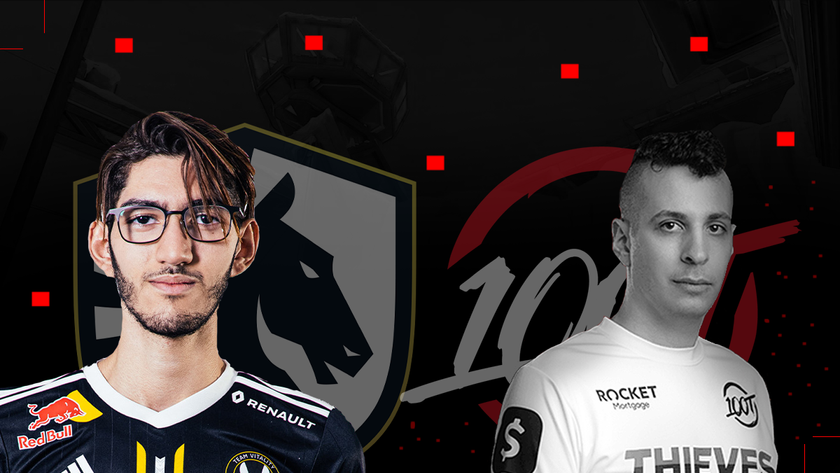 100 Thieves to drop Steel from VALORANT roster, Nivera joins ScreaM in Team Liquid
Steel was dropped due to poor performance during Masters Berlin, while Nivera joins his brother at Team Liquid.
Breaking news – 100 Thieves has just confirmed that they will be moving Joshua "Steel" Nissan to a substitute position after the not so stellar run they had during Masters Berlin. He will be replaced with Aaron "b0i" Thao, as the team moves forward to NA Last Chance Qualifiers.
According to unconfirmed sources, Nicholas "nitr0" Cannella is set to replace Steel as the IGL for the team moving forward.
At the same time, Steel said that he will be returning for the 2022 VCT season, confirming that he will still be with the team, albeit in a reduced position.
The team's run at Masters Berlin ended in the semifinal round where they met Team Envy and were subsequently eliminated. Steel did mention that he was not able to 'focus and was drawing blanks" during the event, and he mentioned in a Twitter reply that he "was having a headache due to IRL stress during one of the maps."
100 Thieves will have another chance to qualify for the VALORANT Champions in Berlin through the NA Last Chance Qualifier. The question is, will this substitution work for the NA team to secure that last chance to Champions, or will it backfire on them?
---
Meanwhile, it has been confirmed that Team Liquid is welcoming a new member. Nabil 'Nivera' Benrlitom will be joining their ranks, replacing James 'Kryptix' Affleck who has been part of the original roster since the establishment of the team. Team Liquid stated that he is "temporarily stepping down from the team to deal with some personal issues."
This will be the first time we see siblings on the same team competing in the same game.
Nivera started his career in CS:GO playing with teams such as Team Herectics and Team Vitality. With Vitality, he won the Intel Extreme Masters XV -  Beijing Online: Europe, as well as BLAST Premier: Fall 2020. He was then benched not long after.
He joins his older brother, Adil "ScreaM" Benrlitom, who has been with Team Liquid since the team's establishment in August 2020.