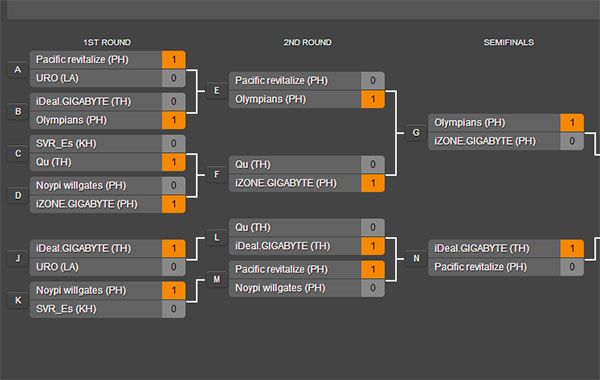 Olympians victor on GEST IDC April
Olympians took the GEST - IDC April title in convincing fashion. Among their perfect record is a win over the second, third and fourth placer teams.
Olympians secured a position on the Championship of the eight-team, double-elimination tournament after being undefeated all throughout the winner's bracket. Among the teams they defeated were GEST's past two champions, Pacific.Revitalize and iZONE.GIGABYTE. Meeting them on the Grand Finals was the surprising iDeal.GIGABYTE, who made their way through the Loser's Bracket after losing on their very first match. The finals saw no difference though, as the Thai team's first round conqueror proved to be dominating once again. The Filipino team used a jungle Doombringer, which arguably didn't have significant contributions the whole game. However, they were able to secure farm on their middle and safe lane heroes in Gyrocopter and Drow Ranger. Those two ranged agility carries synergized well with each other, and ultimately easily outcarried their enemy carry counterparts in Nerubian Weaver and Juggernaut. The Thai team called GG after just 24 minutes of playtime.
Olympians have been on an impressive form as of late. They won the PH GMPGL Class A to qualify for this event, and they won the 600-team CPPC last Sunday as well. They sported another perfect slate today to secure the GEST - April title.
GEST will be back next month for its May edition. It will offer a similar prize pool, and the qualifiers will again be the various GMPGL DotA LAN tournaments. Prize: Olympians - $700 iDeal.GIGABYTE - $500 iZONE.GIGABYTE - $300