E-Sports organizing body formed in the Philippines
In an effort to protect both players and organizations alike, managers of the bigger Philippine E-Sports organizations in the Philippines sat down together and formed the National Electronic Sports Commission (NeSC).
Upon the initiative of Mineski's Ronald Robins, a meeting was held between the Philippine-known organizations in Mineski, Dreamz, TnC, iZONE and Pacific. These organizations are among the biggest and most active groups on the Philippine e-Sports scene.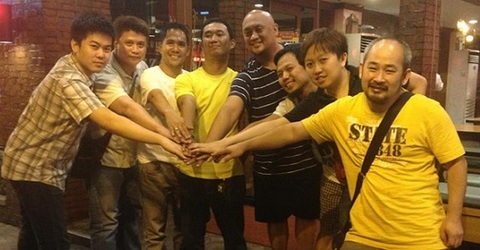 (L-R) Mineski's Ronald Robins, Izone's Jason Gavieres, TnC's Eric Redulfin and Jeffrey Bercasio, Dreamz' Justin Almieda, TnC's Emerson Albo, Mineski's Kenchi Yap and Pacific's Vinzon Yap
The NeSC will be the Philippines' pioneer E-Sports organization aiming to develop unified rules and regulations for both players and managers alike. The pilot meeting was held last 23 March, and among immediate concerns were regarding player acquisitions, benefits and protections.
The group is aiming to provide a professional gaming environment with its corresponding rules and responsibilities. The initial rules set will be determined by the existing members of the organization.
Also agreed upon was that the group will seek to cover multiple game categories, and will not monopolize power and applicability to elite groups only. Instead, it will wish to develop a system which will be fair and just even to the newer and less recognized organizations.
These laws and rules will be pushed to be the standard among the gaming community, and is being sought forward to be a concrete set of written liabilities and responsibilities for everyone to respect and follow.
The NeSC wasted no time in taking an action. As their first measure, the group voted to ban players Kimuel 'Kimo' Rodis and Earlwin 'Ewe' Libre for three months, and they will not be allowed to join any online and/or offline tournaments hosted by organizations participating on the NeSC until that period has passed.
Kimo was a player of the team MSIEvoGT.TnC before announcing his retirement via an interview with Mineski due to personal reasons (the interview article has been taken down since). Ewe was also a member of the team before departing shortly after Kimo left. Since retiring, however, the two proceeded to join the Gigabyte Mineski Pro Gaming League (GMPGL) Dota 2 tournament under a different team just a few weeks after.
The two reportedly provided misleading statements and interviews to sponsors and editors to get themselves out of a binding contract. The whole group agreed that the action was incorrect and is a violation of the 'non-written' rules of the industry, and thus the penalty.
With this organization's goal, it can be compared to China's ACE (Association of China E-Sports) whose purpose is to 'safeguard the interests of E-Sports clubs and professional players'. ACE is known for its three-month long league which attracted millions of viewers. ACE was formed just last year, and is participated by big Chinese Organizations like WE, iG, TyLoo, Panda, DK, LGD, TongFu, For.Love and DT.Club among others.
A similar organization is also present in South Korea. The Korean e-Sports Association (KeSPA) is also set to manage E-Sports for their country. Built back at year 2000, this organization now manages 25 E-Sports for South Korea.
It can be noted, however, that both China and Korea has recognized E-Sports as an official sport in their country.
Source:
mineski.net