iG takes down DK for their second win in G-1 League

DK did not manage to stand out against iG, losing their second match in Phase 3 of G-1 League with a score of 2-0. The games continue tomorrow with LGD.int battling Neo.Orange, to break the tie in Group A.
| | | |
| --- | --- | --- |
| iG |       vs       | DK |
---
Game 1
---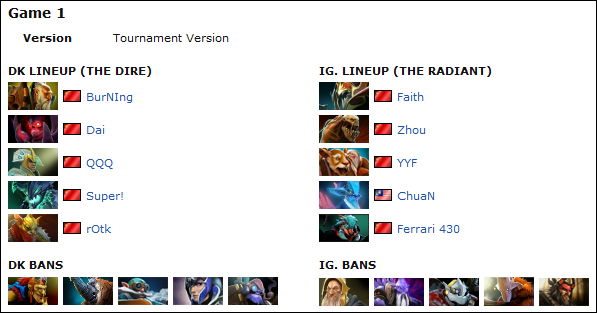 DK emphasised on strong early game pushing and team fight potential, and iG responded with a really aggressive line-up, with high mobility and utility.
BurNIng attempted to farm alone, choosing the bottom lane. The selection proved to be unsuccessful, with BurNIng's Lone Druid giving the first blood in 2 minutes to Chuan's Leshrac. A minute later, DK responded by picking off Nyx Assassin and Weaver.
For the first quarter of the game, both teams were pretty even, with iG being slightly more stable with their lanes and farming. Eventually, by minute 15, iG decided to move together, forcing team fight after team fight with their push. The first victims were Super and Dai, going down with the middle tier-one.
Another fight took place next to the top tier-two, with iG killing Super again, taking down the tower seconds later. The score was 10-4 by minute 20.
DK tried to get back on their feet, picking off Zhou inside their jungle. An instant buyback by Zhou and the immediate response by iG resulted in a 5-1 fight against DK. BurNIng then realised that the game was officially out of their hands, and called the GG.
---
Game 2
---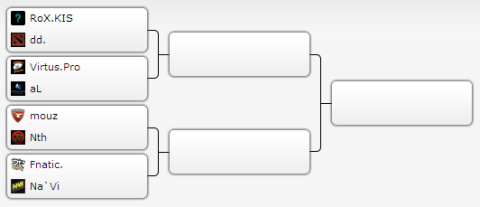 BurNIng played his traditional role in Game 2, farming on easy lane with Gyrocopter. DK's draft forced Shadow Demon to go solo against iG's trilane.
iG's line-up focused on extra control and pushing.
A fast first blood was iG's target for early game, with three Smokes of Deceit being used, but none of them led to a pick-off. The first blood was eventually grabbed by QQQ, taking out Zhou but dying seconds later to YYF.
The first fight resulted in many casualties by both teams, ending in favor of iG, making the score 3-4 by minute 10. Invictus Gaming had taken down two towers by that time.
iG tried to force the team fights by moving all around the map, doing so in success. They managed to win three fights by minute 17, with scores 4-1, 3-0 and 5-1 each. The outcome of these clashes stripped DK of their gold advantage, and trapped them inside their own base with all tier-two towers going down really fast.
The Dire tried to get the barracks down, abusing their advantage, but they could not win the decisive team fight that would allow them to do so. The issue was resolved in the Rosh pit by minute 31. The International champions managed to enter DK's base three minutes later, destroying middle and top barracks. The score was 36-11 when DK conceded.
---

You can visit G-1 league's official website
here.

G-1 League Phase 3 resumes tomorrow with Neo.Orange battling LGD.int for the first place of Group A. The group is currently "on fire" after Orange's win against LGD.cn, resulting in a four-team tie.

Live broadcasting will be provided by Ayesee and BeyondTheSummit.



Schedule (19:30 SGT):

27th March - LGD.cn vs LGD.int
28th March - iG vs Chain.Stack
29th March - RSnake vs Orange
30th March - Zenith vs DK
31st March - LGD.int vs RSnake
1st April - Chain.Stack vs Zenith
2nd April - LGD.cn vs Orange
3rd April - iG vs DK
4th April - Orange vs LGD.int
5th April - DK vs Chain.Stack
6th April - RSnake vs LGD.cn
7th April - Zenith vs iG
9th April - 2nd placer Group A vs 2nd placer Group B. Winner qualifies to LAN
10th April - 3rd placer Group A vs 3rd placer Group B
11th April - Loser of 9th April vs Winner of 10th April,Winner qualifies to LAN finals