G-1 League day one round up. For.Love debut at 12:30 tomorrow

MUFC and Rattlesnake are the first two teams to advance into the Ro8 of the G-1 Asia qualifiers phase one. Day two of the second phase will begin tomorrow at 08:00 CET with MiTH-Trust taking on Rising Stars.
Day one of G-1 Asia phase one kicked off with Malaysia's MUFC battling 1st.VN from Vietnam. Both teams were trying to continue their great phase one performance, and the single-elimination format means only one of them would proceed to Ro8.
MUFC dominated the first game behind a strong Queen of Pain by FzFz, who finished the game with a score of 12-0-11. The second game was unfortunate for the Vietnamese team, as they found themselves losing again. The Malaysian team's multiple Blink Daggers, Linken Spheres and Ghost Scepters made life tough for the Lifestealer. Eventually they finished the first game at around the 30-minute mark.
The second game was excruciating for Vietnamese fans to watch as MUFC quickly climbed to a 20,000 gold advantage in 20 minutes. MUFC claimed the series in straight games.
In the second match-up of the day, Gizmo attempted to arrange for an All-Malaysian game in te next round but was stopped on their tracks by the much superior Rattlesnake. The Chinese defeated Gizmo 2-0.
Rattlesnake went with a strong team fight line-up of Clockwerk, Warlock, Gyrocopter and Magnus in the first game. After taking control of the laning phase, there was no way that Gizmo could have staged a comeback which resulted in the Malaysian team calling gg at the 30 minute mark.
Rattlesnake needed not a third game to secure their spot to the next round. They were so far ahead on the second game that their fifth position Crystal Maiden had the second most hero kills on the game.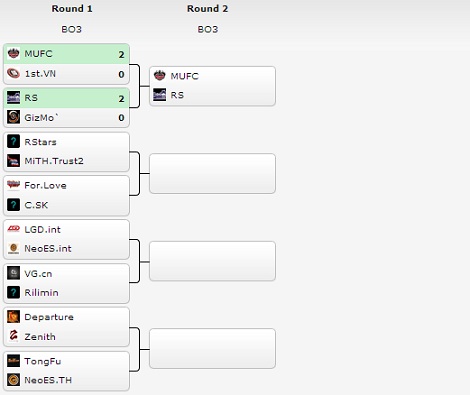 You can visit G-1's official site
here
.
The next match of the Ro16 will be starting tomorrow at 08:00 CET between Rising Stars and MiTH.Trust. For.Love will debut newly acquired players, Yang 'KingJ' Zhou and Xiong 'Zippo' Zhou against Chains Stack tomorrow at 12:30 CET.
The top four placers of the phase two will qualify into phase three. The organizers have not decided on the format of phase three but told Gosugamers that we will be the first to know.
| | |
| --- | --- |
| Placing | Prize |
| 1st place | 250,00 RMB ($40,218) |
| 2nd place | 80,000 RMB ($12,800) |
| 3rd place | 30,000 RMB ($4,800) |
| 4th place | 20,000 RMB ($3,200) |
| 5th place | 10,000 RMB ($1,600) |
| 6th place | 10,000 RMB ($1,600) |
You can view the games in-game by purchasing the ticket
here
. The ticket of the tournament is selling for $7.99 each.
G-1 official casters

Chinese: PIkaxiu, Tony, MrLeft, Felix, 2009, HaiTao, SJQ
English: LD, GoDz, Luminous, Ayesee
Russian: vilat, CaspeRRR