Dota 2 Magazine interviews Ars-Art and LoH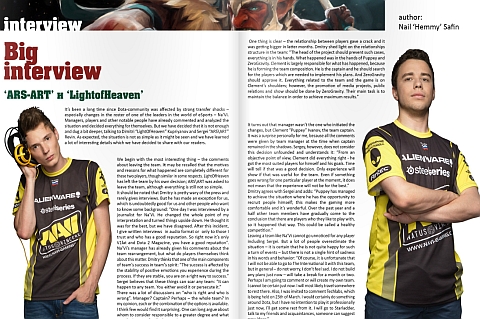 In their recent publication, Dota 2 Magazine published an in-depth interview with Sergey 'Ars-Art' Revin and Dimitriy 'LighTofHeaveN' Kupriyanov regarding their recent activity in the competitive Dota scene. LoH also talked about his possibility of returning to play for Na`Vi and some analysis of strats.
Previously written in Russian, the guys from Dota 2 Magazine have decided to switch up a gear and published their latest edition in English. For the MArch 17th edition, Dota 2 Magazine interviewed former Na`Vi player, Sergey 'Ars-Art' Revin and inactive player, Dimitriy 'LighTofHeaveN' Kupriyanov regarding their move away from competitive Dota.
Also in the magazine is Jacky 'EternalEnvy' Mao's departure from NoTidehunter and many more.
Light also spoke about his aspirations within eSports, and his opinions about the current state of eSports organizations in general and Na`Vi in particular:

"Right now I want to get on a higher level, where the process of preparation and training is happening differently than it is now - people are being paid, they come to training, sit down, play and leave, and do it for half a year. Then someone says - "Screw you guys, I'm going home", and leaves the team. I want to do things that progress faster, grow rapidly. In fact, all teams in CIS, except Virtus.Pro, did not improve the quality of their recent plays and did not reach the level, where they could have been. At the momoent, the main problem is that there is not enough high-quality things in the team which develop motivation in-between players. The employees aren't able to create the conditions to improve efficiency. I don't know a lot of organizations in CIS or Europe which have these activities. In fact, at the moment everyone is working with a "I've been paid - must win" mindset."

"Most managers do try to do the best, but they just don't get it because they do not have a lot of experience, a lot of them are newcomers. Right now I want to get into an organization where, figuratively speaking, the captain will be a lion who leads his team to a clear goal, instead of walking around for a few years."

"Na`Vi is no exception, the organization has a lot of thigns, which could be improved. Most likely, this is due to the fact that Na`Vi, like other organizations, has only recently begun to make some steps in development and haven't yet reached a formidable level. However, to be fair, I can say that we were leaders for a long time because we have been provided by arguably the best support amongst European organizations. In addition, we were encouraged by our first place at The International, but the feeling gradually disappeared. We did not have financial problems, but the moral component was suffering."

Regarding his possible return to Na`Vi after his absence, Light said the following:

"I think that if I will have the desire to go back - I have high chances. Our new players can be manipulated. But I am unsure that a return to the sinking ship is worth another try. The time will show whether the team is cable to change for the better - then, maybe, I'll start playing for Na`Vi yet again. However, it is likely that by that time I will find the team that will suit me more."

Towards the end of his interview, Light also talked about the fixed roles in Dota today, and how he felt teams were sacrificing strategic depth and hindering talent players growth by this style of play:

"Roles are just 5-6% of success, you shouldn't forget about the rest. In modern Dota a lot of truly talented players limit themselves to just two-three heroes and always stay at the same lane. The game turns into elementary tactics with the complete absence of strategy. It's obvious, if a system error occurs - team ends up at a dead end, because they are only used to play on a pre-established pattern. This style of play has come from another discipline - Counter-Strike. Initially, only one team played like this, it was Na`Vi, but afterwards a lot of teams adopted this style of play. Perhaps this style is not so bad, but you should be able to switch in every possible situation as we have done in from time to time. Such a model oversimplifies the game, not allowing good players to realize their full potential and opportunity. People have played differently before, it was much more interesting to watch the game in terms of strategy - everyone was playing according to the situation. Now everything is just much easier and more predictable. That is why the best players are from the "old school", who played a lot in those days, then Dota wasn't put within the framework, they were able to teach themselves to think with their own head and have become versatile players."
Source:
joinDOTA