'Resume from replay' coming to beta tomorrow
One of the most eagerly awaited Heart of the Swarm features is launching on the test realms. The beta will be taken down for maintenance today and should be live again on Jan 25th (CET time).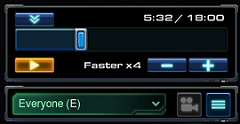 "Resume from replay" has been designed to combat unfortunate disconnects that happen in the middle of the game, something that has always been a problem of the SC2 competitive scene. With this new feature coming up, players will be able to jump to a certain part of the game via the replay and resume from there, essentially nullifying the danger of a possible remake.
Additionally, SC2 players will now also be able to watch replays in groups and take control of the game themselves at any point of time.
Balance updates are not mentioned to come with Patch 2.0.3.
Source:
Battle.net