Confirmed: KeSPA and OGN with StarCraft 2 leagues in May and July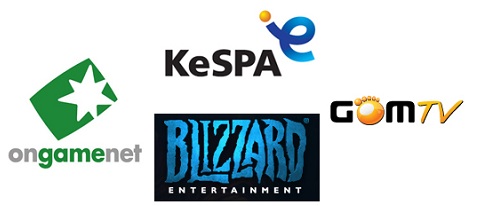 Today, KeSPA, OnGameNet, Blizzard and GomTV came out with information about the previously announced "new e-Sports vision". At a ceremony at the COEX Intercontinental Hotel in South Korea it has been confirmed - a StarCraft 2 Proleague will launch this very month!
Each of the three Korean e-Sports organizations--KeSPA, OnGameNet and GomTV--will contribute to this transition from BroodWar to StarCraft 2.
KeSPA has recognized StarCraft 2 as an official KeSPA game
and will hold a StarCraft 2 Proleague starting this May. Although this first season will feature both BroodWar and StarCraft 2, the second one starting October will be SC2-only. According to the same source, there still are no details about GSTL/GomTV teams taking part in those tournaments.
OnGameNet will launch an individual StarCraft 2 league
starting July. The tournament will be open to anybody, regardless if they are KeSPA, GOMTV or amateur players. The league will also be broadcasted to the foreign audience.
GomTV would allow BroodWar pro-gamers to compete against GSL players
in either tournament or show-match setting and "would facilitate it whenever the Brood War players were ready and desired it."
From the official Blizzard release
"Blizzard is devoted to the future of Korean eSports. Korea has been a world leader in developing the eSports industry, and we are very happy that we will be able to see more televised games between the best players in the world, Korean Starcraft II players" said Blizzard Entertainment COO Paul Sams. "We think that it is very important that we formed an cooperative relationship with GomTV, OnGameNet, and KeSPA, who share a vision for the future of eSports in Korea."
"OnGameNet has been a pioneer in the new market called eSports for the last ten years. It's now time for Korean esports to make a second leap, and make its way into the global market. This four party cooperation is an opportunity to affirm the love of esports fans around the world, and we believe it will be a key impetus in the globalization of esports," said CJ E&M [OnGamenet mother company] representative Kim Seong Soo.
"GomTV will continue to uphold its ideal of eSports as something that is open to the entire world, and we will cooperate with eSports companies in and out of Korea for the balanced growth of Starcraft II not just in Korea, but in the entire world," commented GomTV representative Bae In Sik.
Korean eSports association chairman Lee Hyung Hee said "KeSPA stood at the center of development of Starcraft esports, and contributed greatly to laying the foundation for the Korean eSports industry. Starcraft II, which will be implemented in the SK Planet Proleague Season 2, is a great game that has been acclaimed around the world, and we await its role in elevating the eSports market to another level."
Additional information about the OGN and KeSPA tournaments is yet to be released.