Tasteless, Artosis, Day9, Apollo, TotalBiscuit, MrBitter to cast DHW11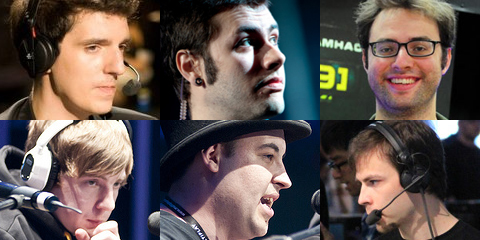 To crown the DreamHack AMD Sapphire Championship viewer experience on November 24-27, the StarCraft 2 tournament will have six casters on spot including the GOMTV GSL casting duo Nick "Tasteless" Plott and Dan "Artosis" Stemkoski.
DreamHack casting veteran Sean "Day[9]" Plott will return to Sweden, and will be casting with ESL TV's Ben "MrBitter" Nichols known for the Intel Extreme Masters Global Challenge stops as well as eSport shows such as "The Grass is Always Greener" and "Map of the Month".
The third and last duo which will bring shouts and awes at the Elmia halls in Jönköping is Shaun "Apollo" Clark and John "TotalBiscuit" Bain. The two have already casted several events together - DreamHack Valencia on the September 16-17 weekend to mention one.
- "Casters will in pair shoutcast groupstage and playoffs and when we enter the DreamArena AMD Sapphire we'll have ALL six commentators in the finals show – both as studio expert's and in-game shoutcasters," can be read at the DreamHack page.
Tournament schedule

Day 1: 24th of november – Group stage #1 – 8 matches at the same time

10.00 Group A/B/C/D – Round 1 (BO3)
11.00 Group A/B/C/D – Round 2 (BO3)
12.00 Group A/B/C/D – Round 3 (BO3)

14.00 Group E/F/G/H – Round 1 (BO3)
15.00 Group E/F/G/H – Round 2 (BO3)
16.00 Group E/F/G/H – Round 3 (BO3)

17.30 Group I/J/K/L – Round 1 (BO3)
18.30 Group I/J/K/L – Round 2 (BO3)
19.30 Group I/J/K/L – Round 3 (BO3)

21.30 Group M/N/O/P – Round 1 (BO3)
22.30 Group M/N/O/P – Round 2 (BO3)
23.30 Group M/N/O/P – Round 3 (BO3)
00:30 Draw of group stage #2

Day 2: 25th of november – Group stage #2 – 4 matches at the same time

10.00 Group 1/2 – Round 1 (BO3)
11.00 Group 1/2 – Round 2 (BO3)
12.00 Group 1/2 – Round 3 (BO3)

14.00 Group 3/4 – Round 1 (BO3)
15.00 Group 3/4 – Round 2 (BO3)
16.00 Group 3/4 – Round 3 (BO3)

17.30 Group 5/6 – Round 1 (BO3)
18.30 Group 5/6 – Round 2 (BO3)
19.30 Group 5/6 – Round 3 (BO3)

21.30 Group 7/8 – Round 1 (BO3)
22.30 Group 7/8 – Round 2 (BO3)
23.30 Group 7/8 – Round 3 (BO3)
00:30 Draw of playoff

Day 3: 26th of november – Playoff ( 2 matches) – 2 matches at the same time

10.00 Eighth-finals RO16 (BO3) Set 1
11.00 Eighth-finals RO16 (BO3) Set 2
12.00 Eighth-finals RO16 (BO3) Set 3
13.00 Eighth-finals RO16 (BO3) Set 4
14.00 Quarter-finals RO8 (BO3) Set 1
15.00 Quarter-finals RO8 (BO3) Set 2

DreamArena AMD Sapphire: Final show

17.30 The show starts
18.00 StarCraft II Semi-final RO4 (BO5) Set 1
19.30 Super Street Fighter IV AE Final
20.00 StarCraft II Semi-final RO4 (BO5) Set 2
21.30 Quake Live Duel Final
23.00 StarCraft II Grand Final (BO7)