MarineKing trumps DongRaeGu at "Arena of Legends" GF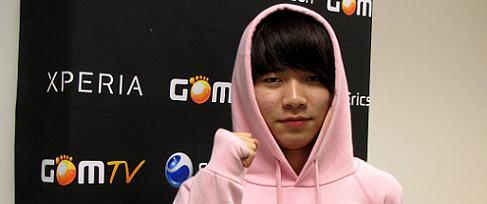 Photo by: Thisisgame.com
ZvT's mastermind DongRaeGu proved to be no obstacle to MarineKing's advance to the throne. With a sweeping 4-1 victory, MarineKing claimed his first ever GomTV champion trophy and $1,800 in prize money.
In a short, but entertaining grand final series, MarineKing was fielded the best player in GomTV's "Arena of Legends". The tournament was comprised of 12 of the best GSL contenders, including multiple times champions MVP, NesTea and MC, BroodWar legends Nada and July and the foreign representatives HuK and Naniwa.
MarineKing came first in his group over Losira and Trickster and beat MMA in the semi finals to reach the Bo7 grand final match against col.MVP's star and DH Valencia champion DongRaeGu.
The series started bad for MarineKing as he attempted a very unorthodox marauder-centric build on Antiga Shipyard, going for a 2-base timing push with stim and +1 attack. As it got cleaned, however, MarineKing faced the tremendous difficulty to get a third up and running and was soon overwhelmed.
MarineKing tied the score after a very actionless game on Terminus. DongRaeGu's passivity allowed MKP to get his macro going and even start +3/+3 on his bio by the 13th minute mark. The terran followed this up with a 3-base push that crushed DongRaeGu's third and the zerg gg-ed knowing he cannot match MKP's economy at all.
What followed was a full, unquestionable obliteration of DongRaeGu. In three consecutive games, MarineKing won the series without even reaching the late-game. The Prime terran used double reactor hellion on Dual Site, marine/reactor hellion timing attack on Belshir Beach and a hellion drop on Tal'Darim Altar to eradicate the zerg presence in this tournament.
GomTV Arena of Legends standings
1st
MarineKing, $1,800
2nd
DongRaeGu, $900
3rd-4th,
July, $450
3rd-4th,
MMA, $450
Apart from this being his first trophy after four runner-up placements, MarineKing is also the only current Prime member with a championship title since Polt left the team last month.