ESTC: Nirvana.my vs EHOME for finals
After three days of competition the grand finals will be between EHOME and Nirvana.my. Which country will reign supreme? China or Malaysia? We'll find out once the match gets underway tomorrow at 5pm (GMT+8)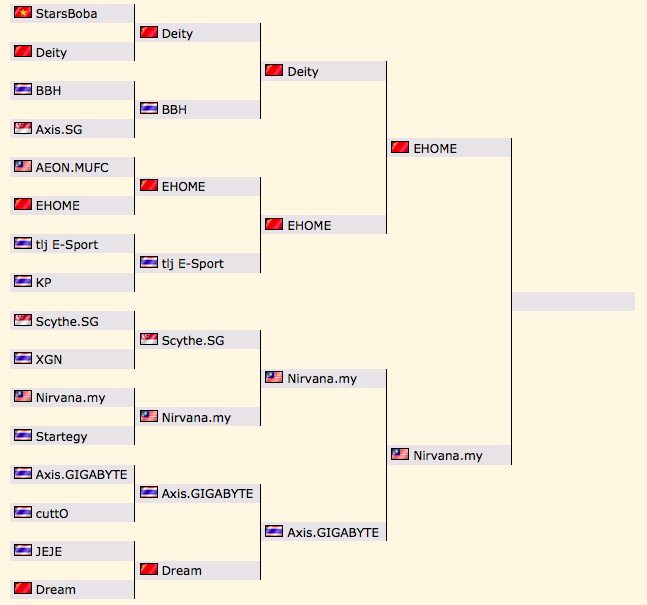 Credit to SGamer for the brackets.
As one can see from the brackets, the majority of the international teams have gone through to the top 16. One of the bigger upsets was XtC's (ESTC 2009 champions) inability to reach to the top 16 after losing their first match in the top 32.
One of the top contenders, Aeon.MuFc, was sent home packing after their defeat to EHOME in the round of 16. StarsBoba also lost in the round of 16 at the hands of Deity. The rest of the matches went pretty much as expected.
In the round of 8, a classic Singapore versus Malaysia match up occurred where the latter proved to be better and thus went on to the semis. China's newest rising star, Dream was cut short of their dream for the championship by local team Axis.th.
Both the favorites to win the tournament, EHOME and Nirvana.my did not disappoint in their semi-final matches, dispatching their opponents easily and moving to the Grand Final, which is set to be played at 1100 CET tomorrow.
EHOME having had such a long winning streak will try to net themselves another gold in Thailand, but the boys from Malaysia have had a rather good run in the local scene as well. So who will edge out the other in the end? Find out tomorrow!