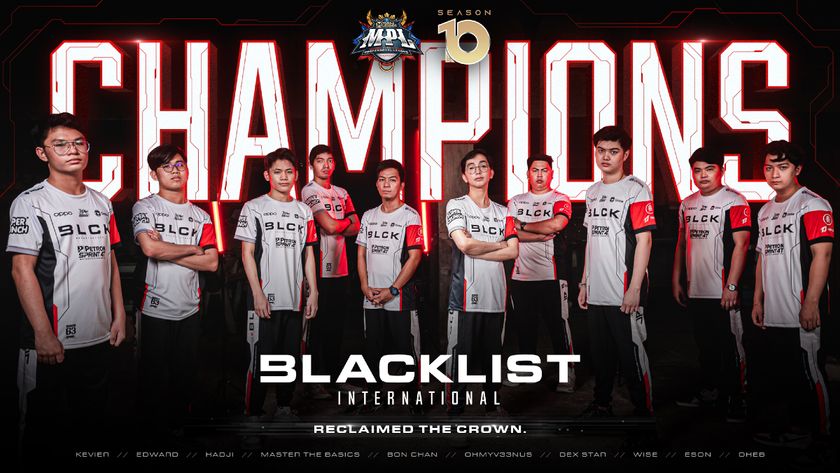 Blacklist International are three-time MPL PH Champions
Championship Sunday was upon us for MPL PH Season 10, with Blacklist International and ECHO going in search of the title.
headline image courtesy of Blacklist International
After an intense MPL PH Season 10 battle through the Regular Season and the Playoffs, two teams have overcome all the odds to make it into the grand finals. For Blacklist International, this is no new territory, even after their falloff in Season 9, while ECHO would be looking to prove just how strong they are and upset the two-time victors. With both teams having already secured a spot at the M4 World Championship to represent the Philippines, all their concentration would go into this best-of-seven grand final.
Blacklist Blacklist Blacklist
Having fallen a long way down in Season 9, especially without the so-called "Royal duo" of Wise and OhMyV33nus, Blacklist International were definitely feeling the impact of the two star player once again in Season 10. This was highlighted in the first game of the series, with Wise taking hold of the Valentina and playing it from the Jungle lane with incredible effect. However, after gaining the early series lead, ECHO came to life, with Yawi's Jawhead in game three being one of the most prolific we have seen in sometime, utilising the Ejector perfectly to catch Blacklist off-guard on multiple occasions.
Although it seemed that the two quick games that ECHO took off Blacklist could lead to a snowball for the team, it was not to be. Over the next three games of the series, the true Blacklist International begun to shine once more, as they controlled the map with their classic "ultimate bonding experience" strategy – leading to some amazing plays and even a Maniac for Hadji at one point, as Blacklist rolled into the lead and eventually the victory.
With a 4-2 scoreline, Blacklist International managed to make their comeback truly felt in MPL PH Season 10, reclaiming the crown and becoming the three-time winners of the MPL PH championship trophy. The accolades did not end there, with Edward claiming the finals MVP award as well as Wise and OhMyV33nus being inducted into the Hall of Legends. Blacklist International will now have a very well-deserved break before they return to the World Championships in Jakarta, Indonesia early next year to defend their title – with ECHO in tow.