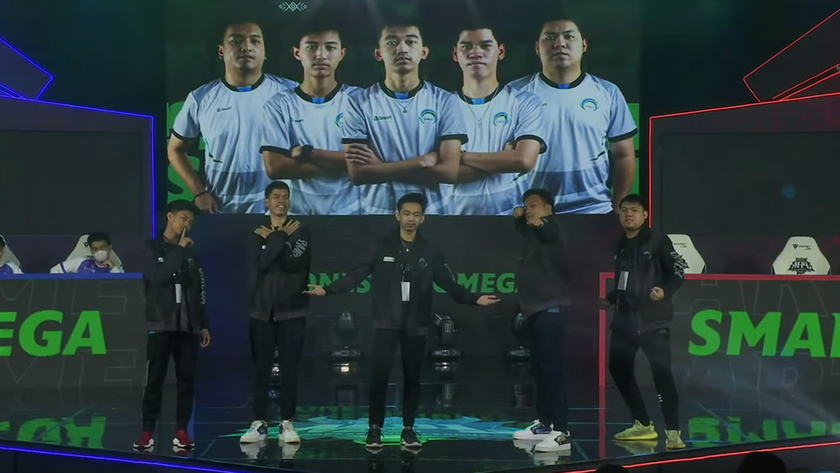 Dashed dreams and delays on day one of the MPL PH S9 playoffs
In a day filled with technical issues, massive delays, and constant pauses, two teams have seen their MSC 2022 dreams shattered at MPL PH S9 playoffs.
Without Blacklist International to challenge for the Mobile Legends Professional League Season 9 title, the door was wide open for any of the remaining six challengers to become the new champions of the region, while also reaching the MSC 2022 tournament later this year. However, by the end of the first day of the MPL PH S9 playoffs, two teams would see their hopes come crashing down as they were eliminated in the first round of day one's proceedings – which were also unfortunately marred with technical issues.
Omega silences the ECHO
The technical issues from MPL PH S9 playoffs begun early on day one, as the first series between Smart Omega Esports and ECHO would need to be remade. However, once the game begun, although pauses were still consistent, the teams were ready to fight. As has been seen in both Indonesia and Malaysia's MLBB professional scene recently, there were a few changes in the meta that were clearly becoming prevalent in PH too – with Masha, Wan-wan, and Xavier being favourite picks, while Sprint was now a stock standard.
Considered the favourites, ECHO seemed to have control of the first game, but Omega did what they are known for doing – turning the dial up when they reached playoffs. At every point where it seemed as though ECHO had the upper hand, Omega shut them down, performing as though it was the MSC 2021 grand finals again. With a SAVAGE at the close of game two for Renzio, as well as multiple moments of brilliance, Smart Omega destroyed ECHO, eliminating them from the MPL PH Season 9 playoffs in style.
Nexplay's dreams come crashing down
More delays came in the second series of the day, as ONIC Philippines and Nexplay EVOS would be fighting for their tournament lives. Before we even managed to get a full draft out, the technical issues kicked in, leaving the crowd, the players, and the viewers at home to wait for a while before we saw the two teams' battle. When we finally entered the Land of Dawn, it was a magnificent display of talent from both sides, as no clean sweep was seen this time around.
This series was far more contested than the first, with both teams fighting tooth-and-nail to keep their tournament hopes alive. After ONIC went down in the first game, they found their footing to take two on the trot, taking themselves to match point. But, NXPE unleashed their secret weapon, and as H2wo sat down, it was clear that the series would go the full distance.
In one of the best games which we have seen in MPL PH, both teams gave us a nail-biting conclusion to the series. There were huge plays, fantastic defensive moves, and amazingness all round, but in the end, it was the M3 World Championship runners up, who came out on top.
After an extremely long day for everyone involved, the first day of MPL PH Season 9's playoffs comes to an end, with only four teams remaining to fight for the two spots at MSC 2022 and to become champions of the Philippines. Unfortunately for Nexplay EVOS and ECHO, this is not their season, while Smart Omega Esports and ONIC PH will march on through to tomorrow's upper bracket matchups.