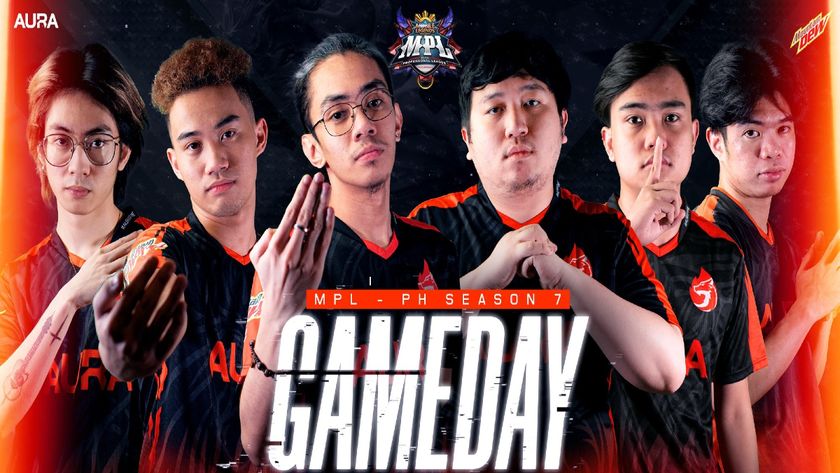 MPL - PH enters its final week of the regular season
headline photo courtesy of Aura Philippines
Mobile Legends Professional League Philippines is about to go into its final week of the Regular season, as teams look to secure their spots in the Playoffs.
MPL – PH Season 7 has gone through a grueling Regular season so far, with six weeks of action to look back on. During that time, we witnessed major upsets, big plays and some extremely exciting MLBB occur. But now it is time for the Regular season to come to an end as we look towards the final weekend and the Playoffs beyond.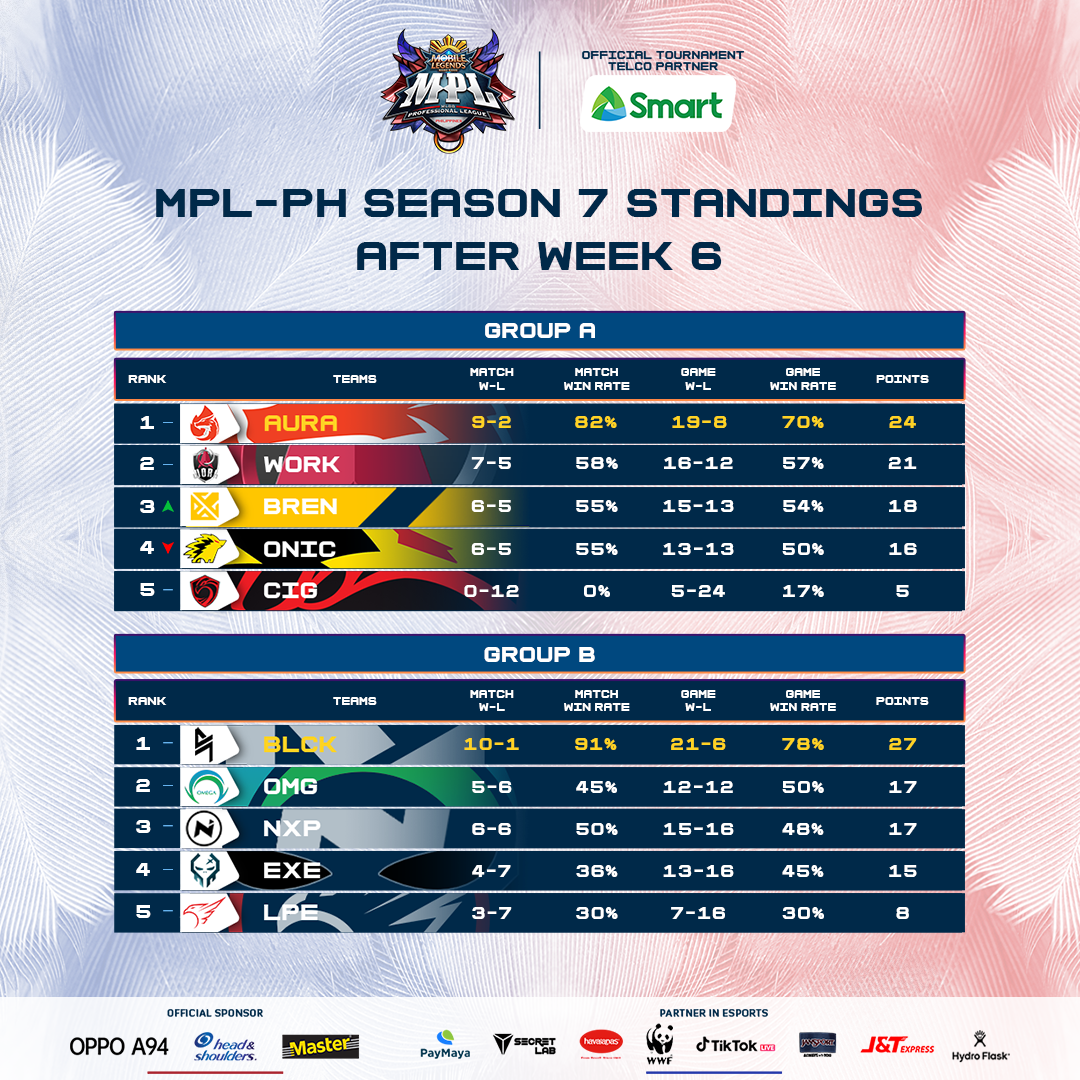 Bren's final stretch
Although Bren Esports, the Season 6 MPL – PH champions, saw a very rough start to the season, they have since picked themselves up and pushed forward. By the end of Week 6 the team sit in fourth place overall, just a few points behind Work Auster Force. With two series to play over the weekend, Bren have a shot at claiming third place quite easily, especially since they have been the only team to decode the unstoppable Blacklist International.
Ahead of the pack
While Blacklist are way ahead in Group B, 10 points above their closest challenger, Omega Esports, Aura PH have Group A under control, sitting 3 points ahead of Work Auster. With two series to play for both Aura PH and Blacklist International, it will be interesting to see if there will be a change in which team takes first place overall. These two teams are definitely going to be ones to watch in Week 7 with Aura PH taking on Onic PH and Execration, while Blacklist will be fighting Nexplay Esports and Onic PH.
All tied up
Both Omega Esports and Nexplay Esports currently sit on 17 points as we move towards Week 7, but with Nexplay only having Blacklist to face this weekend, they could find that not even the performances of RENEJAY and Exort can save them from being leapfrogged by Omega.
Here is the schedule of MPL – PH Season 7 Week 7 action:
Friday, May 14th
Execration vs Laus PlayBook Esports
Aura PH vs Onic PH
Saturday, May 15th
Blacklist International vs Nexplay Esports
Cignal Ultra vs Bren Esports
Omega Esports vs Laus PlayBook Esports
Sunday, May 16th
Work Auster Force vs Laus Playbook Esports
Onic PH vs Blacklist International
Aura PH vs Execration
Bren Esports vs Omega Esports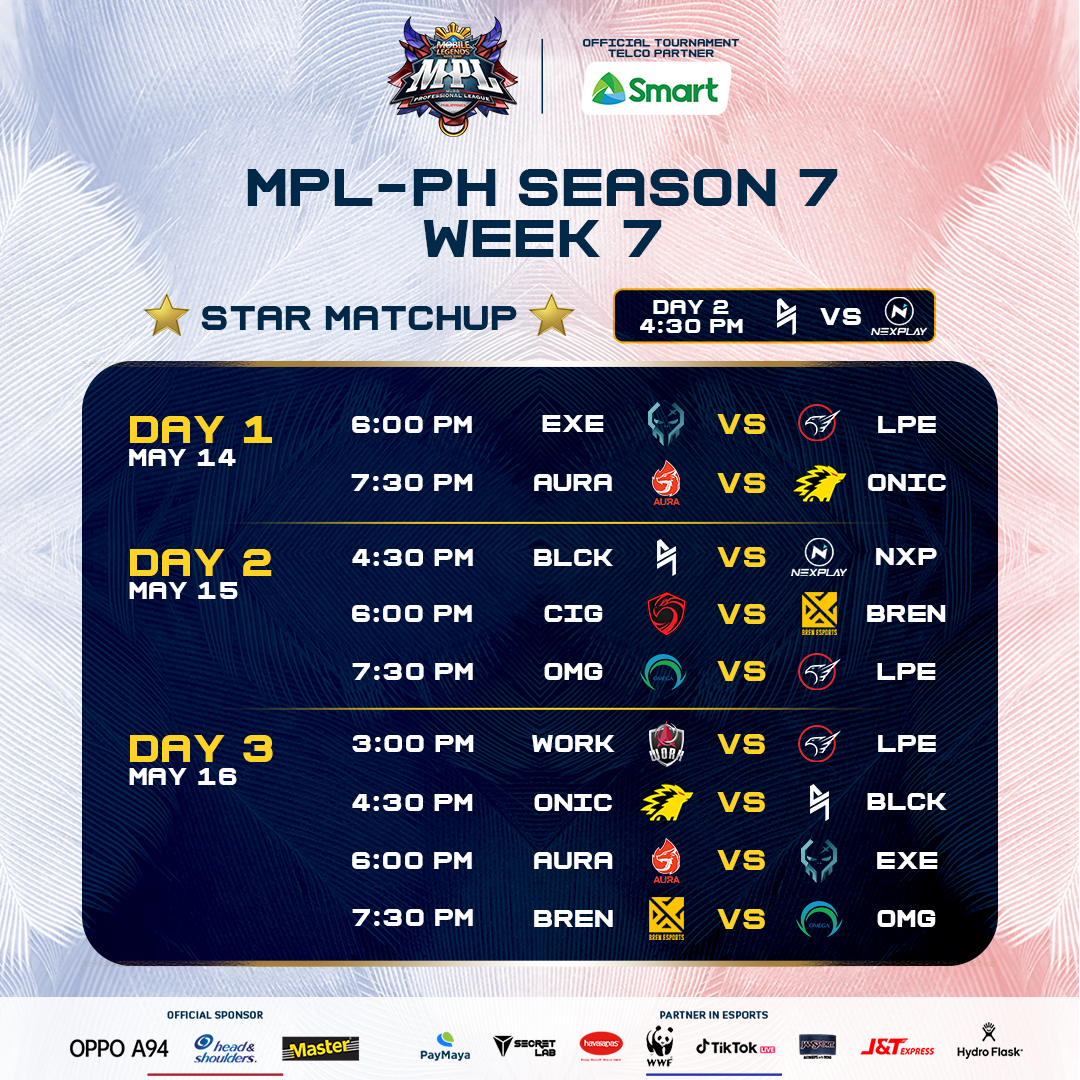 With chances for major upsets, such as Cignal Ultra finding their first win of the Season and the possibility of many position changes, MPL – PH Season 7 Week 7 is set to be an absolutely intense final week of Regular season action.