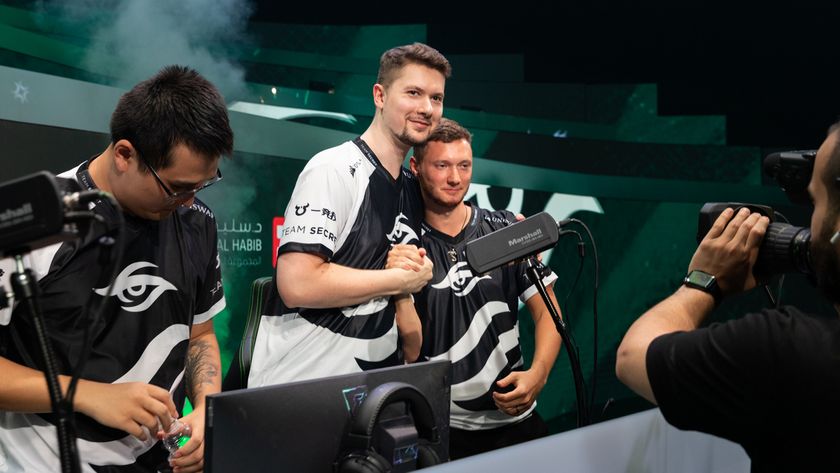 Worrisome words for iceiceice from captain Puppey at Riyadh Masters
Despite playing with a last minute stand-in at Riyadh Masters, Team Secret are delivering quite the surprise being the only undefeated team so far in the group stage.
Team Secret have come to Riyadh Masters with Roman "Resolut1on" Fomynok standing in for Daryl "iceiceice" Xiang, but they haven't given any reasoning for their decision.
After missing two Majors in a row by placing fifth in the Dota Pro Circuit Western Europe regional league in both Spring and Summer Tours, Team Secret looks better than ever at the undergoing $4,000,000 Riyadh Masters. The Summer Tour was especially challenging for them. After just one series in the six-week league schedule, Secret needed to find a quick solution and replace Yazied "YapzOr" Jaradat, who is forced to an extended break due to health issues.
With Baqyt "Zayac" Emiljanov joining in position 4 on week 1 of the Summer Tour, Secret found their stride only towards the end of the league but weren't able to salvage the poor start. Riyadh Masters, happening this week in Saudi Arabia and ESL Malaysia from August should act as the only two LANs where they could test their strategies against competitors outside their region and, more importantly, find the synergy between all their team members ahead of the big battle for a spot at The International 11 via regional qualifiers.
However, arriving in Saudi Arabia's capital city without iceiceice, all eyes turned on Resolut1on, who is making a comeback to the competitive scene after 10 months break.
In the first three series played with Team Secret, Reso has been nothing but spectacular, coming with a huge desire to prove himself in what seems to be the most important time of the year for a free agent.
In the first match held at Riyadh Masters, against Tundra Esports, Reso finished with a total K/D/A of 25/3/42, handing a tough loss to the Arlington Major bound team. However, everyone was looking forward to what most deemed like the true test for Secret, their confrontation with PSG.LGD, held on the second day of group matches.
Team Secret delivered a complete stomp over arguably one of the world's best and most constant teams. Once again. Resoolut1on shined in the offlane, and more so, it became obvious that he and Zayac work together as an oiled machine.
During the winner's interview after the 2-0 over PSG.LGD, Clement "Puppey" Ivanov gave an insight on why Resolut1on is playing in the offlane for team Secret at this event. His words also raised a red flag for iceiceice, whose absence seems to not be tight to any health, visa issues or political stands.
"Resolut1on and Zayac wanted to play together, so Reso was available to stand-in for this tournament and I wanted to see how good they could be together, and it seems like they can be very good," Puppey said, adding that in this formula, the in-game communication is also smooth.
Between the Riyadh Masters and the TI 11 regional qualifiers, Team Secret will also compete at ESL Malaysia, set to take place next month at Resorts World Genting, from the 23rd to 28th of August.
headline picture courtesy of Gamers8