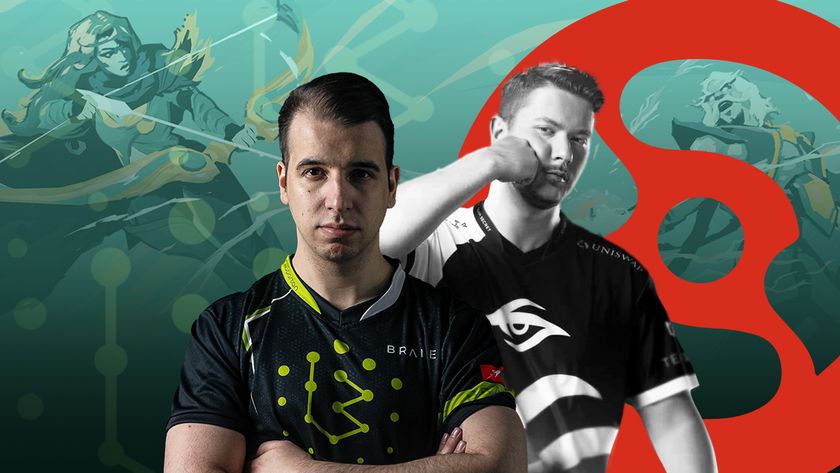 Brame deliver biggest Spring Tour upset to shake up Western Europe standings
Brame is bringing back the passionate Greek Dota spirit and starts writing the underdog story of the Dota Pro Circuit Spring Tour with a crucial victory over Team Secret.
They entered the Spring Tour with a full Greek squad put together at the last minute and they are set to bring back the fiery passion that Dota 2 fans got to witness back in the 2016 Boston Major, Ad Finem days. It took a couple of series in the current season for the revamped Brame to show what they are capable of. They started with two losses in a row, to Team Liquid and Gladiators and entering week three of matches they were in dire need of a win.
Their first victory came with a clean 2-0 over Team Nigma and from there on Brame seems to be riding the momentum, despite playing just one series per week in the DPC format.
Walking into the series against Team Secret, Brame were the obvious underdogs, however, both teams needed this match up to go in their favor. Secret were sitting on a 2-2 score and a win would have kept them in the middle of the pack and with a clear shot at securing one of the four tickets available in the Western Europe region for the ESL Stockholm Major.  A victory for Brame could not only keep them safe from relegation, but also put them in contention for the said Major slots.
However, the best-of-three series started disastrously for Brame, who got outdrafted and seriously outplayed in the first game. They opened the draft with a Sand King that was instantly countered by Yazied "YapzOr" Jaradat's signature Rubick.
Despite securing one of the most powerful combos in the current meta, SK-Skywrath Mage, and forcing Secret to an aggressive trilane, Brame lost every single lane and their team fights were completely derailed by YapzOr alone, who rushed the Aghanim's Shard so he can position his teammates out of Skywarth's ultimate.
Nonetheless, the crushing defeat didn't shake their morale or motivation and headed into the next game, Brame managed to tie the series with one single strategic decision.
They had an Anti Mage draft and once again they were playing from behind, with no obvious option at mounting a comeback. Even so, the game finished with Brame forcing a decisive game three despite Team Secret holding a 16K networth advantage and 38 to 24 lead in the kill score.
A decision taken after a 10 minutes deliberation between all the team members, as Brame's captain, Giorgos "SsaSpartan" Giannakopoulos revealed in an off-stream, post series interview with Austin "Cap" Walsh, delivered a pure rat Dota victory.
While Secret were on Brame's high ground, forcing the GG push, Anti Mage sold his Butterfly and Battle Fury to buy an Assault Cuirass and a Divine Rapier and went for the split push/base race, the only option available.
Caught off guard by Brame's decision and perfect execution of the rat strategy, Team Secret seemed to be pretty shaken by the game two loss and their game three was far from what fans would have expected.
If Tasos "Focus/NOOB1TO" Michailidis was the MVP of game two with his successful split push, SsaSpartan took the limelight on Dark Willow in the decisive match. Team Secret had the last pick of the draft and went with a Brewmaster for Daryl Koh "iceiceice" Pei Xiangto to counter Brame's Terrorblade.
However, SsaSpartan's early laning stage aggression delivered exactly the opposite result expected by Secret and after securing three kills on iceiceice in the first 5 minutes, he was able to rotate in the offlane and put immense pressure on Secret's safe lane as well.
Team Secret lost the bottom tier one tower only eight minutes into the game, and from there on, Brame kept on cornering them, preventing both Syed "SumaiL" Hassan and Michał "Nisha" Jankowski from finding any safe spot to farm on the map.
In his interview with Cap, conducted off stream, as the series closed past midnight in Europe, SsaSpartan gives all the details and insights on how Brame managed to keep the morale high, especially after the first game loss, how the team came together, how they decided to sell two items on Anti Mage in game two to try a rat Dota shenanigan and how in all the madness they found the time to play a prank on their manager.
Brame's upset over Team Secret pushes them in the middle of the pack in the Western Europe regional league standings with an overall 2-3 series score, tied in the fourth place with Team Secret.
Their next series will be held against OG on April 12 at 18:00 CEST and a victory for either team will most likely consolidate their chance at going to the Spring Tour Major, so make sure you don't miss that one out!