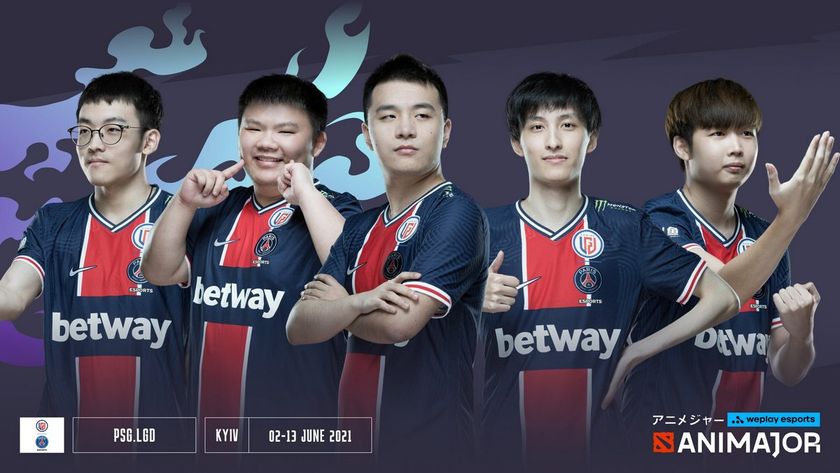 PSG.LGD secure playoffs upper bracket start at WePlay AniMajor
A day before the group stage ends at WePlay AniMajor, PSG.LGD have already secured a top two finish and thus, a spot into the playoffs upper bracket.
Coming to this Major as China's seed #3 team, PSG.LGD are aiming at a top eight finish in the tournament in order to lock themselves among the 12 teams directly invited to The International 10 via Dota Pro Circuit points. However, judging on the clean performance they put in so far at the AniMajor, PSG.LGD are surely looking for much more than just a top eight finish.
After three days in the group stage and a total of six series played in the best-of-two round-robin format, they are the only undefeated team and have just one more matchup on the schedule before proceeding to the playoffs.
PSG.LGD's run on day three of the group play brought a 2-0 victory over TNC Predator with n absolutely pristine performances in both games. They outpaced their adversaries in game one with a mid lane Death Prophet and a position four Winter Wyvern. Zhao "XinQ" Zixing's early rotations and kill involvement allowed him to go for a greedy item build on the WW, with a rushed Orchid Malevolence followed by a full Shadow Blade. He wasn't the only one to go for unusual items.  Zhang "Faith_bian" Ruida on an offlane Dragon Knight opted for Aether Lens in order to keep the pace with his team in the team fights and find the long distance stuns when in Dragon form.
Recognizing that regardless of how much advantage they have in both experience and net worth, TNC could have turned the game with one or two good team fights with their Magnus-Phantom Assassin. The high ground assault from PSG.LGD was a continuous in and out dance, which allowed them to bait spells, do chipping damage on the buildings and patiently wait for any possible error on TNC's positioning before committing fully on the Throne.
Game two unfolded more or less in the same manner, with PSG.LGD securing a well-rounded draft with minus armour, team fight control via a carry Axe, and tower damage with an offlane Leshrac and proceeded on demolishing TNC.
Heading into the next series, PSG.LGD came prepared to damage Evil Geniuses in the morale department and targeted Artour "Arteezy" Babaev by picking both Magnus and Clockwerk to ensure that he will end up on a cliff at some point in the game. They managed to cliff him twice in crucial team fights and that alone forced EG to use two of their bans in the next game on those specific heroes.
PSG.LGD plan for the second game remained focused on RTZ, only that they executed with constant pressure in the laning stage, with a Darkseer bullying Wraith king out of the lane. Once EG had to rely on RTZ's jungle farm, PSG.LGD invaded their territory and kept the pressure high with their Axe carry, not giving him any chance at making a miraculous comeback.
 
Team
M
W
D
L
P

7
4
3
0
11

7
4
2
1
10

7
2
4
1
8

7
1
5
1
7

7
2
3
2
7

7
0
5
2
5

7
1
3
3
5

7
0
3
4
3
Matches and results

The clean 2-0 victories from day three ensure PSG.LGD a top two finish in the group stage and an upper bracket spot for the playoffs regardless of how their final series in the group stage will go. Their last adversaries are the country fellow from Vici Gaming, who are also in need of a top eight overall finish at the WePaly AniMajor in order to avoid the TI10 regional qualifiers.