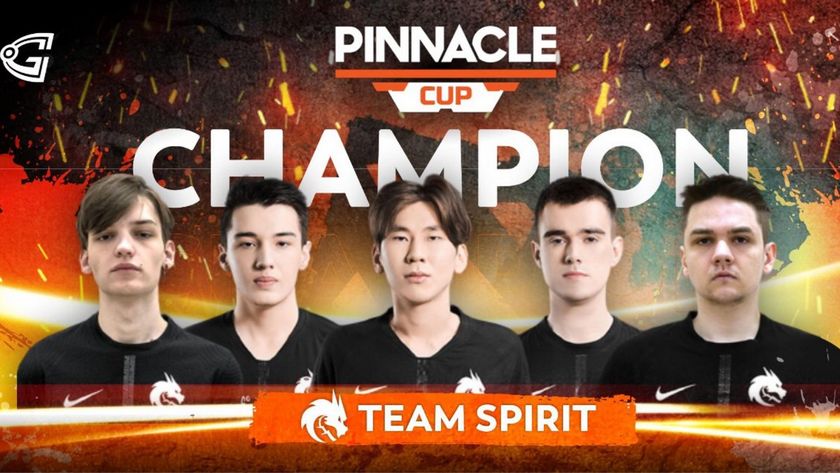 Team Spirit are your Pinnacle Cup champions
Team Spirit add a new trophy to their showcase just ahead of the Major by claiming the Pinnacle Cup title.
Pinnacle Cup has come to a close after a one-month marathon of Dota 2. A total of twelve teams entered the battle for the title and a share of the $100,000 prize pool. Two of them got direct invites straight to the playoffs stage, while the rest started in a round-robin group stage.  
Team Spirit were one of the teams to fight their way to the grand finals by surging to the top of the group standings despite having to actually forfeit a full series as the schedule became rather hectic for them once they also qualified for the upcoming AniMajor.
Losing a bit of focus as they traveled to Ukraine resulted in the first playoffs series being lost 0-2 to Vikin.gg. From there on, Team Spirit fought their way back through the lower bracket rounds and managed to get revenge over Vikin.gg to secure the grand finals spot.
Winstrike, who got a free pass to the playoffs, were the upper bracket warriors and gave a lot of trouble to Team Spirit in the grand finals. The series opened with a neck and neck game where Winstrike were able only past the 30 minutes to capitalize on a few minor errors from their opponents. But after Spirit evened out the score in game two, Winstrike retaliated hard in game three and crushed Team Spirit with a carry Bristleback from Anton "dyrachyo" Shkredov, who was so strong that he was able to score a double rampage by farming Team Spirit in their own fountain before the 30-minute mark.
However, Winstrike's complete dominance from game three prompted a wakeup call for Spirit, who crushed their adversaries in game four with the Mars-Snapfire combo and a Phantom Lancer, while in the final match of the night they basically didn't allow Winstrike to play as they rushed over them with a Ursa-Grimstroke duo.
Pinnacle Cup championship title comes with a $50,000 prize as well and a boost of confidence for Team Spirit, who are set to play at their first Major this year and will look to secure a spot at Ti10 with their performance in Kyiv, Ukraine.