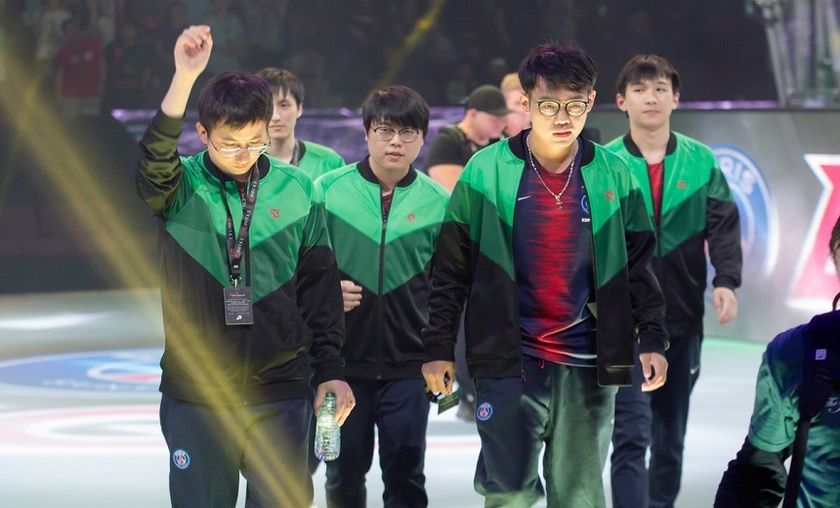 PSG.LGD head to the Grand Finals of The International 8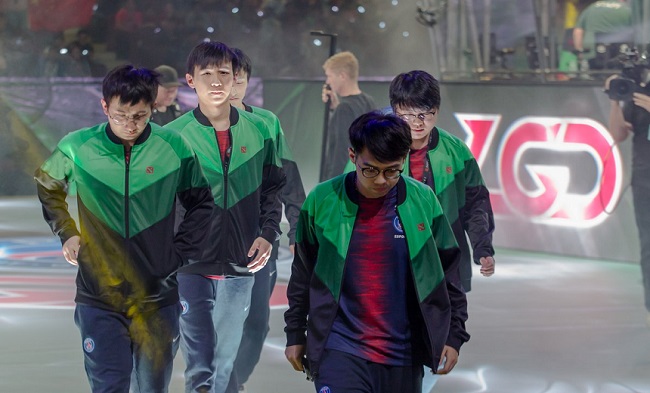 Photo courtesy of Monster Gaming
In a quick 2:0 series with fantastic drafts, PSG.LGD Gaming have overpowered Evil Geniuses to advance to the Grand Finals of The International 2018. 
Evil Geniuses were gunning for their second International title. PSG.LGD were aiming to take their first. Both teams went head to head after displaying some dazzling plays and spectacular performances through The International 2018 and it was anyone's series. In the end, it was LGD that would prevail and outlast their Western opponents. 
Evil Geniuses will go home with a commendable third place finish and $2,669,646 prize padding their pockets. PSG.LGD will re-challenge OG in one last series for the Aegis. 
Game One
Bans
* This player was a stand-in for this match
The first game of the series started out very aggressively — a real bloodbath with kills all over the map for both teams early on. It was PSG.LGD who looked to dominate the game and seem quite confident in a high-pressure setting. In a blink of an eye, 37 minutes in, Evil Geniuses wiped out LGD and brought down the lead and brought up the momentum in their favor. Unfortunately, EG couldn't seem to completely capitalize on their moment and were not able to close it out quick enough. LGD regained their composure —if it was even lost at all and seized back their control and lead in a convincing manner. In just over 40 minutes they closed out the first game, moving within one step of the grand final matchup. 
Game Two
Bans
* This player was a stand-in for this match
The second game started out strong with action all over the map again —rotations and kills happening quickly from both sides. Evil Geniuses were the ones putting on the pressure early on this time, advancing into LGD's base early on and throwing their weight around. On the brink of elimination, the North Americans were not going to make it easy for the Chinese hopefuls or cave in. Despite their best to keep things even, they started to lose their grip and by 27 minutes in, a full team-wipe on EG allowed LGD to barrel ahead and take two barracks down to ultimately close out the series. 
Upper Bracket
Round 3 - Best of 3
Round 4 - Best of 3
Lower Bracket
Final
The International 8 action concludes tonight with the best-of-five Grand Finals between OG and PSG.LGD to determine the TI8 championship team. 
The International 2018 Format:
Main Event - August 20th - August 25th, 2018

Sixteen teams play in a double-elimination format over six days

Eight teams begin in the Upper Bracket, eight in the Lower Bracket
First Lower Bracket round is Bo1, Grand Finals are Bo5, all others rounds are Bo3
The International 2018
The main event is set to begin on August 20 and scheduled to run through August 25. For the first time ever, The International will be held in Vancouver, Canada with a total of 18 teams competing. Currently, the prize pool is a staggering $25 million.