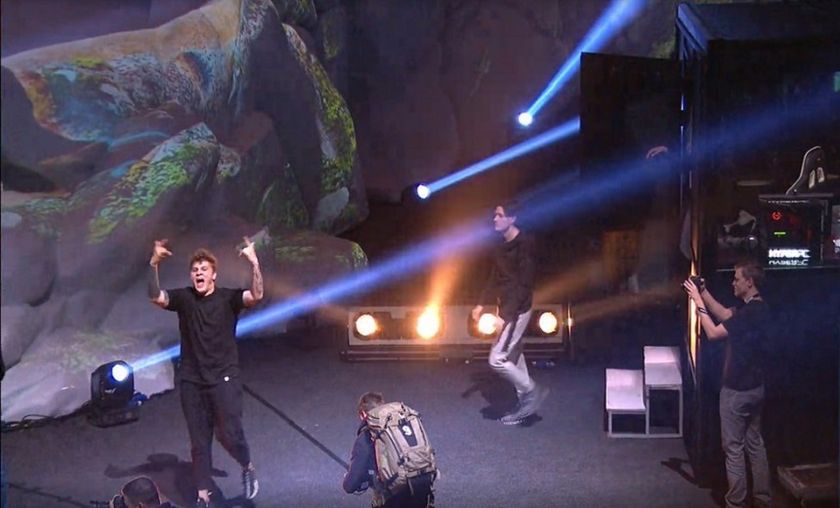 Dark horse prevails; FlyToMoon upset OG and VP to advance in EPICENTER XL

Photo courtesy of EPICENTER
EPICENTER XL lower bracket was full of excitement and surprises today as the CIS dark horse overpowered both OG and Virtus.pro to advance to the lower bracket finals tomorrow.  
A Cinderella story unfolded over the last few days at the super-sized Major in Moscow. Under the roar and cheers from the hometown crowd, the newly formed CIS, FlyToMoon, became the shining stars. After going head to head with some of the biggest dogs in the event, and coming out on top, FlyToMoon has secured their first DPC points, a minimum of third place finish and a sizeable slice of the $1,000,000 prize pool. 
Although it is a long shot for the team to get a direct invite to TI8, it is not mathematically out of the question. 
Riding high on their momentum and the exhilarating run, FlyToMoon could be real contenders for a shot at the championship title. With the home crowd support, home-field advantage, unknown factor of being the dark horse, great drafting and beautiful execution of their strategies, fans are eager for the CIS team's next battle. 
FlyToMoon 1:0 OG
Bans
* This player was a stand-in for this match
The elimination game started out with FlyToMoon taking four of the same heroes they defeated paiN Gaming with during their last elimination game yesterday. Despite the same lineup, OG didn't seem to draft against the CIS team as effectively as expected. Armed with their comfort heroes, FlyToMoon was able to execute their draft with outstanding results. Even then they dropped the ball, they were able to pull together and play out their strategy, proving they knew their strategy inside and out. After an hour of some back and forth, up and down swings, FlyToMoon closed out the game with an overwhelming victory, knocking OG out of the event.
Mineski 0:1 Virtus.pro
Bans
* This player was a stand-in for this match
The match started out with a bloodbath and kills all over the map. Mineski took the strong lead early on maintaining a firm grasp on their advantage and control for the first 30 minutes. Things started to slip away from them as the CIS juggernauts played out their game patiently, waiting to capitalize on any late-game mistakes and playing from behind. Everything started to fall apart for Mineski in the last 10 minutes and two back to back bad team fights about minute 36 would end up costing the SEA kings about 15k gold and the game. Virtus.pro pleased the home crowd and local fans as they managed to pull off a last-minute victory and survival.
FlyToMoon 2:0 Virtus.pro
A full CIS battle royale ensued in the Lower Bracket Round 3 series. The first of the best-of-three elimination matchups turned out to be more exciting than some spectators would have thought. Virtus.pro were the clear favorites coming in, but FlyToMoon upset their CIS brethren and easily took the first game off their hands. FlyToMoon were able to take their favorite heroes and with a better early game draft, they took the lead - crushing the laning phase. A few early buybacks gave the team continued advantage and secured their control over the map - taking fights and objectives with relative ease. 
The second match Virtus.pro came out of the gate swinging with their tournament lives on the line. FlyToMoon were quick to seize control from them shortly after. Applying pressure to VP, FlyToMoon continued to try to close the game out. As the pressure intensified, Virtus.pro were not ones to crumble under it and once again proved that staying calm could bring a losing game back to a level playing field. About 45 minutes in, a disastrous team fight for VP that resulted in a team wipe was enough for them to wave the white surrender flag and give FlyToMoon the game and series win. 
VP will walk away with more DPC points for their collection with their fourth place win. FlyToMoon will move on to the lower bracket finals to face either Team Liquid or PSG.LGD. 
Upper Bracket
Round 2 - Best of 3
Round 3 - Best of 3
Lower Bracket
Final
EPICENTER XL continues now with the Upper Bracket finals as Team Liquid take on PSG.LGD for a spot in the Grand Finals tomorrow.