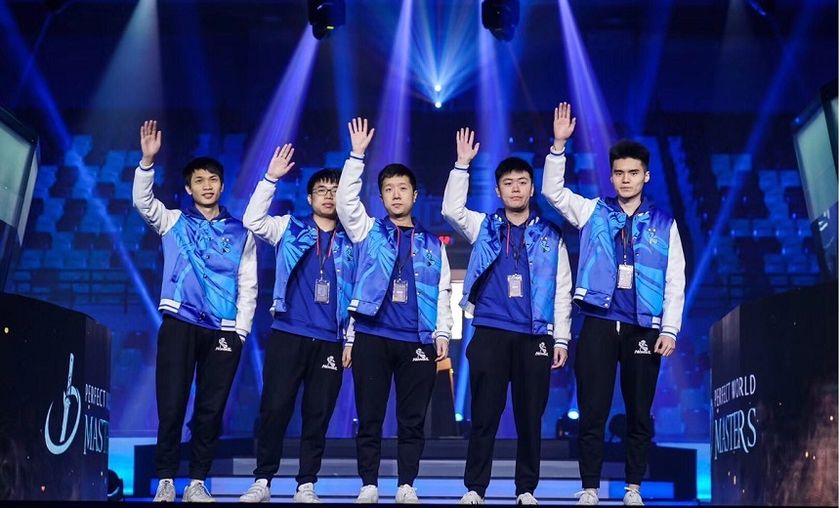 With a 3:0 sweep, Newbee become The Perfect World Masters championship team

Photo courtesy of Newbee
Newbee are The Perfect World Masters champions after running amok over Vici Gaming in an outstanding performance in the Grand Finals. 
Chinese fans were in for a real treat on the last day of The Perfect World Masters Minor.
After a very lovely opening ceremony with cosplay contest, singing, awards honoring various Chinese players through the year and the touching The Internationals ring ceremony for the Wings Gaming players for their TI6 championship all Chinese Grand Finals got underway.
Newbee and ViCi Gaming went head to head in a rematch of the upper bracket finals, a series that went 2:1 in favor of Newbee yesterday. ViCi Gaming were determined not to let that happen again. Both teams had already claimed second place in previous Pro Circuit events - and now were chasing the championship title.
Supremely confident, Newbee took their first championship title of the Pro Circuit season in a convincing and decisive 3:0 victory.
Perfect World Masters Grand Finals:
Game One
Bans
* This player was a stand-in for this match
Newbee's Song "Sccc" Chun on Queen of Pain landed an ultra kill by 10 mins in and continued on the warpath through to the end of the game, merciless and ending with a 19/1/13 record. The aggression from Newbee all over the place to start out the series proved they meant business and were going to be the ones calling the shots this match. Falling desperately behind, Vici Gaming seemed helpless as Newbee rolled over them with ease.
Game Two
Bans
* This player was a stand-in for this match
In stark contrast to the first game, the second match took some time to get wound up. It took until nine minutes to get first kill on the board and this time it was Vici Gaming. Once they started, they continued to barrage Newbee, taking the next few kills in the span of two minutes. However, Newbee's coordination, positioning, and initiation would swing the momentum into their favor not long after. 35 minutes in ViCi Gaming were able to get the fight they needed to close the gap between the teams. Unfortunately, by the end, it wouldn't be enough and Newbee took a commanding 2:0 lead of the series.
Game Three
Bans
* This player was a stand-in for this match
With their backs against the wall Vici Gaming could feel the pressure mounting as Newbee struck out to take first blood before the creeps even spawned. Systematically taking objectives and maintaining their composure, Newbee racheted up the tension. Vici Gaming answered by finding pick offs through the map and taking favorable team fights, seizing control for the first time in the series. A thrilling fight and engagement at Roshan around 40 minutes in proved that Newbee were willing to take high risks and claim high rewards to the game out from under Vici Gaming. Several favorable fights following for Newbee gave them control and the lead almost 50 minutes in.
Perfect World Masters Prize and Points Distribution:
1st place: $150,000 + 150 points - Newbee
2nd place: $60,000 + 90 points - Vici Gaming
3rd place: $30,000 + 45 points - LFY
4th place: $18,000 + 15 points - compLexity Gaming
5-6th place: $12,000 - Team Secret/Team Kinguin
7-8th place: $6,000 - Mineski/Vega Squadron
9-10th place: $3,000 - SG Esports/LGD Gaming