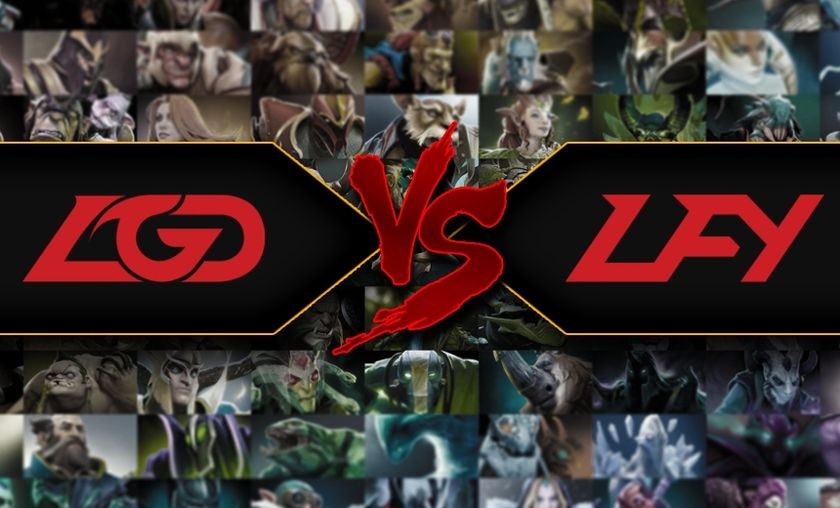 The return of Chinese Meta – LGD Gaming vs LGD.Forever Young; Yao vs ddc
Mars Dota 2 League 2017: Game-by-game draft analysis between LGD Gaming and LGD.Forever Young.
Both LGD and LFY have been looking extremely strong in recent encounters, as seen during their dominating run at The International 7 China Qualifiers, with LFY and LGD qualifying in second and third place respectively. They continued their dominance here at MDL2017, cruising their way into the Upper Bracket Finals and now meeting their sister team in the Grand Finals once again. It seemed like China is forming their own Meta with the return of heroes such as Chaos Knight and Shadow Shaman, but the execution of LGD and LFY seemed to be one notch above the rest. 
Being 'sister' teams, LGD and LFY probably practice a tremendous amount with each other, which means we might get to see very specific bans or unique picks to throw their opponents off in the grand finals as both teams knows each other extremely well. Without further ado, let us look into the drafts and analyze the Best-of-Five series between LGD and LFY.
Game 1: The Massive Counter-Picks by LGD
Bans
* This player was a stand-in for this match
1st Phase
The first phase bans by both teams were no surprises, with LGD removing LFY's classic Death Prophet as well as Nightstalker and LFY removing two staple support heroes in the current meta – Kunkka and Ancient Apparition. LGD went ahead and picked Chen 'Victoria' Guan Hong's Earth Spirit which I believe is more of a deny pick to Tue 'Ah Fu' Soon Chuan, who is a beast on that hero. LFY responded with Earthshaker and Puck, two very strong and versatile heroes in the current Meta. Yao 'Yao' Zheng Zheng closed out the first phase with a Shadow Shaman, a hero that is super favored by Chinese teams currently.
2nd Phase
More respect bans were thrown out as Chaos Knight and Faceless Void were removed by LFY and Warlock and Dragon Knight by LGD. The 2nd phase picks by LGD were completely designed to counter LFY's picks. LFY went for a Visage and LGD answered with Wang 'Ame' Chun Yu's Gyrocopter: Gyro's Flak Cannon is one of the best counters to Visage birds. Similarly, LFY went for a Drow Ranger, which suits their lineup extremely well, but who gets hard countered by a Broodmother pick from LGD.
3rd Phase
Down to the final bans, LGD removed the Medusa which would synergize well with the Drow Aura and provide LFY with a late game hero that can deal well against their lineup. Medusa is also decent at dealing with the Brood's Spiderlings come the mid game. On the other hand, LFY banned the Phantom Lancer which is a direct carry counter to the Drow. LFY went back for a last pick Bristleback which is a hero that can stay in lane against a Broodmother and deal against the split-push. It's an understandable pick, but the downside is that it doesn't utilize Precision Aura at all. As for LGD, they completed their draft with Lu 'Maybe' Yao's Queen of Pain. The QoP rounded up LGD's draft pretty well, filling in the gaps by providing a strong magical burst which their lineup currently lacks.
Win Condition
LFY initial plan was to group up and push as per what every Drow strats hope to achieve. However, the Brood counter-pick by LGD is going to apply so much pressure on the Drow that it becomes extremely difficult for LFY to go with their initial plan. As such, LFY needs a secondary plan. The Bristleback has to go to whichever lane the Brood is on to stop the split-pushing potential. The blink timing for Ah Fu on Earthshaker and He 'Inflame' Yong Zheng on Puck is very crucial as they need to be the ones to make the plays and create the space for their team. LFY either has to dominate the early game (which will be extremely difficult) or drag the game to the ultra-late game where Brood falls off. Drow can be extremely strong against LGD's lineup if he does become 6-slotted. As for LGD, they need to snowball off the laning phase with their super strong lanes and constantly apply pressure onto LFY. With the superior map control, LGD will then be comfortable falling back into a slightly passive game where they will just out-farm the cores of LFY.
Conclusion
LGD drafted well to deal against a Drow Strat, even forcing a sub-optimal mid hero that doesn't benefit from Precision Aura. LGD's draft is extremely strong in the early game with lots of killing potential in all three lanes. LFY needs to try to out-lane LGD and I think their best bet is to go aggressive tri-lane, leaving Bristleback 1 v 1 against Brood & Puck 1 v 1 against QoP and try to snowball from the laning phase. However, this is something that LGD should expect and can easily play around it.
Draft Advantage: LGD 65% - LFY 35%
Game 2: LFY Lack of Answers to LGD's Wombo Combo
Bans
* This player was a stand-in for this match
1st Phase
LFY had first pick in game 2 and so LGD had to respect ban Ah Fu's Earth Spirit this time round as they can no longer deny pick it. Yao also banned away Dragon Knight which is one of Xie 'Super' Jun Hao's best heroes. LFY, on the other hand, chose to remove both Kunkka and Shadow Shaman, two tier 1 support heroes in the Chinese meta currently. Leong 'ddc' Fat-Meng favors the Night Stalker for Ah Fu, yet another tier 1 position 4 hero. Yao responded with Ancient Apparition as well as Faceless Void. The AA + FV combo is pretty standard and FV is a versatile 2nd pick as well, being able to take on the position one or three role. ddc instantly picked up the Oracle which is a decent counter against both AA and FV.
2nd Phase
In the 2nd phase, Yao removed Chaos Knight which is one of the top carries in the Chinese meta, as well as a targeted ban towards Inflame's Puck. As for ddc, he banned away the Silencer and Tidehunter. Global Silence will be a good follow up to Chronosphere, preventing the Oracle from saving anyone caught in it. As for the Tide, LFY is afraid of it amplifying the already insane team-fighting potential of LGD. Yao instantly picked up the Death Prophet for Maybe. Not only is DP a very strong hero when paired up with FV, this pick acts as a deny pick to LFY as it is also one of Super's best heroes. LFY replied with a Queen of Pain which has a decent matchup against the DP, being able to blink away from the ever so pesky Spirit Siphon. QoP also provides the huge burst damage that you need against heroes like FV and DP. The 4th pick Tusk by LGD is a really good hero to add to their lineup for various reasons. 1) It is a stable position 4 hero that gives LGD the early game ganking potential that they currently lack. 2) Ice Shard pairs extremely well with AA's Cold Feet, forcing the target to be stuck within the break distance. 3) It provides a secondary form of initiation on top of the FV and the additional few seconds of lockdown from Snowball and Walrus Punch can be crucial in bringing down a QoP. 4) FV and DP are heroes that the opponent wants and needs to burst down as fast as possible. Therefore, having a defensive spell like Snowball is extremely crucial in LGD's lineup. The other possible options are Dazzle or Shadow Demon. However, Shadow Demon is completely off meta and with a position 5 AA already in hand, you do not want another immobile support like Dazzle. Hence, the Tusk pick up here by LGD is really clutch as it is able to fill in the gaps of their draft. ddc went back for the Elder Titan in which LFY has had so much success in the past when Ah Fu first joined the team, either for Ah Fu himself or for Inflame.
3rd Phase
In the last phase, ddc banned out Sven and picked Lycan. As mentioned in my previous draft analysis articles, you want to have heroes that can create chaos in the backlines against a wombo-combo lineup so that you can force big ultimates to be used at sub-optimal timings. Lycan is one of the better heroes at doing that, as he can run down heroes like AA in the backlines. As for LGD, Yao removed the Terrorblade and completed their wombo-combo lineup with the Enigma. Apart from Elder Titan's Earth Splitter (which isn't the most reliable), the heroes on LFY's side have no ways of cancelling a BKB-Blackhole and that is definitely a huge problem for them.
Win Condition
The win condition for LGD is pretty straightforward - Play around their big ultimate cooldowns (Chrono, Exorcism, Blackhole & Ice Blast) to get kills and objectives, drag it to late game and win the game with Refresher-BKB-Blackhole on Enigma. As for LFY, so much lies on the shoulder of Ah Fu's Night Stalker to make a huge impact in the early game, allowing them to snowball into the mid game. There is almost no way LFY can win a 5-v-5 team-fight against the lineup of LGD with all their cooldowns available. Hence, they need to split up the map and get pick-offs, preventing the 5-man potential of LGD's lineup.
Conclusion
The 2 most obvious ways to combat a wombo-combo lineup is either to draft an equally devastating team-fight lineup that can go head-to-head against it or to draft a lineup that is extremely strong at split-pushing and pick-offs to prevent the 5-man deathball. However, LFY's draft seems to be neither here nor there. They have decent team-fighting with the QoP and Elder Titan and decent split-push potential with the Lycan. However, being decent at both is usually not enough and LGD definitely have the edge here in game 2's draft.
Draft Advantage: LGD 62% - LFY 38%
Game 3: The Pugna Pocket Strat
Bans
* This player was a stand-in for this match
1st Phase
With LGD having first pick here in game three, they focused their bans on two of Super's most successful heroes (Death Prophet & Dragon Knight) and picked up the Earth Spirit similar to game 1, denying Ah Fu his signature hero yet again. LFY decided to ban away Faceless Void over the Shadow Shaman as well as Kunkka in which they banned every game. ddc responded with Ah Fu's Night Stalker and Ancient Apparition for himself. Yao then closed out the 1st phase with the Shadow Shaman which was left in the pool. All 4 support heroes were picked right off the bat, showing how much both teams valued these heroes in terms of pick/ban priority.
2nd Phase
ddc prioritizes the 2nd phase bans on Ren 'eLeVeN' Yang Wei's heroes – Beastmaster and Tidehunter, being afraid of a potential 5-man deathball pushing lineup from LGD. My guess being that LGD has done a similar strategy with the support Shadow Shaman during one of their practice matches before. Yao, on the other hand, removed the Batrider and Bristleback, leaving the beloved Chaos Knight in the pool. CK was banned by either team in the previous 2 games and it is weird to see it being left in the pool after the 2nd phase bans. It is possible that LGD has a plan against it and wants LFY to pick it up. As expected, LFY picked up the CK for Du 'Monet' Peng and LGD answered with an Earthshaker. More CK illusions means more damage for Earthshaker's Echo Slam. (Note: Illusions does not count as heroes but as units). LFY picked up an Omniknight which is really good against the current 3 heroes of LGD. 1) Repel completely nullifies the damage from Earth Spirit as well as the magical aspect from Earthshaker and Shadow Shaman. 2) Purification works extremely well together with CK's Reality Rift. 3) Guardian Angel is good against Mass Serpent Ward and the heavy physical damage from Earthshaker's Enchant Totem. LGD then went back for eLeVeN's Enigma, leaving Maybe with the mid Earthshaker. In this game specifically, Midnight Pulse will be super effective against a high HP hero like CK as it does percentage-based damage.
3rd Phase
The final ban by each team was pretty obvious. LGD banned away the Silencer which is the best counter to Enigma's Blackhole and LFY banned away the Sven which is a pretty decent carry counter to the CK. LGD went for a last pick Troll Warlord which does well against the lineup of LFY. 1) It is a carry that ignores the effect of Repel, being able to stack Fervor on a target regardless. 2) Whirling Axes (Melee) deals quite well against Chaos Knight and his army of illusions. ddc closed out the draft with the last pick Pugna in what seemed to be a pocket strat. Pugna is actually a really strong pick in this game. 1) It provides the constant pushing pressure that LFY likes to apply in the mid-game, similar to what a Death Prophet or Dragon Knight can offer. 2) Nether Ward is extremely strong against heroes like Earth Spirit, Earthshaker and Enigma who are very dependent on their spell-usage to output damage. On top of that, LGD does not have a mobile hero that can take down the Nether Ward easily. 3) The last pick Pugna allows LFY to put their CK in the frontline while the others spread out nicely in the team-fights, making it difficult for LGD to get off a good Blackhole or Echo Slam.
Win Condition
Both teams are pretty even in the laning phase, hence the game is most likely going to be decided by the mid-game team-fights. Similar to game 2, LFY does not have a way to cancel a BKB-Blackhole from eLeVeN. However, the difference in this game is that they have the tools to survive through a Blackhole with the defensive spells from Omniknight as well as Defensive Life Drain from Pugna. LFY relies heavily on their Chaos Knight for damage and taking him out of the fight quickly should be the key to LGD's success. However, they need to keep in mind the capabilities of the Omniknight. If the CK survives the initial onslaught, it will probably spell disaster for Yao and his team. I think this game lies a lot on the decision making of eLeVeN – Whether to go all in on the CK with his Blackhole or to take out the Omniknight which can be the key hero in turning around the fights for LFY.
Conclusion
That being said, I still like LGD's draft a bit better. Their lineup has a good mix of everything - Decent laning phase, good at pushing, superior team-fight, good balance of physical and magical damage. Moreover, a Refresher-BKB-Blackhole Enigma in the late game is almost impossible for LFY to deal with. Nonetheless, a huge part of this game is going to come down to team-fight execution by both teams. I feel that the draft of game 3 is much more even, as compared to game 1 and 2, with it tilting slightly to LGD's favor.
Draft Advantage: LGD 53% - LFY 47%
Game 4: The Fall of Drow Strats
Bans
* This player was a stand-in for this match
1st Phase
The bans from both teams have been revolving around the same few heroes. In game 4, LFY had first pick and decided to remove Ancient Apparition and Shadow Shaman, while LGD removed Super's Death Prophet and Inflame's Puck, leaving Dragon Knight in the pool. Despite that, ddc decided to stick to the first pick Nightstalker for Ah Fu, hoping to pick up the DK as the 2nd pick (which he did). Whenever Super plays DK or DP, the game plan for LFY always seems to fall into place very nicely. The team is probably very comfortable playing around Super when he is on those heroes. LGD responded with Kunkka + Faceless Void, a hero they found success with multiple times against LFY (Game 1 of UB Finals and Game 2 of Grand Finals). Moreover, Kunkka has some combo potential together with Chronosphere.
2nd Phase
Yao went on to ban the Silencer and Bloodseeker. The Silencer ban could be a hint that LGD wants to go back for an Enigma. Also, a timely Global Silence can be very disruptive to whatever combo that LGD has planned on top of the Chronosphere. As for the Bloodseeker, it might be one of those specific bans that I mentioned at the start of my article. LFY replied with a Necrophos and Phoenix ban. Necrophos could be a hero that LGD favors picking against Dragon Knight as Reaper's Scythe can be very effective against the high HP pool of that hero. As for the Phoenix, it is one of Yao's heroes and it pairs extremely well together with Faceless Void. LGD went on to pick the Witch Doctor and Medusa. Not only does Death Ward combos very well with Chronosphere, Stone Gaze causes the enemy to take an additional 50% from Physical Damage, making Death Ward even more deadly. LFY needed a defensive support against the Chronosphere and ddc chose the Dazzle for himself. Upon seeing the Medusa pick by LGD, I am guessing that LFY is already expecting a last pick Drow Ranger. Hence, ddc picked up the Batrider which can put a lot of pressure on the Drow during the laning phase.
3rd Phase
Yao and ddc went on to last ban Terrorblade and Bristleback respectively. The Terrorblade would have allowed LFY to match the late-game powress of the Medusa. Also, TB becomes twice as scary with a Dazzle behind him, being able to Sunder during Shallow Grave. LFY probably felt that their lineup isn't well-equipped to deal with a Bristleback and decided to remove it from the pool. Down to the last pick, I would have expected LFY to pick Anti-Mage as a carry counter to the Medusa. However, they decided to go with the Morphling for Monet, which is another carry that can matchup against Medusa in the late game. Here could be some reasons why ddc chose the Morphling over the AM. 1) LFY might have felt that their lanes would be too weak with the AM and they might get pressured way too hard in the early game. Morphling has Waveform which is a decent nuke that can contribute early on. 2) The bulk of LGD's damage is physical, thus diminishing the effects from AM's Spell Shield. As what LFY might have expected, LGD went for the last pick Drow to round up their draft.
Win Condition
In the early game, both teams need to take early towers and gain map control with the use of Drow Aura for LGD and Dragon Form for LFY. Moving to the mid-late game, LGD hopes for 5 v 5 team-fights in which their lineup excels in. With ultimates like Chronosphere, Ghostship, Stone Gaze and Death Ward, any head-on team-fight should go in their favor. As for LFY, they need to rely on the Morphling to split-push. This will force LGD to split up and enable Batrider's initiation to give LFY the numbers advantage in the fights. 
Conclusion
Both LGD and LFY have their own set of game plan to execute and it doesn't seem that either team has an added advantage just based off the drafts.
Draft Advantage: LGD 50% - LFY 50%
Game 5: The Ultimate Out-Draft
Bans
* This player was a stand-in for this match
1st Phase
In the final game of the BO5 series, LFY stuck on their bans, removing Ancient Apparition and Shadow Shaman. As for LGD, they decided to take away the Nightstalker which has been causing them so much problems in the last 2 games, as well as the Death Prophet. As such, LFY is able to get their hands on Ah Fu's Earth Spirit. Yao responded with Kunkka and Silencer. The Kunkka pick is pretty standard but the Silencer 1st phase pick is rather peculiar. In the earlier games, LFY has been banning Silencer in the 2nd phase whenever LGD picks up the Faceless Void. Yao could be playing some mind-games with ddc by choosing to go with the Silencer first instead. Also, Silencer is a decent counter to Earth Spirit. LFY then go back for their staple Dragon Knight pick for Super.
2nd Phase
LGD went on to ban Oracle and Razor in the 2nd phase. These bans seemed weird at first but it became obvious when Yao picked up the Ursa. Both Razor and Oracle are extremely good counters to the grizzly bear. As for LFY, they removed Batrider and Faceless Void, two initiating heroes who pairs very well with Global Silence. Ursa has a pretty good matchup against Dragon Knight in the mid lane, allowing LGD with the versatility of putting him either in the mid lane or safe lane. This is the innate weakness of showing your mid hero so early on in the draft. ddc went on to pick Warlock for himself, amplifying the team-fight potential of LFY's lineup. Not only does Fatal Bonds synergizes well with Earth Spirit's Magnetize, Upheaval can also be super effective in kiting an Ursa. Yao then went back for yet another team-fighting hero for eLeVeN on the Tidehunter. Not only does the Tide pick allows LGD to match up to the team-fighting prowess of LFY, the natural pick up of team-fight items like Mekansm and/or Pipe of Insight on Tide can help to neutralize a lot of the AOE damage from Warlock and Earth Spirit. ddc then decided to go back for a Bristleback which is rather surprising as an offlane Bristleback will get crushed by a safe lane Ursa. This suggests that LFY should be putting the Bristleback in the safe lane which is decent at holding its own against Tidehunter.
3rd Phase
In the last phase, LGD and LFY banned out the Bloodseeker and Sven respectively. Both bans make sense as Bloodseeker's Rupture would have made Ursa's game extremely difficult and Sven is one of the best carry counter to Bristleback. Down to the last pick, LFY decided to pull out their classic Zeus offlane for Inflame. With two tanky cores (Bristleback and Dragon Knight) in the frontlines, it gives Zeus the space he requires to output heavy amount of magical damage in the team-fights. Moreover, the insane magical burst from Zeus on top of Fatal Bonds can be quite devastating. As for LGD, they instantly picked up the Anti-Mage which, in my opinion, is the best possible pick. Here's why: 1) LFY's lineup isn't the best at pressuring Anti-Mage in the early game. 2) LFY has a serious lack in lockdown against an Anti-Mage. 3) The draft of LFY focuses heavily on AOE team-fight spells which are mostly magical damage and AM's Spell Shield gives him 50% magical resistance (at level 4).
Win Condition
This is going to be an extremely difficult game for LFY. Their only win condition will be to pressure the AM right from the start and hope to snowball the laning phase. With an early advantage, LFY has to find the right timing for a deathball push against LGD. As for LGD, they just need to survive the laning phase and play a 4-protect-1 strat, using their big ultimates like Ravage and Global Silence to take fights while creating space for their AM to farm up. A farmed AM will just take over the game for the LGD side.
Conclusion
Being sister teams, both teams definitely practiced a lot against each other but it seemed that in this best-of-5, Yao managed to take the upper hand in the battle of the mind games against ddc. The last pick Anti-Mage pretty much sealed the deal for LGD, completing the ultimate out-draft in game 5 of the MDL2017 Grand Finals.
Draft Advantage: LGD 70% - LFY 30%
Thanks for reading and do share your thoughts on the article in the comments section below! Also, do check out my draft-analysis articles from before:
Manila Masters Grand Finals between Evil Geniuses and Newbee
Epicenter Moscow 2017 Grand Finals between Team Liquid and Evil Geniuses
Galaxy Battles Grand Finals between Planet Odd and Newbee
The Summit 7 Grand Finals between Team Secret and Virtus Pro