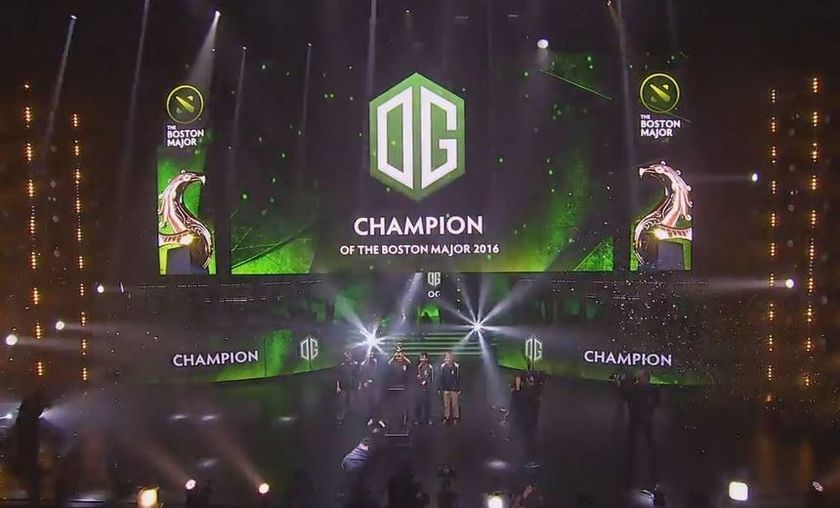 OG are the champions of The Boston Major

The grand finals of the Boston Major would see OG searching for their third major title, while Ad Finem would be looking to deny that dream and claim their own glory.
Game One

Bans
* This player was a stand-in for this match
The grand finals began with OG grabbing first blood with only three minutes passed, but both teams were playing fairly defensively, trying to focus on farming. Ad Finem began making some great rotational plays to claim vital kills, with Giorgos 'Ssaspartan' Giannokopoulos on the Shadow Demon being a major playmaker, giving Ad Finem an 8-6 lead just after ten minutes. The Dire team continued to control the game as they claimed an aegis by fifteen minutes.
By twenty two minutes though, OG had found their way back into the game, tying the score line up at 9-9 and beginning to put pressure on around the map. From there on out, OG begun to dominate the game, as they claimed kill after kill as well as an aegis for themselves. With forty minutes passed, OG took themselves onto the high ground mid lane and dropped the barracks.
As OG claimed themselves a second aegis and took the high ground bot lane, Ad Finem realised that they could not defend the push and threw in the towel – giving OG the win in game one.
Game Two

Bans
* This player was a stand-in for this match
The first blood in game two fell at around the same time as it did in the previous game as OG found a kill in the top lane just after three minutes. A few minutes later found Finem attempting to take a quick skirmish in the bot lane but this ended up getting them team wiped and OG moved into the Rosh pit soon after this to claim an aegis - while AF attempted to find space around the map by removing towers.
With twenty minutes gone, OG seemed to be running away with the game, finding kills freely and controlling the map completely. With another aegis in hand, OG looked to start closing out the game and went high ground. The Radiant side managed to deny OG any objectives on the push but the pressure was definitely showing and OG would return.
With thirty five minutes passed, OG returned to the high ground and ripped their way through the Ad Finem line up before the Radiant called GG, making the series 2-0 in OG's favour.
Game Three

Bans
* This player was a stand-in for this match
Game three would be the deciding match for Ad Finem, if they lost, they would take home a commendable second place at the Major, but a win would push the grand finals into a fourth game and give the Greek boys a glimmer of hope for a turn around. The game started a lot faster, with kills falling both ways at every turn.
Both teams continued to claim kills in a back and forth manner, but by eighteen minutes OG began to pull ahead as they did in the previous games. But the Radiant side were not about to give up that easily and begun to fight back. With thirty two minutes passed, Ad Finem begun to string together amazing plays which gave them a slight opening in the game and let them to drop down the top lane ranged barracks.
But OG fought back themselves and with fifty minutes passed they found a breakthrough and took down four from AF's line-up, before marching down mid to drop only the ranged barracks, thanks to some great defending from the Radiant. Again the game swung as AF made a decisive choice and rushed into the Dire base top and took down the melee barracks.
One hour into the game, Omar 'Madara' Dabachach saw fit to purchase a Divine Rapier in an attempt to close out the game. From there Ad Finem looked sure to take the game as they moved in to claim mega creeps but OG weren't ready to give up just yet. With OG defending only their Ancient, they managed keep it standing for twenty more minutes before the sneaky nature of Apostolos 'Maybe Next Time' Verros on the Earthshaker claimed the victory with some help from the mega creeps. This meant that the series stood at 2-1 to OG.
Game Four

Bans
* This player was a stand-in for this match
After an absolutely intense game three, AF would be looking to repeat the performance, while OG would be looking to close out the Major and claim victory. The game began as the rest, with OG picking up first blood and claiming a lead on the scoreboard, but AF kept themselves in range with some great kills of their own. By fifteen minutes, AF had started to make their way into the game as they found a great team fight to take down two from OG which lead into them claiming an aegis.
But OG began to put on the pressure and pull away as they wiped AF just after the twenty six minute mark and proceeded to push down the mid lane barracks. OG seemed to always be one step ahead of AF as they constantly ripped through their line up and by thirty five minutes OG had dropped the bot lane barracks as well.
Things were looking very dire for Ad Finem at this point in the game and it seemed like their great run would be over very soon. With only thirty eight minutes passed, AF had no choice but to call GG.
With that, OG took the series and their third major victory as they are crowned the victors at The Boston Major. Ad Finem though deserve a ton of credit for making it this far and take away an extremely commendable second place.