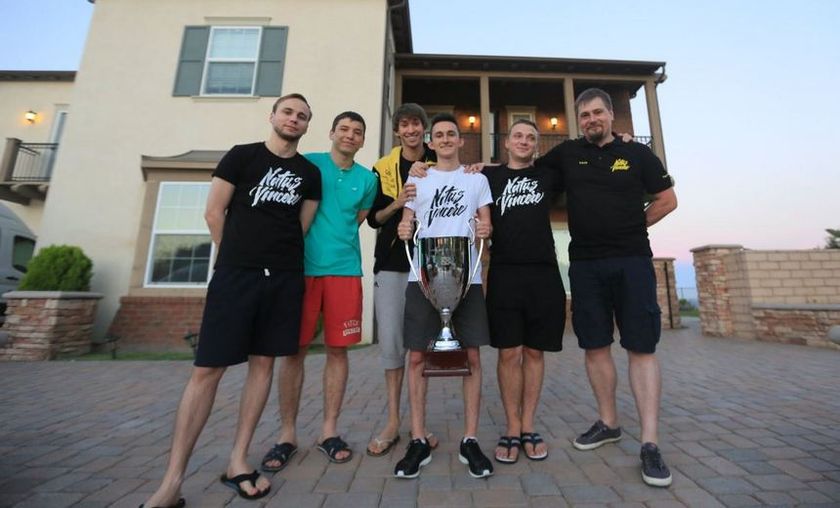 Na'Vi become StarLadder Champions for the seventh time

photo credits: @dotasltv
Less than two weeks before The International 6 to kick off Na'Vi secures their first LAN trophy since November 2014 by defeating Team Secret with a final 3-1 game score in the SL i-League StarSeries Season 2 Grand Finals. 
Game One
Bans
* This player was a stand-in for this match
The StarLadder i-League StarSeries grand finals began with common bans for the two teams involved, Secret taking Io and SAnd King out of the picture while Na'Vi denied any funky Drow tactics and also the possibility of a Mirana game. Having the first pick, Secret started their first draft with a Faceless Void, immediately countered by a double aura first two picks of Na'Vi, Beastmaster and Vengeful Spirit. The Ukrainians continued with a Timber for Danil 'Dendi' Ishutin mid lane as Dmitry 'Ditya Ra' Minenkov was to carry the game on Weaver, which proved to be a weak pick considering  Secret's massive teamfight oriented draft.
Nevertheless, Na'Vi was able to pressure Artour 'Arteezy' Babaev Void top lane with Chen hanging out mainly in the enemy jungle, disrupting Secret's safe lane constantly. But, in spite of the first three kills of the game going to Na'Vi's favor, all three secured in the top lane, Dendi had a very bad laning phase, which transitioned into a disastrous mid game stage once Secret gathered as five and started to push. Always focused and with his Timber Chain locked by the Void, Timbersaw couldn't be as effective as he should have been and Na'Vi lost two team fights in a row, giving Secret the entire map control free reign over the  Roshan pit. After they secured the first Aegis at the 36 minute mark they went straight for the GG push, took the mid lane of barracks without any casualties and rotated top lane where Na'Vi got wiped and had to admit their defeat.
Game Two
Bans
* This player was a stand-in for this match
Secret stuck with the same two bans from the previous game while Na'Vi let Mirana go through the first banning phase. Secret, having the first pick privilege again, immediately took it and secured the strong Fortune's End - Arrow combo. However, Mirana was given to Envy as Secret decided to take the full advantage of the Dire side and closed their draft with an Ursa pick for Arteezy in the mid lane to face Dendi's Invoker.
The laning stage went fully in Secret's favour as they were able to pressure both Ditya Ra's Terrorblade, forcing him to switch lanes to secure a minimum of farm, and Dendi, who really struggled to stay ahead of Ursa. Secret rapidly transitioned to a dominant mid game stage, while Na'Vi decided to prepare for a split push strategy, buying as much time as possible for their Terrorblade to grow. Although the only hope for a steady recovery for Na'Vi was the Batrider, Victor 'GeneRaL' Nigrini  chose to postpone his Blink Dagger and went with a Drums-Boots of Travel itemization option which brought his team almost nothing as he wasn't able to successfully split the map.
Three uncontested Roshan kills went one after another to Secret, Ursa getting the Aegis which made Secret very confident in their high ground push capabilities. The first high ground attempt ended disastrously for Secret who adventured deep into Na'Vi's base where Arteezy got Lasso-ed into the Fountain. Great reactions from Oracle saved him from dying twice but the push was repelled without any buildings taken.The exact same scenario repeated when Secret returned to siege the bottom lane again with the Aegis secured and a Cheese this time around for Mirana. But again they got trapped into deep dives and were fully wiped out on the back of incredible coordination between Dendi's Invoker and the rest of his team. Only that this time around, four of the five kills were also tracked which put Na'Vi for the first time in the gold lead. Ditya Ra' Terrorblade was finally able to stand in the front lines and just before the fourth Roshan spawn Ivan 'Artstyle' Antonov  finished the Aghanim's Scepter on his Disruptor which enabled Na'Vi to enter the Pit to successfully contest Arteezy's Aegis, forcing out two buybacks from Secret.
With the Aegis placed on Invoker, Na'Vi pushed Secret's high ground for the first time 46 minutes into the game and took the mid lane tier three tower but were forced to retreat as Secret got their full squad back from the grave. Five minutes later the most important piece in Secret's line-up, Oracle, was found alone in his jungle and immediately killed which opened a very smooth base siege for Na'Vi and the Grand Finals were reduced to a best-of-three series.
Game Three
Bans
* This player was a stand-in for this match
For the third game Na'Vi had the first ban and pick option and went straight for the Oracle ban followed by Dark Seer. This opened the door for a first pick Drow Ranger combined with Mirana and Shadow Demon for Secret. Both teams went with drafts that emphasized the team fight, Na'Vi aiming for the big wombo - combo Magnus - Faceless Void while Secret had the scary Moonlight Shadow-Ravage initiation on their side.  
The game started with a five man smoke from Secret who secured the first blood way before the starting horn at the top rune, and yet again snowballed into a very dominant laning stage with Arteezy's Mirana taking full control of the mid lane and creating time chaos with her constant ganking rotations at the same. Only 12 minutes into the game all the tier one towers of Na'Vi were down, Mirana finishing her Aghanim's extremely fast, around the 14 minute mark while Dendi on his Magnus was still struggling to find the space to farm a Blink Dagger. Similar to the previous game, Secret felt a bit over confident with their early Aegis secured and only 16 minutes into the game they went for the bottom lane tier three. A perfect three men Chrno from GeneRaL, catching also the Tidehunter kept Na'Vi's buildings intact and forced Secret to retreat until the next Roshan spawn. The nearly ten minutes waiting time for the second Roshan gave Na'Vi the much needed space to find key items for their cores. Nevertheless, a few pickoffs still happened around the map, as Ditya Ra was doing everything possible to keep all the three lanes pushed with his Boots of Travel Ember Spirit and got caught here and there, along with the Enchantress who was trying to finish her Aganim's Scepter.
When Roshan was finally up again, at the 27 minute mark, Secret went for the kill but Na'Vi scouted out their movement and went to contest Clement 'Puppey' Ivanov's team. However, they weren't fully successful despite a very good Chrono followed by Winter's Curse. Left without their big ultimates, Na'Vi had to back off and Secret returned into the Pit and placed the Aegis once more on Mirana. A few minutes later they went for another try at Na'Vi's high ground, this time into the mid lane but GeneRaL and Akbar 'SoNNeikO'Butaev again worked their magic and coordinated their ultimates perfectly, taking down the Tidehunter to nullify Secret's team fight and hold their base intact.
Realizing that the game was slowly falling apart for them, Secret forced another team fight as soon as the Ravage was up again, although Kanishka 'Sam' 'BuLba' Sosale was only three hundred gold away from a Refresher Orb on Tide. Smoked and with Mirana ultimate used on top, Secret found the Arrow- Ravage initiation on the Faceless Void just outside of his base but an amazing Cold Embrace save from Winter Wyvern came just in time and Na'Vi turned the fight around. Right after that they went straight into the Roshan pit but Secret had enough time to respawn and contest the kill and even secured the Aegis for themselves although they lost Mirana in the process who had no buyback. Na'Vi realized that they can force Secret to use the Aegis for a high ground defense and went straight for deep base dives in order to secure the Aegis kill and two lanes of barracks in one push and that forced the GG call from Secret's captain.
Game Four
Bans
* This player was a stand-in for this match
Heading into potentially the last game of the series, Secret banned Io and Sand King for the fourth time and went with a draft very similar to the first game of the night. However, Na'Vi reserved their last ban for Razor while they were able to first pick Oracle and tricked Secret with a heavy push draft developed around Shadow Shaman, Batrider and Juggernaut to end with a last pick Huskar while Secret was building for the late game, reserving Morphling as last pick for EE-Sama. 
Sending Dendi mid lane on Jugger, Na'Vi had an explosive laning stage. The Oracle - Huskar took over the bottom lane extremely fast and rotated mid to push down that tier one tower as well. With only Armlet finished on Huskar and a level six Shadow Shaman, Na'Vi took a very fast Roshan kill 12 minutes into the game, without even giving the chance to react for Secret and went for one GG push through the bottom lane. The game ended in just 18 minutes and brought the first tournament trophy for Natus Vincere after a long wait of one year and eight months since their last LAN first place finish.
The StarLadder i-League StarSeries Season 2 victory in Los Angeles brings Na'Vi to a total of seven SL trophies out of the 14 seasons so far and having defeated Secret and Fnatic, both TI6 participants, twice this weekend should build up the confidence for the team that will go this year for the sixth time in a row to the biggest Dota 2 tournament, The International.
StarLadder i-League Star Series Season 2 final standings:
1st place, $135,000 - Natus Vincere
2nd place, $60,000 - Team Secret
3rd place, $37,500 - Fnatic
4th place, $22,500 - F.R.I.E.N.D.S.
5th-6th place, $15,000 - Digital Chaos, Evil Geniuses
7th-8th place, $7,500 - compLexity Gaming, CDEC Youth