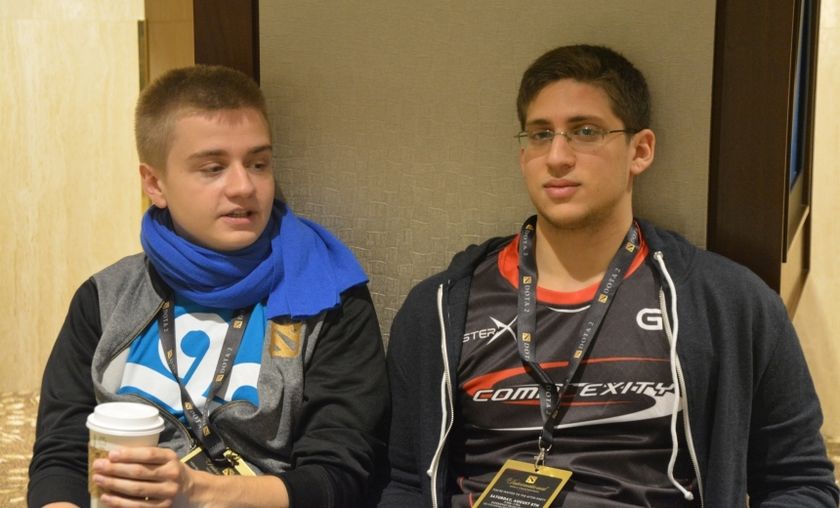 MLG World Finals Day 1: (monkey) Business overpower EG
First day in New Orleans at MLG World Finals has already brought a lot of surprises and sent The International 5 Champions, Evil geniuses and the 3rd place finishers, LGD straight to the Loser Bracket.
The first series of the day put face to face the much more experienced and the TI5 Champions, Evil Geniuses with the newly formed (monkey) Business, a team that made their debut in a LAN environment today. On top of that, the pub star, 8 k mmr - Amer 'Miracle-' Barqawi made his first time ever appearance on a live event.
Click here for results, VODs and all the other information
 
Bans
* This player was a stand-in for this match
For the first matchup EG chose to go with a four protect one strategy and a heavy teamfight oriented lineup, saving a surprising Magnus last pick for Suma1L. Although Suma1L played the RP beast perfectly the one who really made the difference for EG was Universe on his signature Darkseer. By himself, Universe managed to shut down Miracle-'s Juggernaut entirely and put MB in an awkward position where they couldn't take any teamfights despite having Bigdaddy-Notail with a  Radiance finished on his Alchemist only 12 minutes into the game.
Perfect coordination from Evil Geniuses in every engagement brought them the victory pretty easely and forced (money) Business to rethink their drafting approach.
Coming for the second game with an objective DotA strategy, (monkey) Business opened the draft with a Doom for David 'MoonMeander' Tan which forced EG to draft reactively with a Centaur Warruner for Universe to ensure the disengage when needed.
This time around MB sent Miracle- to mid lane on Queen of Pain while Bigdaddy-Notail switched into safe lane on Beastmaster. The change proved to be more than beneficial as Miracle- simply destroyed Suma1L's Shadow Fiend, who died no less than three times in the first four minutes of the game.
Most of the Suma1L's fans know what incredible comebacks he is capable to pull off but this time it was not the case. MB set up a super aggressive pushing strategy that didn't allow EG to recover at any point and the underdogs pushed the Champions into a game three.
The last encounter of the series reserved a new surprising last pick coming from EG side, a Lycan for Arteezy to close yet another teamfight oriented line-up. But MB read their intention and chose to avoid the early clash and drafted a split push line-up with Anti Mage for Miracle- and Nature's Prophet for MoonMeander.
Bans
* This player was a stand-in for this match
The Furion pick was used at his full potential as MoonMeander was a pivotal factor in MB's early presence on the map, setting the ganks from very early laning stage. Getting dominated so badly in the early game, EG decided to put in use their teamfight set-up, Song of the Siren into Requiem of Souls 16 minutes into the games, and went with a five man smoke to hunt MB in their jungle.
Unfortunately the entire combo missed, Fear releasing the song too late, and EG ended up with four heroes dead, which gave MB even a bigger advantage. From there on EG couldn't find their way back into the game and 15 minutes later they admitted their defeat.
The night will continue with an unexpected Lower Bracket elimination series between Evil Geniuses and the 3rd place finishers at TI5, LGD Gaming who lost with a 0-2 final score in front of Virtus.Pro.