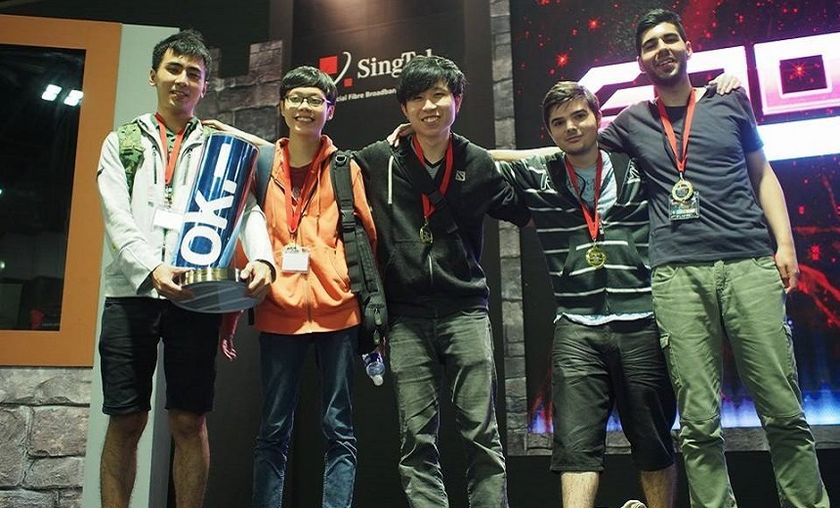 Can't Say Wips drop xMusiCa
                                                        from left to right; Chains, Tudi, xMusiCa, Godot, r1sk
According to an announcement on Facebook, CSW has dropped their player xMusiCa, after having a poor performance at the Major All Stars LAN. 
Justin 'xMusiCa' Yuen was dropped from the Can't Say Wips lineup according to a post on their official Facebook on 24 March at 3 CET. CSW has had average performances since the Dota 2 Asia Championships; their latest result was finishing bottom two in the Major All Stars tournament held in Malaysia last week. Its still unclear who will replace him, although CSW have said in their Facebook post that a replacement will be announced in the next few days.
"It is with considerable sadness that we are today announcing the departure of Justin 'xmusica' Yuen from our team. We would like to thank Justin for his contribution to the team since its inception last year; he has been an invaluable asset as a player, and a trusted friend to everyone on the team. 
This decision was made unanimously after careful consideration and lengthy discussion about what is best for Can't Say Wips moving forward. It's no secret that CSW is a tight knit group; we are all friends and so this decision is regrettable. However we are certain that this change is necessary to ensure our competitive success in the coming months. 
The underlying motivation behind this roster change pertains to our lacklustre performance as a team going as far back as the DAC Asia Championships earlier this year. Since then we have explored a multitude of solutions; however we have ultimately been unable to achieve competitive success with our current line-up. 
We will announce a replacement for Justin in the coming days, please stay tuned for more information. As always we would like to thank our fans for their continued support." 
Can't Saw Wips looked very promising pre-DAC after they took the Dota 2 OK Cup (a Premiere SEA tournament with a $50,000 prize pool), but they did not live up to expectations and had no good results ever since. They have also been plagued with roster changes this year, starting with; r1sk (retired) and kphoenii (to MVP Phoenix) being replaced by XtiNcT(from King Surf) and 343-Flyy(from GenYsis). XtiNcT then left the roster in late January for Invasion Esports. It will be interesting to see how their performance changes; they will still continue to participate in the jD MLG Pro League and the upcoming ESL One Frankfurt SEA Qualifiers.
The current roster for Can't Say Wips : 
 Darcy 'Godot' Jose

 Tei 'Tudi' Yao Wen

 Wei 'Chains' Sheng 

 Adam Erwann '343' Shah
Image Courtesy : gosutv.vn
Sources : CSW's Official Facebook
---
More content on GosuGamers